Football's poisoned chalices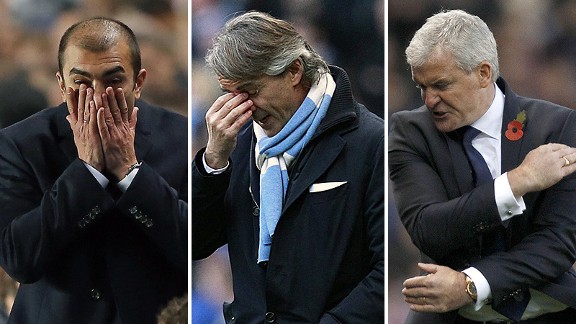 AP PhotoManaging a Premier League club isn't all that it's cracked up to be.
Do you think Roberto Di Matteo even dares pick up a newspaper these days?

In the span of a month, his job's gone from charmed to seemingly untenable. From "Champions League victory" to "feeling the heat," with a winless streak of four -- FOUR! -- games leading the entire footballing world to huddle around, seemingly waiting for the guillotine to drop and deliver his lightly stubbled head to Fernando Torres' feet for a simple tap-in.

That the Spaniard misses his shot doesn't even matter; in this process of pink slips and marching orders, it's always about the journey and not the destination. Soon, it seems, blood will be wrought from yet another sideline-stalking stone at Stamford Bridge. In Di Matteo's wake, the usual procession of big "names" will be "linked" to the club: Pep Guardiola, currently strutting around NYC eating ice cream and enjoying the tourist life. Rafa Benitez, Istanbul miracle worker turned tactics blogger with questionable syntax. Might Jose Mourinho turn his back on the latest Galacticos era in a bid to make it work? Did you say "job"? Sven-Goran Eriksson just popped up like a prairie dog to express interest.

Regardless of where we are in the current news cycle, there's a plebeian joy in watching managers get fired. It's a visceral experience for players -- up yours, boss! -- and vindication that perhaps the fit of personnel and tactics just wasn't going to work. (See: Kenny Dalglish's vacant, Plan B-less stare at Anfield; Andre Villas-Boas' own "Apocalypse Now" tour at Chelsea; Steve Bruce's directionless brand of sludge-ball at Sunderland.) Either due to prehistoric motivational techniques, ego-driven friction or a simple inability to deliver, it's onward and upward with a tear-stained résumé in hand.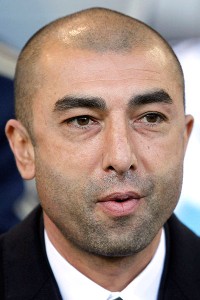 Ian Kington/Getty ImagesEach passing Chelsea match seems like a referendum on Roberto Di Matteo's managerial skills.
It's also a sweet reward for long-suffering, high-paying fans simply unable to bear the misery any longer. Seeing the man responsible for the decline of a beloved club -- reductive creatures that we are, the faults are so easily pinned on the gaffer -- dispatched coldly into an uncertain future fills supporters with hope where once none existed. The next guy has to be better.

But in Di Matteo's case, there's a dizzying speed to the edge of the cliff that we haven't seen in a while. Well, not since the last Chelsea boss. It would be one thing if the Blues really were that punch-drunk and demoralized, but the blame-lust is so rampant that no one's thinking about what fresh hell might be wrought by firing him. (And no one stops to think that the chatter about feeling the "heat," whatever the "heat" actually is, only serves to create legitimate tension within the squad.)

So what if Roberto chose to work for the most difficult-to-please man in sports since George Steinbrenner, the Machiavellian egotist with deep pockets and an even deeper thirst to dominate? We've known of the difficulty of the Blues job since Roman Abramovich had the gall to sour his perfect dynastic marriage to the Special One. Yet it never stops anyone trying.

Making it all the more alarming is that the recent run of form deemed so precipitous by many isn't even that awful. The Premier League's "larger three" (Chelsea and the blue/red ends of Manchester) have all looked alarmingly human of late. Man United's midfield is more pee-wee than powerhouse, sporadically propped up by two septuagenarians with fading fitness levels. Were it not for Edin Dzeko's robotic knack of scoring late goals, would Roberto Mancini be wearing concrete shoes and sinking to the bottom of the River Mersey?

That and it's not even December yet with just under three-quarters of the season yet to play.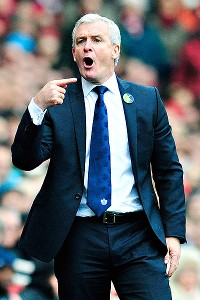 Glynn Kirk/AFP/Getty Images QPR's Mark Hughes is the most beleaguered manager in the Prem.
The anodyne fact is that for big clubs, it's a results business now more than ever before. Experiments are only tolerated when results are resoundingly positive, hence why Mancini's "three at the back" looks more like the string quartet on the deck of the Titanic every time it's deployed with Man City chasing a result. Money is always spent, but the returns must be as quick as the time it takes to ink yet another preternaturally genial and brand-ready genius from Brazil, Spain, Germany or Argentina. In 2012, three straight draws is a season-wrecking catastrophe.

It never used to be this way, but that's the power of a billion-dollar investment over just four dizzying seasons (Man City) or nearly a decade of robust spending in a bid to remain globally relevant. And because, you know, some marketing wizard somewhere calculated that finishing second in the Prem equals a million fans lost on Facebook or some other awful modern metric of success. Whether it's true doesn't matter; the illusion of threat is more powerful than the reality (people get over it -- right, fellow Liverpool fans?)

Whatever's going wrong with Di Matteo's squad -- hint: It's the hopelessly imbalanced midfield that fails to adequately cover a substandard back four -- won't be solved by simply firing and hiring. But it never ceases to be a solution for addled owners desperate to turn ebb into flow. The "New Manager Bounce" is interpreted as a bankable momentum swing. But it does sound nice.

Entering the flinty, unforgiving Christmas spell, it's not just Chelsea that might ring in 2013 with a new man in charge. Mancini's Champions League impotence serves to tarnish a Premier League record that is to die for. Nigel Adkins is playing the part of this season's "Well-Meaning Boss of a Promoted Club That Simply Can't Make it." Mark Hughes' sallow tenure at QPR is more "Lord of the Flies" than "Gilligan's Island." Even Martin O'Neill could have been considered "in crisis" were it not for Sunderland's first Prem away win since February (thanks, Brede Hangeland).

No wonder the likes of Guardiola -- and, to a decidedly lesser extent, Benitez -- are currently enjoying the freedoms of unemployment. For the desperate team in need of help, the current crop of stay-at-home tacticians get to enjoy all the love and affection without any of the commitment -- a playa at a singles bar. All flaws are overlooked, all shortcomings are ignored. Social media overtures from fans, artful hashtags and fond remembrances of their tenures are played up in the media, thus creating a messiah complex around them as to what they could do if given the job.

Ultimately, it's better to be available for clandestine meetings on mega yachts than to be floundering and oft-criticized at yet another big club, and there remains the faint possibility that the longer each man spends enjoying well-heeled civilian life, the less chance they'll ever transition back into the chaos and stress.

If all it takes to get dumped is a six-week spell of form that's so utterly mundane for 95 percent of football teams around the world -- 10 games in all competitions with five wins, two draws and three defeats, one of which was the nine-man, offside-goal circus versus Man United -- then the essential truth of Di Matteo's personal hell is obvious.

Sometimes the best managerial job in football is no job at all.