Arturo Vidal's warrior spirit inspiring Juve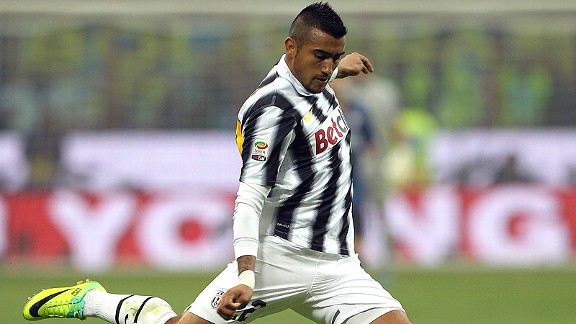 Marco Luzzani/Getty ImagesArturo Vidal has inspired his Juventus teammates with his never-say-die attitude.
Turin isn't Camelot. The Juventus Arena doesn't have a Round Table. But since last season, it has been the realm of Re Artu, or King Arthur.

Visiting Chelsea supporters will see his name proclaimed on banners and flags on Tuesday night. They will also hear him referred to as 'Il Guerriero' or The Warrior. He is in no need of an introduction. Not to Chelsea fans anyway. They already became acquainted with Arturo Vidal in September when he inspired Juventus's gutsy fightback from 2-0 down to a 2-2 draw at Stamford Bridge.

Before the game, all the attention had naturally fallen on Andrea Pirlo. How could it not after he masterminded Italy's defeat of England in the quarter-finals of Euro 2012? To believe -- as many people did -- that if Juventus were to be stopped, then Chelsea would need to stop Pirlo, was labouring under a misapprehension. Because they managed to do just that.

Oscar, in addition to scoring twice for Chelsea -- the first goal a deflected effort, the second ingenious in its conception and execution -- also succeeded where many others have failed in doing a job on Pirlo. He limited his influence, stalling him like the Artful Dodger would a well-heeled gentleman walking down a street in Dickensian London before craftily picking his pocket. So successful was Oscar in his endeavor, that the next day Pirlo received a five in La Gazzetta dello Sport's Pagelle.

Yet Juventus, even with their 'top player' at the bottom of the pink paper's ratings, still found a way to get back into the game and almost won it at the end. That they nearly did so was of great credit to the inner "steel" that coach Antonio Conte has forged within his team over the past 18 months, hammering it into his players like a blacksmith at an anvil. While Inter have since parted the iron curtain, ending Juventus's unbeaten record in Serie A a match short of half a century, the sense prevails in games from beginning to end that they are never beaten. They fight until the last and no one embodies this spirit more so than Vidal.

He was down hurt when Chelsea opened the scoring at Stamford Bridge. He was still hobbling when Juventus fell even further behind, as Oscar struck again a minute later. Vidal could have gone off injured there and then. But he couldn't leave his teammates. Rather than abandon ship in a storm, he manned the tiller and sailed Juventus out of trouble in swashbuckling style, pulling one back before half-time with a low and precise left-footed shot from outside the box that rallied those around him.

'Cometh the hour, Cometh Vidal'. This has been one of the major plot-lines of Juventus's season so far. With eight goals already, he has gone one better than he did in the entirety of the last campaign. Altogether, Vidal has 15 in 51 matches for Juventus. Nearly all have been important.

Five have come when the scoreline was 0-0 and thus broke the deadlock. Six have come when Juventus were 1-0 up and looking to put the game beyond their opponents. One came when his team were 2-1 down in the Italian Super Cup against Napoli in Beijing and was the equaliser that sent the game to extra-time and penalties, which Juventus then won. The other referenced above at Stamford Bridge grabbed Juventus a foothold in the game from which they clambered back from 2-0 down to record a 2-2 draw with Chelsea.

With four goals in his last five appearances, Juventus's most decisive player goes into Tuesday night's decisive Champions League group stage match in the form of his career. Arguably Juventus's best player this season, he deserves wider recognition. Were it not for Pirlo's arrival from AC Milan on a free transfer a year ago and the inspiration he provided over an undefeated campaign in Serie A, then Vidal's £11m signing from Bayer Leverkusen and its concurrent triumph maybe would have gotten more headlines. Of course, without each other and those around them, they both perhaps wouldn't have been quite as successful at Juventus as they have been.

Everyone knew how good Pirlo was at the time of his arrival in Turin. The surprise was that Milan allowed him to leave. Vidal, however, caught many unawares by taking to Serie A so quickly. Of course, he had scored 12 in his final Bundesliga campaign for Bayer Leverkusen. All but a few, though, expected him to make as great an impact and acquire the kind of importance he did in Juventus's rapid rise from back-to-back seventh place finishes to their first Scudetto since Calciopoli.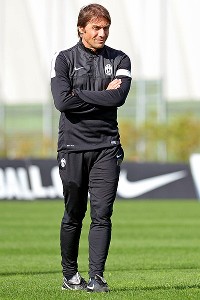 Filippo Alfero/AFP/GettyImagesJuventus manager Antonio Conte has molded his formation to better suit the Chilean attacker.

A measure of how highly Vidal is regarded came in two guises. First, the bitter disappointment Bayern Munich felt in missing out on him after he supposedly broke his promise to move to the Allianz Arena. And second, Conte's preparedness to make compromises for him, adapting his system from a 4-2-4 and later a 4-2-3-1 to a 4-3-3 and 3-5-2 to accommodate him. "We soon realised that Vidal was a really important player," Conte recalled, "so I changed the formation."

If Pirlo was Juventus's brain and Marchisio the heart, Vidal was the team's lungs. His ability to get up and down the pitch in and out of transition from box to box, stealing a ball here, giving it to go there brought a drive and a dynamism to the midfield that had been lacking since Patrick Vieira and Emerson left the club in 2006.

"He runs for four players," Marchisio observed. "At times, it's like there are three Vidals on the pitch," added La Gazzetta dello Sport. The player himself believes he's actually more a blend of two. "I'm a cross between Conte and [Edgar] Davids," he told La Stampa. Watching Vidal, however, you're left with the distinct impression that there's a side to his game that neither of those Juventus greats had within their own. It's a side evocative of Marco Tardelli. And, as touched upon earlier, that's his goalscoring from midfield.

When Chelsea enter the realm of Re Artù on Tuesday night, they'll be coming at the king. The Blues better not miss. Because, on present form, Vidal most certainly won't.