RvP's United debut overshadowed by tremendous Toffees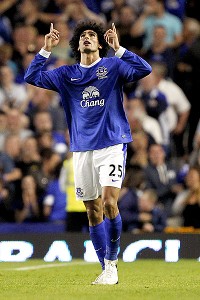 GettyImagesMarouane Fellaini scored the game's only goal in a man-of-the-match performance.

You can only imagine what the "little boy" inside Robin van Persie is screaming right now. His blockbuster move to Old Trafford was not meant to start like this. All week, Manchester United fans had been in raptures at the mere thought of the technical thoroughbred lining up alongside Wayne Rooney, English football's most unpredictable bundle of manic energy. Yet the Dutchman spent most of his debut on the bench watching his team fall flat in a season-opening 1-0 loss against a boisterous Everton.

Alex Ferguson explained his selection decision ahead of the game. "Given the expectation, I think that it's better [van Persie] starts on the bench," the manager said. "He's a great player ... but I think the sensible route [is] to start him on the bench." And so Arsenal's alpha dog experienced life as a substitute, for one game at least.

There has always been a touch of melancholy around the Dutchman, and that quality was magnified before kickoff as he sat on the bench in his Manchester United tracksuit, as United debutant Shinji Kagawa took the field behind Rooney and Danny Welbeck.

The wisdom of Ferguson's thinking was quickly evident in the early running as the game unfolded in frenzied yet disjointed fashion. Everton's annual budget may be dwarfed by Manchester City's spending on personalized goal-celebration undershirts, but they pressed ferociously as Marouane Fellaini trotted around the midfield blotting out space.

Tackles snapped as both sides fought to impose their passing game. United's young central midfielder Tom Cleverley saw a lot of the ball but was unable to find the space to make it matter. The home team was quickest to find its rhythm in the 13th minute when Fellaini outmuscled Michael Carrick and Antonio Valencia like a Belgian Man O' War, slamming the ball against the bar as the smell of fear emanated from an exposed David De Gea on the goal line.

For all of their recent spending, United were oddly balanced. Kagawa demonstrated his intelligence up front, where United threatened in flourishes. But with a rash of injuries forcing Carrick and Valencia to provide makeshift cover at the back, the Mancunians' defensive display bordered on the slapstick.

Nani and Paul Scholes tested the referee's patience and Everton's shin pads as Steven Pienaar and Nikica Jelavic supported Fellaini's one-touch menace to induce scrambling panic in the United penalty area, which demanded De Gea pull off a series of smart reflex saves.

Rooney's quick turn and shot was the closest United came to scoring, but his drive was comfortably clutched by Tim Howard. At the other end, De Gea kept the scores level at halftime with a flying parry from a deflected Leighton Baines free kick.

At halftime, Manchester United fans' minds were filled with questions and rumors. Key among them: Where's van Persie? Where's Chicharito? Where's Kaka? But the second half began with similar urgency from both sides. Leon Osman trashed the ball against the bar after another fine Fellaini knock-down. Welbeck raced down the other end, forcing the impressive Phil Jagielka into a risky yet impressive last-ditch tackle.

United began to dominate possession but were disjointed in the final third. Everton, in contrast, hunted in packs. Baines and Pienaar roamed the left. Tony Hibbert and Osman paired well on the right. And Fellaini played everywhere, his giant mop seeming as large as an eclipsed sun.

The only goal of the game came in the 57th minute, off Everton's fifth corner, and it was no surprise Fellaini was the scorer. United had received plenty of warnings that he was a threat to score, but had paid no heed. Former United midfielder Darron Gibson swung the ball in and the giant Belgian tossed Carrick aside to head the ball home, a goal with such physical power it could aptly be described as "Drogba-esque."

The goal was van Persie's cue to leap off the bench and enter the fray. He trotted on in the 68th minute, the checks of his United jersey a jarring sight in place of his typical Arsenal garb. Everything seemed set for a storybook ending as RvP lined up alongside Rooney with his team chasing the lead, and their opponents starting to wilt. But aside from one clever exchange to set up Kagawa, van Persie remained a peripheral figure completing just five of 12 passes, the lowest on his team.

As Liverpool, Arsenal and Spurs fans will attest, both United and Everton supporters should resist the urge to read too much into one result. Everton started this season as it left off the last: a barn-burning collective whose team play and passion will have to compensate for its lack of financial muscle.

Van Persie trotted off the field to experience a first few would have foreseen: the eye-popping experience of a Sir Alex Ferguson team talk given in defeat. United have a wealth of offensive options. Unless they can solve their lack of midfield invention, it will not be the last the Dutchman will experience this season.

Roger Bennett is a columnist for ESPN, and with Michael Davies, is one of Grantland's "Men In Blazers." Follow him on Twitter: @rogbennett.