Question marks over Bielsa's Athletic
"There are very few people who understand football, but many who have an opinion," an exasperated Marcelo Bielsa told reporters in Bilbao earlier this week, in a press conference ahead of Athletic's visit to Real Madrid's Estadio Santiago Bernabeu on Saturday night. The coach was attempting to explain to a sceptical audience why this season's Athletic squad was stronger than the one which enchanted spectators all over Europe last season, on the way to reaching the Europa League and Copa del Rey finals.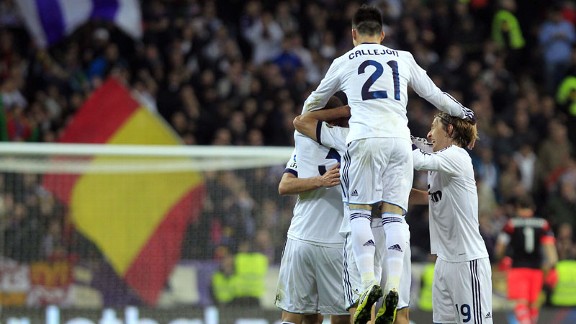 PA PhotosReal Madrid romped to a 5-1 win over Athletic Bilbao

This is a tricky argument for Bielsa to make. Last season's often dashing and brilliant Athletic thrilled their fans and many neutrals as they charged past Manchester United, Paris St Germain and Schalke 04 in Europe. Among their standout La Liga performances was the 2-2 draw against Barcelona in the torrential rain at San Mames almost exactly 12 months ago. There were also stirring wins over Atletico Madrid, Sevilla and Basque rivals Real Sociedad. Even last January's 4-1 Primera Division defeat at the Bernabeu was seen as a good show from the Basques, as Fernando Llorente put them in front early and Madrid only took control when Oscar de Marcos was sent off midway through the second half.

That was then. After losing both finals 3-0, the summer was dominated by transfer sagas which left their two best players - Javi Martinez and Llorente - either gone to Bayern Munich or banished to the bench by Bielsa. The new season then began horribly, but results had picked up in recent weeks, and there was just a hint of optimism as Athletic travelled south to Madrid on the back of two consecutive league wins - at Granada and at home to Sevilla, although this was tempered by bans to midfield volantes Ander Herrera and Oscar de Marcos.

Any positivity was soon swept away, with Madrid three goals up inside 32 minutes. Stand in centre-back pairing Mikel San Jose and Borja Ekiza were both caught out badly by Karim Benzema's movement and Luka Modric's superb 40 yard pass for the first, nobody attacked Mesut Ozil's free kick as Sergio Ramos stooped to head the second and San Jose was nowhere as Benzema curled in the third to kill the game with an hour still remaining.

A distraught looking Bielsa offered no excuses in the Bernabeu press room after the game had finished 5-1 to Madrid.

"The differences between the teams were unresolvable," the Argentine said in his deliberate, painstaking way. "We offered effort and a certain positional order, but with each ball we lost, wherever we lost it, the consequence was a situation of danger for our goal. That is my review of the game. The team gave everything they had, in spirit and physically, but the differences between the teams were much more than we thought they would be. At no stage did we think the game would present differences like could be seen today."

None of the Athletic stars from last season shone on Saturday. Iker Muniain, 19, overtaken recently by Malaga's Isco as La Liga's next big thing, had a quiet game in Herrera's usual midfield playmaking role, and was withdrawn injured at half-time. Markel Susaeta, capped by Spain this week, was tidy on the right-wing, without causing any danger to Iker Casillas' goal.

Athletic's current starting centre-forward Aritz Aduriz, whose eight goals in eleven La Liga games so far this season make it easier for Bielsa to leave Llorente on the bench, was also muted and miscued his only real chance - a close range first half header with the score already 3-0. After replacing Muniain at the break, Llorente unsurprisingly looked far from match sharp, and made very little impression on the game.

The only bright spot was the display of burly winger Ibai Gomez, 23, in Muniain's more usual left wing role, who gave Alvaro Arbeloa a tough evening and showed his technique with the low first time 10 yard shot back across Casillas to give the impressively loud few Los Leones supporters inside the stadium some hope at half-time. Gomez was not good enough for last year's time though, and on the final whistle there was just doom and gloom for the visiting fans.

By that stage Mourinho's men had taken 28 shots on goal, with 18 on target. This meant plenty of work for Athletic keeper Gorka Iraizoz, who saved well from young substitute Alvaro Morata and Cristiano Ronaldo and could do nothing about Ozil's fourth goal, but was at fault for Sami Khedira's fifth. It was not the first mistake of the season from the veteran, something which has also not helped his side's cause.

The feeling persists thought that more than individual errors, or missing players, the problem at Athletic is mental fatigue. Last year's success owed a lot to energy and enthusiasm, with the team pressing high up the pitch, unsettling opponents and moving the ball quickly and accurately into the gaps that opened up. This season they have mostly looked laboured and lethargic. It seems the group have stopped responding to Bielsa's super intensive training sessions and even more intense personality.

"It is not easy to say what has changed," the former Argentina and Chile coach said on Saturday, while as usual avoiding eye contact with reporters wondering what has gone wrong. "A coach must get the group to perform at a level close to their maximum potential on the pitch for a sustained period time. That is what I achieved that last year. I am not achieving that this year. There is a great personal responsibility on me this season."

It was hard not to sympathise with a man who is clearly giving everything he can to Athletic's cause. Results and performances, however, are leading some to wonder whether last season was really as good as it seemed at the time. Adrenalin-drenched games such as the wins over Manchester United were fantastic to witness, and presumably to play in, but were never really the basis for consistent week-in, week-out success. Even a repeat of those one-off performances looks very unlikely now for Bielsa's Athletic.

On Thursday they travel to Israeli side Hapoel Kiryat Shmona, needing to win to keep their faint hopes of progressing to the knock-out stages arrive. An exit there would really bring home to the club's fans - including those who fell in love 12 months ago – that the current situation cannot go on much longer. Very few people could argue with that.