AVB's up-and-down ride continues in loss to Arsenal
"Adebayor, what's the score?" sang Arsenal fans at the Emirates in the middle of the second half. The former Gunners striker wasn't on the pitch to respond, of course, as he went off with a straight red card in the 18th minute to turn the north London derby on its head. Indeed, the scoreline could have turned incredibly ugly for Spurs fans, but in the end they lost only 5-2 to the Gunners – the same result Arsenal won by there in February.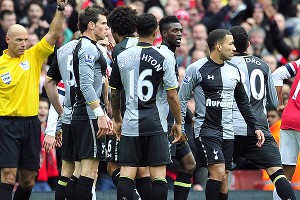 Glyn Kirk/AFP/Getty ImagesEmmanuel Adebayor's red card in the 18th minute turned the north London derby on its head.
It's been some up-and-down ride for Tottenham manager Andre Villas-Boas so far, hasn't it? He started the season winless in his first three games before seemingly righting the ship with four straight wins – including the much-ballyhooed victory at Old Trafford in which Spurs were able to hold on. But AVB has seen his side lose to Wigan, City and now Arsenal. Perhaps he should take a page out of Brendan Rodgers' playbook and start lowering supporters' expectations; after all, a fourth-place finish is going to be hard to come by if AVB's side can't start to string results together.

During this roller-coaster ride, the man often described as a tactical guru has made some curious decisions, most notably dropping Jermain Defoe for the Manchester City match after he scored a hat trick against NK Maribor in the Europa League. Instead, AVB started Emmanuel Adebayor alone up top against another of his former teams.

Adebayor got the nod again Saturday, but this time AVB signaled a real willingness to attack away from home by pairing him with Defoe in a 4-4-2. And, no doubt, the manager hoped the Togolese striker would torment the Gunners. After all, this is the player who, when with City, tried to use his studs to rearrange Robin van Persie's face, so you knew he'd be up for the fight.

And sure enough, after Arsenal was caught out on a long ball – Per Mertesacker was well out of position in some poor defending – Defoe took his shot, and Wojciech Szczesny's fingertip save ended up in Adebayor's path. From there, Spurs should have gone on to control the match, but no matter how much time AVB spends studying, there are some things you can't prepare for.

In a rush of blood to the head, Adebayor lunged into Santi Cazorla to earn a straight red, his third sending off in four times by Howard Webb. Spurs fans can have no complaints – you can't go into a challenge off the ground like that – and from there, Arsene Wenger's first-half tactic of attacking down the right really began to pay off.

Most of the Gunners' attacks went through Theo Walcott, who terrorized out-of-position Kyle Naughton at left back. Jan Vertonghen, who had been playing that position, had moved back into his normal center back position, which seemed to put Spurs off their mojo a bit as Arsenal had a field day against Naughton. It must also be said, though, that Gareth Bale could have offered more defensive cover for his overmatched teammate. Then again, Tottenham fans might be more worried about Bale's slight overall dip in form this season.

Up a man, Arsenal put three past Tottenham to end the first half: Six minutes after the red card, Mertesacker atoned for his foible by heading home on a nice Walcott cross, then Lukas Podolski and Olivier Giroud took turns scoring in front of goal, in the 42nd minute and stoppage time, respectively, to more or less put the game out of reach.

During all this, AVB studiously thumbed through his notebook, but he might as well have ripped it up. The game plan was out the window, as Adebayor's stupidity did something we haven't seen in weeks – gave Arsenal confidence.

AVB did show some tactical sharpness to start the second half, bringing on Michael Dawson for Naughton and Clint Dempsey for Kyle Walker, while asking Bale and Lennon to function as wingbacks, essentially. The change in shape, along with Arsenal taking the foot off the gas, allowed Tottenham to see more of the ball and create a few nervy moments. Bale did score in the 71st minute off his right foot to make it 4-2 (Cazorla had added to Arsenal's lead in the 60th minute). But the Gunners iced the match when Walcott – who had previously squandered two clear chances to shoot in a rare big-match start for him – made it five.

Funnily enough, the game probably doesn't change the perception of either team. Arsenal won, sure, but against 10 men and still showing those nagging signs of defensive lapses that continue to be their undoing. If Bale had passed to Defoe late in the second half for a tap-in (assuming Defoe was onside), instead of shooting wide, to make it 4-3, the anxiety at the Emirates would have been off the charts. Spurs, meanwhile, played a man down for so long that there was little AVB could do, but his switch to a 5-3-1 gave them faint hope. Remember, one of AVB's best tactical matches was when his nine-man Chelsea almost nipped a win against QPR last season, proving that, in terms of damage control, he's a man for the occasion, as things could have been far worse.

But that's little solace when you're gunning for fourth place.