Why does Ibrahimovic get so much stick?
Zlatan Ibrahimovic arguments go a little like this: Guy A points out that he's great because he won nine league titles with five different clubs in three different leagues and he's Sweden's third all-time leading goal scorer.

Guy B hits backs saying he's overrated since he never even played in a Champions League final or reached the semifinals of the World Cup or the Euros. It's evidence, he says, that Ibrahimovic disappears in big games.

And then it goes on, back and forth. It becomes a philosophical argument about what's more important: delivering league titles, which requires consistency over a whole year, or coming up big on the big stage, which requires that intangible "clutch" quality we in the media love to rave about.

(In reality, both require a big dose of luck. If you play for a good team, you're more likely to win titles, regardless of whether you're a superstar or a squad player. And the sample size of "big games" is too small to be significant. Chance plays a huge part. Not to mention the fact that with the passing of time we often forget which games are "big." Sweden had their backs to the wall and were close to elimination when, after being battered by Italy for 85 minutes at Euro 2004, Ibrahimovic delivered this goal. Was it clutch? You bet. Does most of the world remember it that way? Nope.)

But leave all that to one side for a second. Ask yourself instead why Ibrahimovic can't simply be appreciated for what he is.

On Wednesday, he became the first player ever to score four goals against England in Sweden's 4-2 win, capping off the performance with that spectacular bicycle kick everyone is talking about today. Yet almost instantly it was pointed out that "it was only a friendly" and "Joe Hart had a poor game." As if those factors made conceiving and executing that goal any easier.

Why does Zlatan get so much stick?

Part of it, of course, is his personality, real or perceived. His autobiography, "I am Zlatan," reads at times like a parody. He was criticized for the way he left Ajax for Juventus (forcing a move), Juventus for Inter (abandoning the club to join the arch-rivals), Inter for Barcelona (again, forcing through a deal) and Barcelona for Milan (pouring scorn and bile on Pep Guardiola). He has accumulated 11 red cards in his career, the most recent 10 days ago, when he landed a karate kick on an opposing goalkeeper while playing for Paris Saint-Germain.

Then there is his look. On the pitch, he reminds you of the pickup games you might have played as a kid, when the older boy joins in and starts demanding the ball, hot-dogging and pushing everyone around. Throw in the ponytail and the damage is done. He looks like someone's idea of a cartoon villain, like Terry Silver in the highly underrated "The Karate Kid, Part III."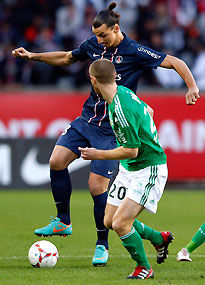 GettyImagesIbrahimovic has the misfortune of being a contemporary of Messi and Ronaldo.
His image goes further, though. While there are some dolts out there who still question his talent -- heck, opinions are like belly buttons, everyone's got one -- most Zlatan-haters recognize that the game has never seen somebody with his combination of strength, technique, creativity and grace in a 6-foot-5 package. He's just such a physical specimen that, when pitted against him, everyone plays David to his Goliath. Cristiano Ronaldo, who admitted recently that he also has an image problem, faces some of the same issues. (Lionel Messi, on the other hand, does not, mainly because with his tiny size and boyish expression, he looks like the underdog.)

Another factor is that Ibrahimovic has the misfortune of being a contemporary of Messi and Ronaldo, two of the greatest players ever. Put him up against those two and inevitably he comes up short. But because his physical and technical gifts are obvious to most (somehow not all, but as I said above, some folks are beyond help), many conclude that he simply doesn't work as hard as the other two do. And, therefore, he's overrated and probably a bad person, too, because not fulfilling your potential is seen as some kind of cardinal sin. (Never mind the fact that, given his childhood, Ibrahimovic had to overcome more than most to get where he is now.)

I think there's another factor in play, one that rarely gets talked about. Ibrahimovic has carried clubs on his back on many occasions but those teams have rarely been pretty or played particularly well. Indeed, his skill set is so unusual that it's very difficult to integrate him in a well-drilled, attractive team.

Most managers end up building the team around him. Give it to Zlatan and wait for him to do something. One of the ugliest title-winning sides I can remember was Jose Mourinho's Inter in 2008-09. Inter basically attacked two ways. They either sent Maicon on one of his trademark runs down the flank or they hit endless long balls to Ibrahimovic. He ended up scoring 25 goals and Inter won the title by 10 points. Job done. But definitely not easy on the eye.

His Barcelona experience was not as awful as people remember. He started 23 league games and scored 16 goals, and Barcelona came within a whisker of reaching the Champions League final. Yet by the spring it became obvious that he was a foreign object in Guardiola's team and that things went much smoother when he wasn't there. Which is why he was dumped at the end of the season.

It's a similar story now at PSG. He has 10 goals in 10 league games. Everything goes through him even when he's not scoring; witness the four assists he served up in PSG's 4-0 dismantling of Dinamo Zagreb. But PSG aren't playing well. They look disjointed, manager Carlo Ancelotti hasn't been able to turn his collection of superstars into a coherent unit, and Ibrahimovic's presence probably has a lot to do with it.

Is all this his fault? Should he change?

By and large, the answer is no. (Well, fewer stupid red cards would be good.) The reality is that this is Zlatan. This is what he does, this is how he plays, and enough managers have understood what he can bring to the table to allow him to, well, be Zlatan.

Sometimes, the best thing to do is to stop trying to find fault or trying to rank him in some sort of global hit parade of superstars and, instead, simply marvel at his skills and the joy he brings. He's different than everyone who came before him and, like most things that are different and not easily categorized, many will view him with suspicion. But so what?

Sit back and enjoy the show. You don't have to love Zlatan. But you have to be pretty cold-hearted to not love what he can do.