Problems for Palmeiras, a falling Brazilian 'grande'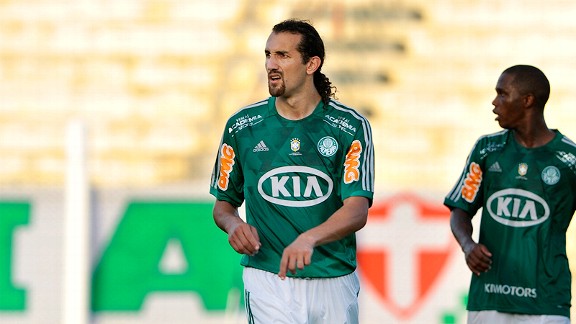 Eduardo Efrain/Getty ImagesThe relegation travails of once-proud Palmeiras are a surprising and sad subplot to the Brazilian season.
Tears rolled down the faces of the Palmeiras fans gathered inside the Fonte Luminosa ("Luminous Fountain" -- yes, really) stadium on Nov. 4. With Botafogo leading 2-1, their side was taking another small but irreversible step toward the indignity of relegation from Brazilian football's top tier.

But these weren't tears of despair; rather, military police at the ground had resorted to the use of pepper spray after objects began to rain down onto the pitch, just the latest indignity suffered by supporters for whom sadness has given way to anger in recent weeks.

Palmeiras is seven points from safety with just three games of the Serie A season remaining (it faces midtable Flamengo on Sunday). Yet the defeat to Fluminense -- which, in a cruel twist of fate, secured the league title at the time -- was the final nail in the coffin. The brain-in-a-jar mathematicians wheeled out by the Brazilian press at the climax of every season put Palmeiras' survival chances at just 1 percent. For many people, even that smacks of optimism.

Undoubtedly one of Brazilian football's grandes, Palmeiras boasts a long and illustrious past. Formed in 1914 by Italian immigrants, the club enjoyed its best years in the 1960s and early 1970s, winning six national titles. Those sides, featuring the likes of double World Cup winner Djalma Santos and the mercurial Ademir da Guia, earned Palmeiras the nickname "The Academy of Football."

Though such success has been harder to come by in recent times -- Palmeiras' last Brazilian championship was in 1994 -- the club remains well-supported. Recent estimates put the number of Palmeiras fans in Brazil at 11 million (according to Brazilian sports paper Lance!), making it the fourth-best-supported club in the country.

Given this level of support, then, and the fact that the club has spent just one season outside the top flight since Brazilian football belatedly adopted a round-robin league system in 2003, the severity of the situation can hardly be exaggerated. This has been reflected in the ire of the green quarter of Sao Paulo: The Palmeiras gift shop was torched after Sunday's defeat while death threats were scrawled on walls at the club's administrative headquarters, prompting directors and players -- including fan favorite Hernan Barcos -- to voice concerns.

Clearly, it wasn't meant to be this way. In July, Palmeiras won the Brazilian Cup, ending an agonizing 13-year wait for a major title. That success, while achieved in no small part due to a kind draw, inspired hope that the club's poor early league form would pick up. Even coach (ex-Brazil and Chelsea manager) Luiz Felipe Scolari, who had previously intimated that he would quit at the end of the year, seemed to be warming to the idea of staying put.

But the honeymoon didn't last. Scolari -- whose time at Palmeiras could be generously described as 'turbulent' -- was sent packing in September. His replacement, Gilson Kleina (nicknamed "Fred Flintstone" by players at former club Ponte Preta due to his physical appearance) initially looked to be turning things around, but familiar failings have bubbled back to the surface.

The issues are legion and obvious. While Palmeiras can rely on a handful of players with international pedigree (Barcos was recently called up for Argentina and Jorge Valdivia won many admirers with his displays for Chile at the 2010 World Cup), the talent is simply spread too thin. Important squad members -- combative striker Kleber, fullbacks Gabriel Silva and Cicinho -- were sold and not adequately replaced while others have simply not performed to expectations.

Injuries to key players also haven't helped. Wesley, a midfielder whose transfer from Werder Bremen was as popular as it was drawn out, tore knee ligaments in April while Valdivia's second spell at the club has been disrupted by a series of niggling knocks.

As a result the midfield has lacked creativity, leading to an overreliance on the dead ball prowess of veteran Marcos Assuncao. Despite the sterling efforts of Barcos, goals have been incredibly hard to come by given the fractured supply line -- Palmeiras has scored just 36 times in 35 games. Before this past weekend, only two Brasilierao sides have managed fewer.

Even when Palmeiras does get the ball in the net, it doesn't always help; a topsy-turvy match against Internacional in October ended in pandemonium after an illegal goal from Barcos -- who clearly flicked the ball home with his hand -- was ruled out by officials. To the minds of most, justice had been done, but the Palmeiras hierarchy kicked up a fuss, claiming that the decision was made by the fourth official (who allegedly had access to a television replay) and demanded a replay.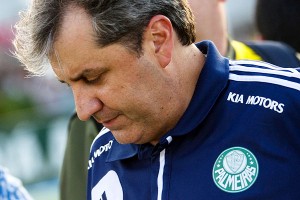 YASUYOSHI CHIBA/AFP/Getty ImagesGilson "Fred Flintstone" Kleina, Palmeiras' genial coach, has been unable to halt the slide this season as injuries and anemia in attack see the 'grande' club bound for the second tier.

The resulting court case didn't last long as the Brazilian sports justice tribunal turned down Palmeiras' request following a unanimous vote. An appeal is likely, but it seems extremely unlikely that the club will be granted a reprieve. Though the pervading sense of injustice means that the Verdao may go down kicking and screaming, football's grim reaper always gets his man.

Ignoring the inevitable onslaught of "time grande nao cai" ("big teams don't get relegated") taunts from rival fans (Brazilian football is notorious for being impossibly partisan and boisterous), it is conceivable that a year in the modest climes of Serie B could be beneficial for the long-term health of the club. In recent years, other similarly prestigious clubs -- Corinthians in 2008, Vasco da Gama in 2009 -- have used second-division success as a springboard, consolidating away from the spotlight before returning to the top table with renewed gusto.

The worry, though, is that even in the second division, expectations will be worryingly high. A colossal banner in Vasco's Sao Januario Stadium read "For the size of Vasco, Serie B is obligatory" for the duration of its year in the division -- Verdao fans are unlikely to be any more forgiving.

There's also a financial concern; in April, Palmeiras is scheduled to move into the Arena Palestra Italia, a 45,000-seat stadium built at an estimated cost of R$330 million (101 million pounds/$162 million). With the average attendance at Palmeiras home games this season just 12,413, gate receipts at the club's new home are likely to lag behind projections.

Amid all the doom and gloom, spare a thought for poor Adailton Alves. A committed Palmeiras fan, the 28-year-old quit his job as a caretaker in order to support his team in their relegation fight. "My wife's not happy, but it's better to be addicted to Palmeiras than to drink or take drugs," he told GloboEsporte. Unfortunately for Adailton, this story is destined to have an similarly traumatic denouement in the coming weeks.

Jack Lang is a football writer who focuses on the game in Brazil. He runs the blog Snap, Kaká and Pop! and has had articles published by The Guardian, FourFourTwo and When Saturday Comes among others. You can find him on Twitter at @snap_kaka_pop.