Who will win the Pep Guardiola sweepstakes?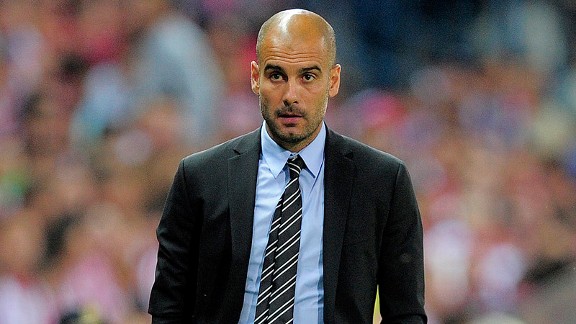 Josep Lago/AFP/Getty ImagesClubs are lining up for Pep Guardiola's services, but finding the right fit won't be easy.
For a guy who stands short of 6 feet and has spent the past few months holed up on Manhattan's Upper West Side, Pep Guardiola casts a huge shadow. In fact, you struggle to remember the last time a manager's absence from the big time caused so much buzz around the game.

Conventional wisdom has it that he can write his own ticket. And, in fact, he just about can. He could phone up just about any club in the world, say, "Hey, I'd like to be in charge there next year, what do you reckon?" and you could probably count on one hand the clubs that would not return his call.

If you're reading this, you don't need to be reminded of what Guardiola's Barcelona achieved between 2008 and 2012, arguably the most dominant four-year period of any club side ever. So it's not a surprise that, having given himself a one-year sabbatical, when he throws his hat back in the ring -- and it's my understanding that, ideally, he'd like to decide his future sometime in March or April -- clubs will be knocking at his door.

Already, he's been linked to half a dozen top clubs.

From Bayern Munich to AC Milan, from Chelsea to Manchester City, from Paris Saint-Germain to Arsenal and Manchester United, folks have been playing the guessing game. Who's going to nail the Guardiola sweepstakes?

His reputation is such that, to many, it doesn't really matter who the incumbent is or what he achieves this season, if there's a chance to snap up Pep, you take it, because it might not come along again for a decade.

You can see the logic with Bayern (Jupp Heynckes is likely to step aside at the end of the season) and Milan (Max Allegri is in over his head). You can accept why folks like Roman Abramovich and Sheikh Mansour might see him as an upgrade over the current bosses, depending how they perform this season. Even after Roberto Di Matteo delivered the Champions League title, Chelsea still pursued Guardiola, which is why it took so long for Di Matteo to get a new deal. And, at City, the arrival of Ferran Soriano as chief executive and Txiki Begiristain as director of football -- both Barca alums who worked with Guardiola -- coupled with the fact that Roberto Mancini himself feared he'd get the boot last spring, suggest that the current boss isn't exactly bolted to the job.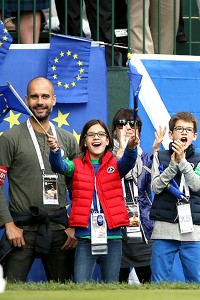 Ross Kinnaird/Getty ImagesOn sabbatical, Guardiola and his family took in the 39th Ryder Cup at Medinah Country Club.
Should Carlo Ancelotti fail to deliver silverware at Paris Saint-Germain, his gig will be on the line too. And, lest we forget, Guardiola has a direct relationship with the Qataris, having played there at the end of his career and having served as ambassador for their 2022 World Cup bid.

United and Arsenal seem more far-fetched, and since it's not as if Sir Alex Ferguson or Arsene Wenger are likely to be sacked, it would require either one stepping aside. But Sir Alex is 70, and only he knows when he'll retire; could be next summer, could be a few years' time, whenever it is, you figure he'd want to leave the club in safe hands. Wenger is 63, he's endured a lot of criticism the past two seasons, you can't rule out a scenario whereby -- perhaps with a bit of prodding from above -- he comes to the conclusion that it's time to move on.

The thing is, you can also find counterarguments for all the above.

Guardiola has no ties to the Bundesliga, and Bayern are a team already packed with stars. So would he want to step into what is essentially a side built for someone else? Milan have made steep cuts this year; whether there is opportunity for rebuilding and reinvesting depends on the owner, Silvio Berlusconi, who is 76 and has plenty of other things to worry about.

At Chelsea and City, Guardiola would have to deal with the expectation of instant success, especially if either of his predecessors delivers something. Chelsea, especially, are not an easy club to manage, given the cloud of advisers, court jesters, yes-men and "friends of friends" who surround Abramovich. And the mere fact that he worked with Soriano and Begiristain before doesn't mean they're joined at the hip.

In fact, his relationship with Begiristain hasn't always been smooth.

United and Arsenal are predicated on the incumbents moving on and, in both cases, involve replacing a living legend, which is never straightforward. PSG would mean dealing with Zlatan Ibrahimovic all over again, and we know how well that went last time.

There's a whole other set of factors at play here. Those who have the opportunity to spend some time with Guardiola -- as I did a while back -- will tell you that he's one of the more intellectually introspective managers out there. That's part of the reason he took this sabbatical in the first place. And why, in three of the four years at the Camp Nou, like clockwork, he fretted every January about whether he really wanted to continue, citing stress and pressure.

Guardiola engages in self-examination as much as any top manager out there. He's conscious of the fact that he succeeded at the Camp Nou partly because he was at a certain club at a certain point in time in his career. Any job elsewhere would require a skill set that is -- at least in part -- substantially different. He won't have the same emotional ties with the club or its fans. He won't be inheriting a group that has long been schooled in a certain way of playing. He won't have Lionel Messi.

This doesn't mean that he won't want to face the challenge of doing something new. It does mean that he'll need to work differently than he did before while, at the same time, folks will be expecting whichever team he takes over to play just like Barcelona (and be as successful) within a month or two. That's how high he has set the bar.

You can imagine all these thoughts going through his brain even as he hears back from the emissaries he has dispatched around the globe to see what's out there. And you can imagine Guardiola taking as much time as he needs to decide, probably second-guessing himself a dozen times before expressing a preference. And then changing his mind again.

This story is going to run for a while. And his name will continue to haunt half a dozen bosses around Europe. Odds are he'll land somewhere in 2012-13. But don't rule out the opposite, either. Having sat out this season and being the kind of person he is, you could also see a scenario in which, if things aren't just right, he chooses to extend his sabbatical.

And then we'll go through the whole thing again next season.