Eighth is no wonder for Liverpool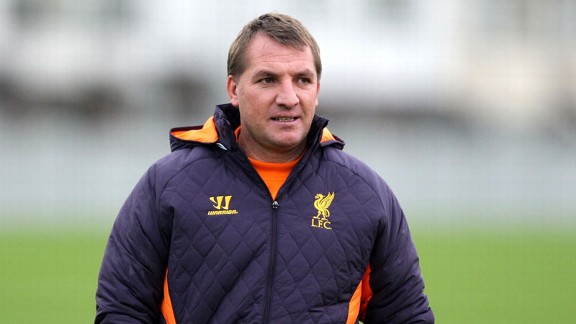 PA PhotosBrendan Rodgers has stressed that patience will be required at Anfield
The reality TV star was dishing out a reality check.

"We're a long way off in the league," said Brendan Rodgers, erstwhile leading man of Being: Liverpool. "We finished eighth last year. If we can improve on that, it'll be fantastic for us. That's the reality of where Liverpool are I'm afraid."

This was a break from the motivational-speaker positivity that Rodgers has often displayed since arriving at Liverpool. In the flesh, Rodgers is an impressive talker, with notable command of a press room, warmth and a humour that did not transfer to the harsh glare of Fox's documentary cameras. He is better suited to longer sessions than soundbites.

The 'state of the nation' address was delivered after his team's most impressive result of the season. Drawing with Chelsea may have been below Liverpool's recent Premier League par at Stamford Bridge, but Rodgers' team had almost stolen all three points while showing considerable fighting spirit. It had eventually been something of a tactical triumph for Rodgers, once he had rejigged an initially overcautious starting plan.

Rodgers chose this position of relative strength to illustrate the low-benchmarked ambitions of a club that had dominated the English football scene for decades. Since 1962-63, a season that was Liverpool's first back in the top flight, the Reds have only finished eighth twice. Graeme Souness lost his job midway through 1993-94, and so did Kenny Dalglish after finishing in the same position this May. On Sunday, Rodgers was previewing what Liverpool fans will have to settle for again.

Liverpool fans will wince that, at the same time, Everton and David Moyes have set their sights on Champions League qualification. At a time when Rodgers and Fenway Sports Group are reining in expectation, Everton have pushed for the stars. It is suggested that next season's TV money has already been signed over by Everton in order to refresh their coffers, but a calculated gamble is being taken. Finances are stretched, such that any mega January bid for Marouane Fellaini would surely remove them of their star man and hopes of the top four, but for the moment, ambitions are high, and with them, spirits too.

FSG will be taking no such chances. They have already had fingers burned, during the 16 months that Kenny Dalglish was in charge. A heavy spend of over £100 million, even if almost half was paid for by Fernando Torres, did not land the success they thought they were paying for. A League Cup win and an FA Cup final appearance were not enough. Dalglish lost his job because he did not put his team in a position to reach the Champions League. The previous August had seen Liverpool spoken of as possible title contenders.

A first trophy for six years was cause for celebration by fans, but the League Cup and FA Cup are not understood by owners whose foundations are laid in American sport. Arsene Wenger met with mockery when he proclaimed finishing in the top four as a trophy in itself, but that attitude is no doubt magnified by the likes of Stan Kroenke and John Henry. American sports do not have cup competitions. Play-offs are the equivalent of the Champions League and, in the USA, it is play-offs or bust.

Liverpool's manager writing off even a Champions League play-off was a stark statement but it also sent a message to his owners. A lack of clear leadership and coherent strategy is also apparent. The Liverpool way was once one of omerta, smart business being carried out behind closed doors. The very public collapse of the move for Clint Dempsey was anathema to that.

Reports conflict on who pulled the plug on the deal but all place Rodgers as being hugely disappointed. Meanwhile, Oussama Assaidi arrived for the type of fee that could have topped up Liverpool's lowly bid for Dempsey. A 24-year-old would be expected to go straight into the first-team squad, yet the Morroccan is a long way behind two teenagers in Suso and Raheem Sterling in Rodgers' reckoning. Questions have been raised about who actually purchased Assaidi.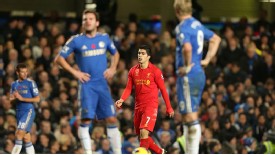 GettyImagesLuis Suarez will be badly missed should he pick up a suspension or injury
Luis Suarez has been in magnificent form, and has belied talk that he is not a goalscorer. Yet Liverpool are one booking away from losing him, and there is no one to stand in. Young Adam Morgan was hard-working enough in Moscow last week, but is short of the attributes and experience to cover for Suarez. Notwithstanding the ill fortune of losing Fabio Borini to injury, Rodgers has been left bereft, and badly needs his paymasters to back him when the transfer window reopens.

Rodgers, with his blooding of youth and very public respect for the club's traditions, is setting out his stall as the man to renew Liverpool as a force. For now, some can accept 12 points from 11 games, while others cannot. What fans will not accept is more dithering in the transfer market. The risks of overexposing Sterling and Suso are that youthful promise can stall in the face of overwork.

January will be a watershed month for FSG. Excited talk of Klaas-Jan Huntelaar abounds but, if he does not arrive, a commensurate signing must be made if fans' patience is not to reach breaking point. Fenway had been cautiously accepted by many fans, mostly for not being Tom Hicks and George Gillett, but a failure to back Rodgers with cash could fully turn the worm against them. The reality is that eighth is no place for Liverpool Football Club.