PAOK lifted from up above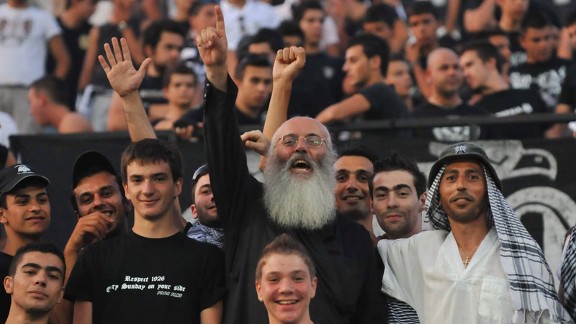 GettyImages'Papa PAOK' embodies the passion of the club's supporters at the Toumba Stadium
As far as Greek Orthodox priests are concerned, it would probably be difficult to differentiate Priest Christos from his fellow liturgical leaders. He runs a food bank and gets involved in state-run drug programs, serving as a community leader in Thessaloniki, the city that he calls home. The bespectacled, full-bearded 52-year-old easily could be any other Orthodox priest, in any other part of a country that is almost exclusively made up of followers of the church to which he belongs.

But there is another side to Christos and indeed, another name by which he goes, depending on what part of Thessaloniki he is in and at what time. For if he is taking his place alongside PAOK's infamous ultras in Gate 4 at the Toumba Stadium on a matchday, he transforms into 'Papa PAOK', one of the club's most famous and bizarre symbols.

YouTube is laden with video clips of the priest surrounded by crazed PAOK fans, one of which has them shouting "The priest is a God". As punishment for routinely adorning himself in the black and white colours of the club, for standing alongside fans who have a reputation for particularly erratic and violent behaviour, he was reprimanded by the church and banned from attending further matches. In reaction to the decision, a social media campaign labelled "Free Papa PAOK" was born and quickly attracted thousands of followers.

It is an indication of the lengths to which PAOK fans will go in support of their club. They are fanatically and irrationally passionate, particularly inclined towards pitch invasions and hurling objects at any individual who risks their ire - or happens to play for Olympiacos. Back in 1988, upon the conclusion of a European tie his Napoli side had just drawn at Toumba, Diego Maradona remarked of the atmosphere: "I have played a lot of games but I've never seen anything like this."

The passion of these fans has been a double-edged sword for the club during a turbulent modern history, equally capable of inspiring it or embroiling it in serious administrative trouble. In truth though, they are an integral part of the fabric of a club which has long been regarded a sleeping giant of Greek football, suffering in the past couple of decades at the hands of poor administration.

Having been on the cusp of financial ruin more than once, it now appears that one of Greece's most famous sporting organisations is about to embark upon an exciting new era under the ownership of Ivan Savvidis. It has taken the Russian tobacco magnate six years to complete his takeover of PAOK but in August of this year, his majority stake was confirmed at a price of €10 million.

Whilst it was a little late for his takeover to have a tangible impact on player recruitment at the time, the psychological impact of his acquisition has already been felt. PAOK is a club that has been reinvigorated and its strong support-base further mobilised. Results on the pitch have been encouraging and although the club missed out on a Europa League berth after falling short at the play-off stage, it is currently just five points behind league leaders Olympiacos and the only legitimate challenger to the defending champions this season.

Talented young manager Giorgos Donis is at the helm of a squad that is already stronger than those possessed by traditional giants Panathinaikos and AEK Athens, signalling a shift in the powerbase of Greek football. The collection of players at Donis' disposal will expand and improve come January, with Savvidis having promised an injection of a further €25 million by the turn of the year, coming from both share capital increase and out of his own pocket.

An aura of stability now surrounds a club that previously was considered menacing rather than threatening: Toumba a notoriously difficult place for even Greece's biggest Athenian teams to travel to, but PAOK never being of the requisite administrative and financial strength to be able to challenge long-term. Indeed, two league titles and four Greek Cups doesn't seem big enough for the biggest sporting institution in Greece's second-biggest city.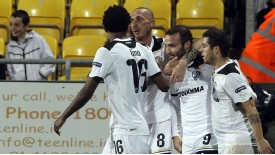 AssociatedPAOK are looking to the likes of Dimitris Salpingidis to guide them into a new era
PAOK are looking to the likes of Dimitris Salpingidis to guide them into a new era Savvidis' financial clout should secure the club's immediate future in a volatile economic climate that has seen some of Greece's biggest crippled by debt. It also has allowed for PAOK to keep hold of some of its most prized playing assets, with Greece international Dimitris Salpingidis opting to remain during the summer despite overtures from foreign suitors.

Savvidis has hinted also at restructuring from an administrative standpoint, which will be a key part of PAOK's transformation into a business capable of surviving in football's modern era. Exercising some degree of control over a volatile fan-base will be one of the most difficult tasks that Savvidis faces, as previous presidents have clashed with hooligans to their detriment.

'Papa PAOK' is perhaps one of the most appropriate symbols of the club: a tribute to the illogical passion that is one of its greatest strengths but, simultaneously, also one of its great weaknesses. If Savvidis' administration can channel the support of the colourful Greek priest and his fellow fans alongside a wider reform and investment over the coming months, there's no reason why their relentless support won't eventually be rewarded with some overdue silverware.