Honours even amid polarising fortunes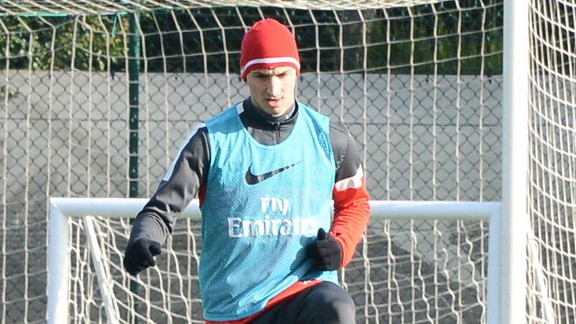 PA PhotosZlatan Ibrahimovic managed to attract plenty of attention without setting foot on the field
As Paris Saint-Germain headed to reigning champions Montpellier on Sunday, there had been tangible disappointment that the next episode of The Zlatan Ibrahimovic Show would not be unfolding in southern France. "What are we going to write about if he's not there to act as our muse?" Melisande Gomez had exclaimed in mock-horror in Sunday's L'Equipe as the Swede prepared to begin a two-game ban for his kung-fu kick to the chest of St Etienne goalkeeper Stephane Ruffier last weekend.

- Some perspective needed for PSG critics

Even the hosts, desperate for points after a scratchy start to the season, expressed their angst. "With him, we could have had another 5,000 spectators in the stadium," Michel Mezy, the chief advisor of Montpellier's enigmatic president Louis Nicollin, said before the game.

PSG's own Zlatan-dependence is not in dispute, while the general public are fascinated by the arrival of this bona fide star in the Hexagon. Yet, even after 90 fraught and often confrontational minutes failed to separate the pair, it's also only one aspect of how much the gulf between Montpellier and PSG has widened in recent months.

The journey from when the teams last met at the Stade de la Mosson, 14 months back, is even more pronounced. Last September, PSG - then still under the tutelage of Antoine Kombouare - put in probably their best performance of the season, winning 3-0 inspired by a virtuoso display by Javier Pastore. The Argentinian was an unused substitute here, and left the stadium looking glum under a baseball cap.

Then, a Montpellier title charge looked about as likely as president Nicollin getting through an interview without adorning it with his own uniquely bluff and direct turn of phrase. "Revenge?" coach Rene Girard replied when asked pre-match if he sought to make reparation for the hammering taken in last season's corresponding fixture. "Our revenge was winning the title last June."

Besides, the penny has dropped that Montpellier's real rivals are no longer PSG but rather those they had before last season's extraordinary rise. They are back in the pack and looking over their shoulders, checking their point tally against those of Brest, Lorient and Nice. As journalists' keyboards rattled at full-time, supporters in the back rows of the main stand leant over to ask for an up-to-date table. Montpellier are 14th, as they were at the beginning of the weekend. "Not too bad," one said.

The struggles of this campaign are somewhat predictable, with even the combative Nicollin admitting that he "still can't believe" that his players snared the title. Last week's Champions League loss to Olympiakos, which saw Montpellier exit the competition with two group matches still to play, was another sobering moment in a season that so far feels like the hangover from hell. Remy Cabella, the scorer of Montpellier's equaliser here and a rare bright spark this campaign, described the display in Piraeus as "catastrophic" to ESPN FC after the game.

The wear and tear of an unfamiliarly intense programme was clear from a cursory glance at the team sheet, with Girard aligning his 14th different back-four combination in the 18 matches so far. Having probably prepared to rely on gritty rearguard action, they were quickly knocked out of kilter by Mamadou Sakho's red card for pulling back their lone striker, Gaetan Charbonnier, as he bore down on goal. It put a strange spin on events, with the underdog swiftly becoming the favourite and having the onus put upon them to capitalise, which they didn't have the initiative to do.

Cabella and fellow midfield creator Younes Belhanda occasionally showed what could have been - especially during the exchange where the former zipped a pass into the latter, who backheeled a return to his colleague - but too often the current lack of confidence manifested itself in over-deliberate, telegraphed passes that took an age to arrive.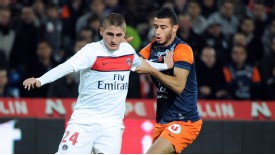 GettyImagesMarco Verratti's battle with Younes Belhanda was a key part of the game
While Cabella shone here, the more celebrated Belhanda struggled. His battle with PSG's Pirlo-elect, Marco Verratti, was one of the game's central narratives, from the moment Belhanda dispossessed the young Italian as he dribbled across his own penalty area in the early stages to the obvious frustration of Carlo Ancelotti, who had exhorted his midfielder to "pass the ball quicker" earlier in the week. Sakho equally had reason to curse Verratti after the latter's casual ball back towards him gave Charbonnier possession, leading to the captain's sending-off.

Yet the smallest player in Ligue 1 - usurping Marseille's Mathieu Valbuena - is a spiky and wilful character. In the second half, he was again at fault, and lucky to get away with a yellow card for a leaping tackle on Belhanda, perhaps counting himself fortunate that the Moroccan is made of sterner stuff than 95% of playmakers. Belhanda is easily provoked, though, and picked up a booking of his own a few minutes later.

Ancelotti took the sensible course of replacing his man in the 55th minute to prevent his team going down to nine. Girard, blessed with fewer resources than his counterpart, did not, and saw Belhanda trudge disconsolately past him some ten minutes later after collecting a thoroughly predictable second booking.

The real victim of PSG's red card had been poor Guillaume Hoarau, who was taken off for Alex, ten minutes into his first start in seven months due to the absence of Ibrahimovic. The league leaders still looked the more enterprising side, with Jeremy Menez and the improving Ezequiel Lavezzi sporadically terrorising the home defence with their pace and showing the shoots of a promising partnership.

Certainly, we saw enough on both sides to remind us how this rivalry really crackled with intent last season. Yet as PSG sporting director Leonardo's furious tirade against the performance of referee Clement Turpin drowned out a neighbouring interview of Montpellier defender Abd El-Kaoutari ten paces away in the post-match mixed zone, we were reminded which club makes the big noise in Ligue 1. The two clubs have readily resumed their respective natural positions in the French game.