Hearts won't be broken if fans have their way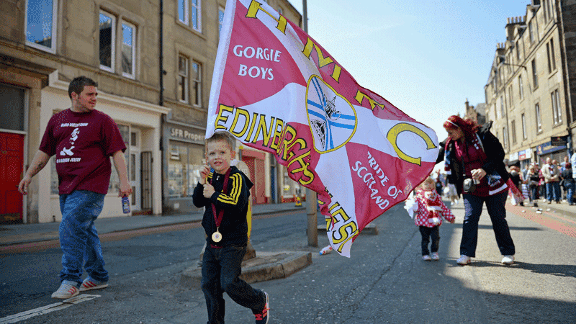 GettyImagesHearts fans young and old, from Scotland and beyond, are doing their bit to try to save the club
On Friday night in Inverness, Hearts supporters shuffled nervously into a hotel conference room. They had assembled to get the latest word from senior club officials on the full-scale financial crisis that has enveloped the club in the past week.

The following day's Scottish Premier League match against Inverness Caledonian Thistle was almost an after-thought. That's how it works when a football club is fighting for its very survival.

Along with several ESPN colleagues, I attended the Friday night meeting and listened with interest as managing director David Southern and club director Sergejus Fedotovas repeated what had been spelled out earlier in the week. Hearts would need £450,000 by the close of play on Thursday, November 15 to stave off the grim reaper.

The £450,000 relates to unpaid tax (PAYE and VAT) due to Her Majesty's Revenue and Customs (HMRC). Those who follow English Premier League football will regard this as a tiny amount. Out there in the real world, things are rather different.

When you add to the equation a separate demand from HMRC for £1.75 million plus interest and penalties, it's clear this could mean serious trouble for Heart of Midlothian. The latter case centres on loan agreements for players who joined Hearts from Lithuanian side FBK Kaunas.

The Kaunas connection of course brings us inevitably to majority shareholder Vladimir Romanov. Chairman of UBIG Investments, he arrived in Gorgie in 2005 amid a blaze of publicity. Many saw him as a saviour but for a number of years, Romanov has kept Hearts at arm's length. By his own admission, the Russian-born Lithuanian businessman has fallen out of love with football.

A serious funding gap must be bridged. It's basic arithmetic that when a club's income is £6 million annually and they spend £8 million, problems will ensue.

At Friday's crisis talks, Fedotovas made the case for fans to buy into the recently launched share issue as well as to purchase tickets for forthcoming games. He then spent time patiently answering questions from Hearts supporters. Is Romanov finished with the club? Why wasn't defender Ryan McGowan offered a new long term deal in the summer? How confident are you of winning the other ('big') tax case?

The most pertinent question of the night was this: "Why should we as Hearts fans, buy shares in the club?" The caveat "can we trust Mr. Romanov?" could have been added.

The fact is, the supporters have no choice. The club, to them, represents a rich maroon tradition that has been passed on from one generation to the next. When senior officials at Hearts are telling the committed that the end is nigh unless the fans chip in, can they gamble with the club's future by doing nothing?

Jambos in Edinburgh, all over Scotland and around the world have been doing plenty in recent days. At the time of writing, this week's home game against St. Mirren is just a few hundred seats short of a sell-out.

On Saturday, Tynecastle will be packed to the gunwales. Tickets for the matches against Celtic on November 28 and Aberdeen on December 8 will likely be snapped up quickly, too.

The Hearts Under-20 team will run out at Tynecastle on Tuesday night, as opposed to their usual Newtongrange home. A bumper crowd is expected.

What really caught my imagination over the weekend though, were the sudden and heartfelt attempts by the people who really care about their football club, to keep it breathing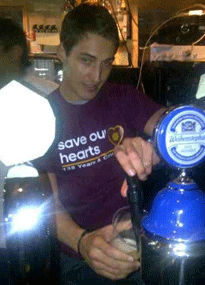 Other / Alan HunterFormer Hearts striker Rudi Skacel mucking in at a fundraiser at Edinburgh pub Brauhaus
The Brauhaus pub on Lauriston Place in Edinburgh announced that all of their Sunday bar takings would go to help save the club. £7,371.97 was raised. A job well done. At times like this, the value of an organised online community is crucial and thanks to efforts by hmfckickback.co.uk and others, fans know exactly how they can contribute.

Two former players, Gary Mackay and Scott Crabbe, have today launched their own 1874 Fighting Fund - named after the year of the club's formation. Overseas Hearts supporters are getting the Christmas orders in early at the club shop.

Will £450,000 be raised by the end of business on Thursday? If not, will Romanov himself cough up the difference? I suspect the answer to the second question is yes, although the majority shareholder will want to be paid back.

Whether Hearts fans should be put in this invidious position can be discussed after (hopefully!) the immediate crisis is over. The fact is, those who love their Hearts, are doing their bit, and then some.

Whatever you're doing, wherever you are on Saturday at 3 o'clock Scottish time, spare a thought for Heart of Midlothian and their passionate followers. Frankly, they deserve better.