Barca the real winners against Celtic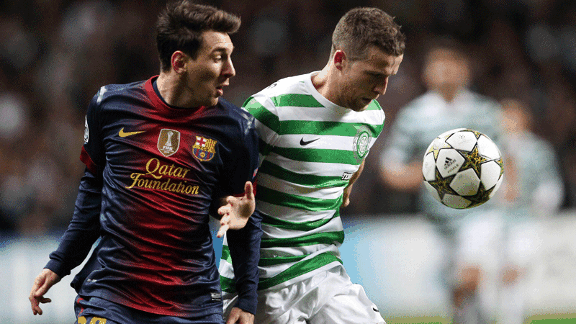 PA PhotosLionel Messi gave the ball away by putting it in the net
Celtic 16-84 Barcelona

Tito Vilanova's injury-hit side triumphed in unprecedented fashion against a cowardly Celtic, despite two goals conceded, in a match they dominated from start to finish, in possession.

To call it a procession for the Spanish side would be an understatement. Despite seeing almost none of the ball, Celtic in some misguided quarters have received the majority of the praise. The more educated amongst us will, however, know that credit is due to the legendary care and attention that Barcelona displayed in retaining the ball. On a wider note, with Real Madrid struggling against Borussia Dortmund in Spain, Barcelona's showing went some way to defending Spanish football's reputation in UEFA's premier competition.

- Celtic rewarded for Barcelona break down
- One for the ages as Celtic stun Barca
- Blog: 125 year history inspires Celtic

Vilanova's career is already impressive, leading La Liga with an ease that suggests a new lease of life to his team of decorated superstars. They are evidently on their way to new heights. After a spat with Jose Mourinho at the start of last season, he must be delighted to demonstrate his superiority in a competition in which the Portuguese has had two high-profile successes.

Barcelona have had successes of their own, of course. Under Pep Guardiola they dominated Europe in a way no other team has in the Champions League era. That era, having its false nines, inverted wingers and double pivots to ensure ball retention in the face of a past where misguided luddites looked towards a scoreline, is the only one that matters.

Barcelona defined a method of playing, tiki taka, and made Sir Alex Ferguson look like an inexperienced student. Celtic's manager Neil Lennon must be in awe at the technical ability on show. Statistics demonstrate that Barcelona blew Celtic out of the water with a majestic 84% possession. Success like this is part of the Barca tradition of dominance: a moral dominance.

It was a game where Barcelona did not relent from start to finish. To maximise their statistical dominance - except in the scoreline - they had to concentrate. They did not let their carousel get overly diverted from the first-half corner that led to Victor Wanyama putting the home side ahead.

Without worry, the Catalan side continued to pass the ball from front to back, back to front, left to right, then right to left. Sometimes they would express their artistic side with a crafty diagonal pass to go between two - sometimes, unbelievably, three - Celtic players to another Barcelona player. And again, it would start.

Barcelona showed leadership and resolute guile to ensure that the possession statistics did not dip beyond a fantastic 95% pass-completion rate. There is of course a danger of finding myself in Private Eye's Pseuds' Corner, but this was the mark of great entertainment, as defined by Maslow's famous hierarchy of moral legitimacy.

They even overcame the absence of two key players in Gerard Pique and Carles Puyol. Of course, it was a tribute to them that they could rely upon players of the calibre of Alex Song and Marc Bartra. To their immense credit, we must recognise the measure of Vilanova and their experienced performers in making sure that when they went two-nil down to a characteristically vertical and obvious Celtic attack, heads did not bow. They recognised the goal for the footnote it was, and should continue to be.

It's true, though, Barcelona wobbled. Few can keep up such quality. In injury time they showed the uglier side of their game, the more cynical element imposed upon them by the less knowledgeable fan; they who presuppose that the result is the object of football. Like 4-4-2 and hooliganism, these dark, brutish elements of football cannot be fully expunged from the game. Like the evil of diving, Barcelona have a habit of betraying this cynicism.

Leo Messi was the worst culprit, exploiting space to create a number of chances when a sideways pass was on. Alexis Sanchez, as befits the immature menace, sent a wildly inappropriate shot a number of feet wide instead, when the reverse libero was free by the centre circle.

Eventually, their concentration slipped, and the relentlessness of keepball was punctured, like the benign image of their superiority, with a stoppage-time Messi goal. Tempers frayed, and at that point Celtic's fans were clearly hugely nervous, anticipating a chance that Celtic might respond in kind with a hypnotic, stringless yo-yo motion of the ball between players. No chance. The Scottish side simply returned to a simplistic interpretation of the game, indulging in the old-fashioned 'two banks of four' formation last seen in Roy Hodgson's much-maligned England Euro 2012 debacle. No wonder Celtic seemed rudderless.

Despite this, Barcelona were a tribute to their idea of themselves. They continued to make sure that the idea of passing to each other never fell from their heads. As the game came to a close, jubilation spread across the ground.

Yes, the fans of the home side may have come to see Celtic on their 125th birthday, but that wasn't the story. Men, women and children in iconic white-and-green stripes cheered and wept with disbelief. This was it, this was the day. Barcelona had achieved the marker of 84% possession to Celtic's 16%. This is the largest victory in Champions League history, and it's truly a result to go down in the sacred annals of football. And they say that football isn't a pure art.