Five things we've learned after 10 Premier League games
A familiar name rests atop the Premier League: Manchester United. Chelsea is a point behind, and defending champion Manchester City is a further point adrift.

The order of the top three may change, but the teams won't as the season progresses.

Goals and controversy have filled the back pages, making for more than the usual, substantial, fodder.

Here are five things we've learned through 10 games:

1. City isn't in top gear -- yet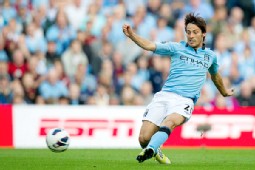 AP / Cal Sport Media via AP ImagesDavid Silva: Missing in action for City
When Manchester City drew 0-0 at West Ham on Saturday, several radio pundits in London called it a damaging result. While Manchester United beat Arsenal to climb the standings, City dropped two points against a team playing in the Championship last May.

All isn't well at City, that we know.

The weekend's result marked only City's third clean sheet of the campaign -- after routinely blanking opponents last term -- and central defender Vincent Kompany has yet to produce to his usual high standards. Boss Roberto Mancini has been criticized by his own players for his tactics, David Silva has gone from being one of the league's standout performers to nearly invisible, and as a result, Yaya Toure has suffered. Driving runs from the former Barcelona man haven't been as common.

It hasn't helped that one of City's five high-profile summer signings, Jack Rodwell, has been more useful to the opposition than the Citizens.

However, is City 10 points behind United? No. Five points? No again. The gap is miniscule, and this with City struggling heavily in the Champions League.

Mancini was asked after Tuesday's damaging 2-2 home draw against Ajax if he'd like to compete in the Europa League if advancing in the Champions League isn't possible. He, half-heartedly, said yes. But finishing last in its group and not having any European commitments would result in minimal distractions in the chase for a second consecutive league title.

Scoring won't be an issue - Saturday was the only game in any competition this season City hasn't found the back of the net -- the defense will improve (it's two consecutive league shutouts), and in Joe Hart, City possesses one of the world's best keepers.

2. Rooney is doing more -- and less

Given that manager Alex Ferguson spent £24 million on Robin van Persie, the Dutchman was always destined to become the main man at Manchester United. So far, so good. Van Persie has scored eight league goals, and on that pace, he'll net 30 once again.

His arrival has meant less playing time for Danny Welbeck and Javier Hernandez -- and marginally cast Wayne Rooney out of the spotlight.

Rooney has settled for playing behind van Persie, not alongside him. The assists have come, five in total to lead the league, and with Rooney allowed to wander in a free role, he's clocked up mileage, able to make an impact at both ends of the pitch. He was superb, for instance, in United's 3-0 win at Newcastle in October, arguably the Red Devils' sharpest outing.

Here, though, is the worry: Will Rooney's position lead to fewer goals and dull his instincts in front of the net? Probably. Through 10 games, Rooney has registered two goals (in seven league appearances), and he missed a penalty against Arsenal. In 2011/2012, he finished second to van Persie in goals with 27.

With van Persie around, being restored at striker doesn't look likely anytime soon. His positional switch has ramifications for England, because the Three Lions need Rooney to score.

That United leads the league is an achievement: Nemanja Vidic has been sidelined, goalkeeper David de Gea remains a question mark and the center of midfield has underwhelmed. Positively for the defense, right back Rafael has raised his level after Tottenham's historic win at the Theatre of Dreams.

United and City to vie for first place, and Chelsea to fade.

3. Arsenal won't win anything, again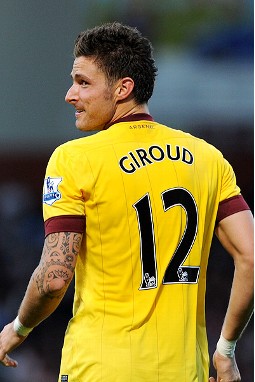 Stuart MacFarlane/Arsenal FC/Getty ImagesOlivier Giroud: No Van Perise
Two seasons ago, Arsenal manager Arsene Wenger was convinced his team could challenge for the title. Recent declarations by the handsomely paid Frenchman -- too handsomely? -- suggest he now knows the Gunners can't compete with Manchester City, Manchester United and Chelsea.

Wenger and the board trumpet the fact that Arsenal is financially sound, but the fans, who pay the highest ticket prices in the land, continue to suffer. Come May, another season will go by without a trophy.

Finishing fourth? Small consolation -- if it happens.

The squad isn't good enough -- and that wasn't a secret before the season began. Olivier Giroud is no Marouane Chamakh. He offers much more, but Giroud was signed to score some of the goals van Persie did. His tally? One in the league.

A second newcomer, Lukas Podolski, started promisingly. Ankle injury or not, he has cooled. Gervinho only occasionally hits the target, yet Wenger has bizarrely preferred the Ivorian up front to Theo Walcott (not that Walcott is entirely consistent himself).

The defense is back to its old tricks, the run of clean sheets gone. Thomas Vermaelen's errors mount, Laurent Koscielny has displayed none of last season's encouraging form, and stand-in left back Andre Santos is more concerned about swapping shirts than doing his job in the back four.

Wenger's men are nine points behind the league leader. When the next 10 games conclude, the margin is sure to increase.

When Arsenal surrendered a two-goal lead at Schalke in the Champions League on Tuesday, Wenger said he was happy not to lose after the woeful display at Old Trafford.

The bar has been lowered. It was less than 10 years ago when the "Invincibles" strutted their stuff but seems much, much longer.

4. Bargain buys are possible

In this era of overinflated transfer fees, largely thanks to Roman Abramovich's entry into the world of football, not all successful buys have to be of the Eden Hazard variety (£32 million). Hazard, truth be told, has been overshadowed lately by Chelsea teammate Juan Mata.

These three Premier League imports who cost a total of roughly £11 million have transitioned nicely to England's top flight -- Swansea forward Michu, Everton forward Kevin Mirallas and Wigan striker Arouna Kone.

Strong in the air and rugged -- he stayed on the pitch after a nasty clash of heads with tank-like Man City defender Micah Richards in October -- Michu is particularly suited to England. He's handy, too, with the ball on his trusty left foot.

Mirallas -- apparently passed over by Arsenal -- can play in a variety of positions and has looked lively, especially against Liverpool in last month's eventful Merseyside derby. Kone's work-rate hasn't gone unnoticed, and he's part of an effective attacking trio alongside the blossoming Franco Di Santo and Shaun Maloney. More goals will come for Kone.

Fulham forward Mladen Petric (free), Aston Villa defender Ron Vlaar (£3.2 million) and Norwich winger Robert Snodgrass (£3 million), who moved up from the Championship, also merit praise.

5. The refs are getting it wrong

We can all agree that referees and linespeople don't have the simplest job. TV viewers benefit from replays and different angles; officials must come to a verdict on the spot.

But the wrong decision has been made too often, depriving teams of valuable points. Does it all even itself out? Not a chance.

Let's recall some of the poor decisions: Luis Suarez's late goal being disallowed in the Merseyside derby for offside; Fernando Torres being booked for diving to earn a second yellow when the Spaniard was clearly fouled by United's Jonny Evans; Kevin Nolan's goal being disallowed for offside versus City on Saturday; Liverpool not being awarded a penalty Sunday when Suarez was hacked down by Newcastle's Fabricio Coloccini; and Everton being denied two perfectly good goals against Newcastle.

Goal-line technology to determine whether balls cross the line is on the way, finally. Using video to clear up contentious offside judgements wouldn't be the worst thing, either.

Irrespective of the Torres incident, targeting diving can only be applauded. And most times, the refs have got those ones right.