One for the ages -- Celtic stun Barca
Most of the time, the group stages of European competition are a whirring dirge. Anodyne thumpings dispensed by German giants or cagey single-goal wins by English or Italian titans. Sure, we get the occasional eyebrow-raising result, but the most seismic shock on Matchday Four was felt in Parkhead as a little club called Barcelona was undressed by Celtic.

- Hoops stun Barca for famous win
- Blog: 125 year history inspires Celtic to Barca win
- Blog: How Barcelona rated against Celtic

We remember the madness of the previous fixture at the Camp Nou in which the SPL side came within 60 injury-time seconds of holding Lionel Messi & Co. to a brave, much-deserved point. The goalkeeper that day, Fraser Forster, stared down 13 shots on target and parried many of them with brilliant agility, left to rue the one that got away.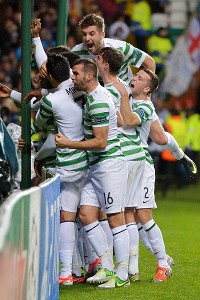 Jeff J Mitchell/Getty ImagesCan Celtic keep their much-celebrated run in Europe alive when they face Juve?
Wednesday's 2-1 win felt like his revenge -- and it was, with a string of sublime stops to prevent Messi, Alexis Sanchez and Pedro from breaching his goal line -- but more importantly, it was a just reflection of what Celtic is capable of in an intriguing, but beatable Champions League group.

While most look at these stunning results in proper context -- what's a dropped point or two amid general domination? -- this one has legs. This one means something. This one could well give the Scottish side a taste of the knockout rounds for the first time since 2007-08. (The team that dumped it that year? Barcelona.)

So what happened? Well, Celtic followed the blueprint of prior Barca beaters in Europe to remarkable success. As Chelsea showed last season -- and Jose Mourinho's Inter prior to that -- it becomes alarmingly simple to dismantle the Blaugrana attack if you show discipline behind the ball. It's not simply parking a bus, but rather artfully pulling off a series of parallel parking maneuvers and three-point turns on a busy street. The Scots' 4-4-2 was flexible and full of energy, allowing Barca plenty of the ball but no space in which to use it.

Adam Matthews filled the left back spot and gave Dani Alves and Pedro little comfort. Kelvin Wilson and Efe Ambrose marshaled the central defensive zones with intelligence and patience, unwilling to be suckered into the quick footwork of Messi and Alexis for fear of sacrificing their positional poise. Victor Wanyama and Charlie Mulgrew chased and harried Xavi and Andres Iniesta across the midfield as Barca's passing attack grew increasingly less vertical in nature.

Hoping to lull Celtic to sleep with mesmeric, controlled lateral movement, Barca found that the openings simply didn't arrive.

And then there was Forster, rigid and resolute from start to finish. He denied Messi's curling effort midway through the second half, improbably parried two Alexis chances in quick succession and was only beaten in injury time by Messi -- the Argentine forward, positive to the end, scrambled in on the rebound after the English keeper had palmed Pedro's close-range drive on the 6-yard box.

More important than Forster's saves, obviously crucial as they were, was the sense of confidence with which his dominance filled his teammates. Celtic were emboldened to attack in stretches -- Wanyama's lurching header beat Valdes after 21 minutes, and despite the might of the Spanish side, it felt like a comfortable lead. The magic only grew as 18-year-old Tony Watt, a second-half sub, sprinted clear of Javier Mascherano to coolly rifle a shot across Valdes with seven minutes left on the clock.

Cue the pandemonium amid the 60,000-strong crowd.

This is Barcelona in isolation, mind you. Although it is one of the all-time greatest club teams, not every game can possibly be a four-goal rout and invincibility is never guaranteed. Yet Tito Vilanova will wince at the lack of incision his squad of stars showed as the game wore on. The great team attack looked like individuals hoping to will their way through on goal. The I in tiki-taka revealed itself even once David Villa entered, as the mercurial striker was unable to fashion a decisive shot.

What does it mean for the La Liga side? Amusingly, very little. A reality check as it prepares for a crucial period of the season, if anything. Barcelona will still reach the knockout stages, where the real fun will begin.

As for Celtic, it's a healthy dose of self-belief; who cares about Scotland's weak UEFA coefficient, one that meant the SPL champions had not one, but TWO qualifying rounds to slog through? And then, a perch in Pot 4 and home-away dates with Barcelona, Benfica and Spartak Moscow.

None of it wore on Neil Lennon's side on Wednesday. It had come close to success in Matchday Three and secured it with aplomb at the second opportunity. Now, Celtic are in second place with a three-point cushion over Benfica and a trip to Portugal in three weeks. Destiny is in their hands. Given Wednesday's results, no one would dare bet against them.