No conspiracy behind Man City's struggles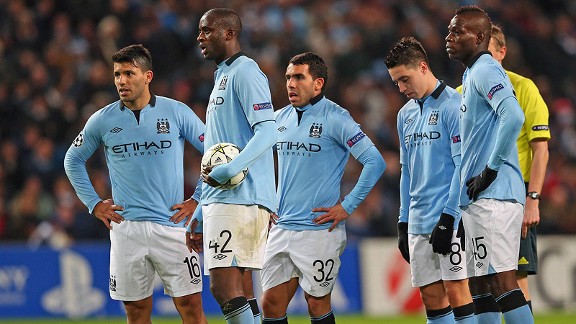 Alex Livesey/Getty ImagesWhat ails Man City isn't a cloak-and-dagger issue. It's simple execution on the field.
We love to conjure up neat and clever theories to explain things in football. Sometimes, there's a logic to it, sometimes there isn't.

Take Manchester City, whose Champions League future is hanging by a thread following Tuesday's 2-2 home draw with Ajax. There are valid reasons to explain why a club with an astronomical transfer expenditure and an enormous wage bill could find itself with just two points.

For example, the other teams in Group D are either very good (Borussia Dortmund, Real Madrid) or have performed better than expected against City (Ajax). David Silva, probably one of the most difficult players to replace on City's squad, was injured and missed the last two games.

Referee Peter Rasmussen did not grant a last-second penalty after Ricardo Van Rhijn's shirt-pull on Mario Balotelli. (Many complained about Sergio Aguero 's disallowed goal, too, but I assume the offside was for Edin Dzeko's touch to Aleksandar Kolarov. As I see it, the assistant got that call right: He was either marginally off or close enough that you can't really blame him for raising his flag.)

Those -- and a few other injuries, though frankly, everybody has injuries -- are the factors beyond manager Roberto Mancini's control. He might choose to cite them as mitigating circumstances, and he'd be justified in doing so.

As a 2-seed, City might have ended up in Group A (with Porto, Paris St. Germain and Dinamo Zagreb) or Group F (with Bate Borisov, Bayern Munich and Lille). In both cases, you could realistically suggest that City, without playing substantially better than it has, would probably have four or five more points than it currently does.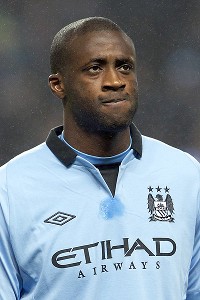 VI Images/Getty ImagesSome think that Man City's lack of European experience is to blame, yet players like Yaya Toure won the Champions League prior to joining Mancini in Manchester.

The thing is, even if all those factors were breaking Mancini's way, and if City was already on the road to the round of 16, it would not change a basic fact: This team has not played consistently well. Some of it is due to the players, a few of whom have made some grotesque individual errors, particularly against Ajax. But some of it has to be due to Mancini, his tactics, his match-day decisions and his man-management. After all, it's his job to get City to perform to their potential, and we've seen in the past that City can play well.

Those, as I see it, are valid, rational reasons. Now, for some of the nonsensical theories that have been bandied about.

Theory One: "Mancini has lost the dressing room; the players are divided, many don't like him, and so the team plays badly."

We've heard rumblings of this since his arrival at City. Mancini, admittedly, is not one of those cuddly managers who tries to be his players' best friend. But while there were leaks and complaints when he first arrived, they've tended to dry up. If anything, there was far more open dissent last season than there has been this go-round. Remember Carlos Tevez's three-month holiday? Or Mario Balotelli going ballistic at being substituted?

Beyond that, while squad harmony is important, I don't quite buy that fact that players who don't like their manager or are unhappy will make the kinds of mistakes that City's stars have made. You presume these guys have ambition and want to go as far as they can.

Theory Two: "This team doesn't have the necessary Champions League experience."

This is something Mancini himself brought up, and it's frankly silly, not least because City were in this tournament last season.

Plus, 10 of the 14 men who played against Ajax played in the Champions League before arriving at City. Heck, Mancini has four guys -- Tevez, Balotelli, Yaya Toure and Maicon -- who have actually won the Champions League and know how it's done.

Besides, it's not as if the Champions League is played under a different set of rules that require some kind of massive adjustment. That may have been the case in the 1970s when there really were deep differences between different countries and refereeing styles, but today it's much less of an issue. And most of these guys have played some form of international football since they were teenagers.

Theory Three: "Mancini doesn't know how to win in Europe; his record in continental competitions is poor, as evidenced by the fact that he has never advanced beyond the quarterfinals in the Champions League."

First and foremost, past performance is not a guarantee of future results. Pep Guardiola had never advanced beyond the Champions League quarterfinals before he actually won the competition. Neither did Roberto Di Matteo, for that matter. Or Rafa Benitez.

More importantly though, why this arbitrary cutoff point at the quarterfinal? Could you turn it around and suggest that in six attempts -- four with Inter, one with Lazio and one with City -- Mancini's team advanced from the group stage four times, far from a horrible result?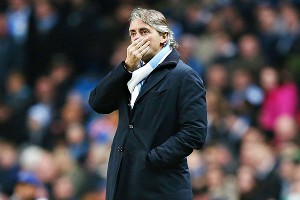 Alex Livesey/Getty ImagesMancini has experienced plenty of Champions League disappointment as a manager, yet his Euro "failures" include four trips to the knockout stages from six attempts. Hardly a terrible record.

What has been consistent about Mancini's teams in Europe has been drama, especially at Inter. One year he was drawn against AC Milan in the quarterfinal and Inter ended up forfeiting the game because the fans launched dozens of flares onto the pitch. Twice he went out on the away-goals rule in the knockout phases (once, against Valencia, with an insane full-blown brawl at the final whistle). Against Liverpool in 2007-08, he had a man sent off inside an hour in both legs.

Mancini's fault? Maybe. But does it show an inherent inability to succeed in Europe? Not necessarily.

Besides, in knockout competitions, things change very quickly. Fools become kings and vice versa. What would you say about the manager of a big club who won just two of his first 11 Champions' League games? That he couldn't win in Europe? Well, that was Mourinho's record in Europe at Inter before he turned it around and went on to win it all.

Most of all, as I pointed out before, there is no rational reason to think that success in European competition and in domestic leagues requires a different skill set. The game is far more homogenous than it used to be. Anyone can come up with examples of guys who do well in one but not the other, but the sample size simply isn't big enough. At most, you might argue that there is a special skill involved in interpreting the intricacies of a knockout format.

That may be true in some -- very few, actually -- cases, but it doesn't really apply to Mancini. After all, he did win no fewer than five domestic cups with four different teams. And in any case, the Champions League group stage (where he's struggling now) is not a knockout competition.

The bottom line? There is no reason to complicate matters with fancy theories. City hasn't had many breaks in the Champions League in the past two seasons, but given its vast resources, it shouldn't need them. City simply hasn't performed well enough, which is the responsibility of the manager and the players. At the same time, we know City can play well -- we've seen it, since the club didn't win the Premier League by accident.

At this stage, it's simply a question of whether Mancini can help City regain its form. Also, how long the club is willing to give him.