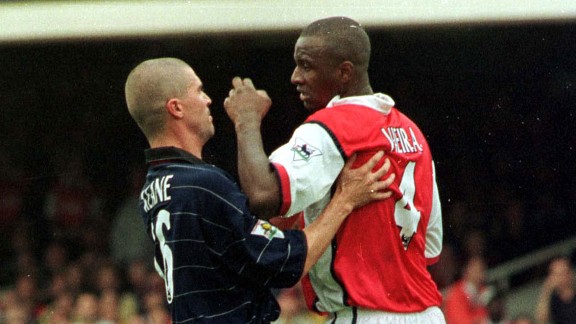 PA PhotosRoy Keane and Patrick Vieira for many years embodied the fierce rivalry between the two clubs
"Since I've come down here, it's always the most important 'derby' game in the sense that both teams have always been challenging for the league."

On Friday, Sir Alex Ferguson was being polite. He was also talking in the wrong tense. Manchester United and Arsenal used to have the keenest rivalry in English football. The true picture of things as they are now was revealed when United's straightforward win on Saturday was followed by Ferguson bemoaning his team's failure to add to their goal tally.

Perhaps Ferguson meant the type of derby that United once played against a pre-Sheikh Manchester City, where a hopeful cross-town contingent prayed that emotion and determination might carry the day - not that Arsenal showed much of either on Saturday. It was not 8-2, but it was not a contest in the remotest sense either.

Outside a local rivalry, the idea of a footballing derby conjures images of two of a country's biggest teams coming face to face. Serie A has a Derby d'Italia between Internazionale and Juventus. We may now know it as El Clasico, but Spain has El Derbi between Real Madrid and Barcelona. United v Arsenal was once such a fixture. As Ferguson said, it was usually the key match of the campaign, and especially in the years after Arsene Wenger's arrival in English football.

Wenger's first full season saw his team win the Premier League and FA Cup, and a March 1998 victory at Old Trafford, courtesy of a Marc Overmars goal, set the Gunners on the winning run that wrested the title from a United side that had been ten points clear. The following year, 1999, was undoubtedly United's, but the trajectory towards their Treble began with victory over Arsenal in an FA Cup semi-final replay.

When Arsenal roared back with another Double in 2002, they collected the Premier League title by winning at Old Trafford, with Sylvain Wiltord scoring the decisive goal. The season after that, United pegged back Arsenal when the title looked theirs again, this time all but securing the crown at Highbury. At the end of a pulsating 2-2 draw, Ferguson ran into the centre circle, his air-punching celebration directed at the United fans. Not losing at Arsenal meant his team had a clear run at the title. The toughest hurdle had been negotiated. Each club's success lay in the other's failure.

Arsenal's 'Invincibles' went the entire league season unbeaten in 2003-04, but their run could have been over early in the campaign had Ruud van Nistelrooy not crashed a late penalty against the crossbar. The following year, Arsenal were going for 50 league games unbeaten, United having stopped the Gunners' own Treble bid by bullying them in another FA Cup semi at Villa Park. Arsenal did not get to the half-century either. The team that stopped them at 49 was none other than United, but North London revenge was gained in that season's FA Cup final, in which United outplayed Arsenal but lost on penalties.

This was a time of Martin Keown's simian outbursts and flying pizzas in the dressing room. That February, Roy Keane and Patrick Vieira had their famous tunnel spat at Highbury, with a snarling Keane the clear winner both in pre-match and the game itself. Even in a season in which both teams were way off the Premier League pace, this was blood and thunder, with no quarter asked and none given, but United's 4-2 win that night was almost the last match of its kind. Once Vieira had slotted the winning penalty on May 21 2005, he took his leave of Arsenal, and Keane's final bust-up with Ferguson that November hastened his own exit from the scene.

That Cardiff afternoon was the last time Arsenal won a trophy, though it was widely suggested that it was United who were set for drought. That week had seen the Glazer family seize control of the club via a debt model that, for many, spelled the end of United having things their own way. The dominance of an Abramovich-funded and Mourinho-led Chelsea seemed to spell the beginning of the end for Ferguson. Yet he remains, with Mourinho in exile, and it is Wenger who now talks of finishing fourth, previously a position for the also-ran, as a trophy. In each season since 2005, Wenger's team have finished second-best to the club they once felt they would surpass.

Vieira's exit set a trend. Wenger had lost a player he still wanted and needed, but whose ambitions he could not match. It had happened before with Nicolas Anelka, Emmanuel Petit and Overmars, but all were successfully replaced. This time, he found no such replacement, and in later years the situation would be repeated with Ashley Cole, Thierry Henry, Cesc Fabregas and, most recently, Robin van Persie.

Even more than losing seven games out of the last eight against United, the Dutchman's move to Old Trafford was the deepest nail in the coffin of the former rivalry. The 'little boy' inside Van Persie who screamed to join United has finally drowned out Arsenal's pretence of equality with the Old Trafford club. When Van Persie struck on Saturday, it was with utter inevitability. There may have been those Arsenal fans who call him 'Judas', but it is not the Dutchman who has betrayed the club's ambitions.

That fault lies with supposed custodians who sold their club to an absentee owner for whom fourth place and Champions League revenue will do just fine. Wenger must share blame too. His teams have never evolved from the point at which an initial French revolution in English football was caught up and then overtaken.

Once, Wenger could revive the careers of Henry and Vieira, two talents lost in Italian football, but his transfer touch has almost deserted him. Olivier Giroud may be a goal-shy striker, but he was far less anonymous than Lukas Podolski at Old Trafford. Santi Cazorla may delight, but he had no one to pass to on Saturday.

And the final insult was delivered by Andre Santos, perhaps Wenger's worst purchase in 15 years at Arsenal - and at half-time, too. The grasp for Van Persie's shirt at the break, with the score still at 1-0, was an act of tourism, not professionalism. In the manner of a non-league footballer in the FA Cup third round, Santos's gesture befitted a club travelling to Old Trafford not for a result but instead a big day out. It was behaviour unthinkable in the days of Keane and Vieira.