Arsenal fail to show up at Old Trafford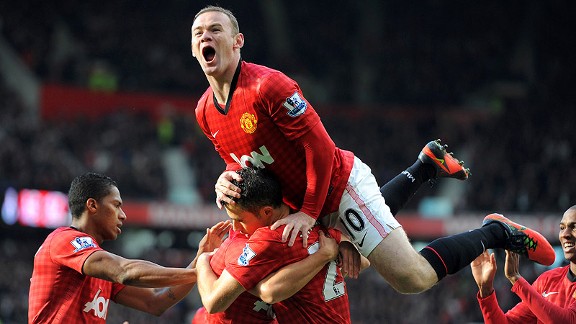 Andrew Yates/AFP/Getty ImagesManchester United defeated Arsenal 2-1 at Old Trafford.
Before this morning's game, Arsenal had been trying to sell their midweek league cup win to supporters, asserting that the epic 7-5 victory over Reading was going to fire them to glory in the Premier League. In so doing, they tried to forget their past two Prem matches in which the Gunners looked somewhere between abject poor (vs. Norwich) and mediocre (vs. QPR) But the Capital One Cup is, well, the Capital One Cup, a cheap trophy for rent; winning a match in the league, against United at Old Trafford no less, is another matter.

And so, in what was a rather sloppy affair on both sides of the ball, United comfortably defeated Arsenal 2-1. It could have been more if not for profligate finishing by Sir Alex Ferguson's men, who were in control of the match. Indeed, when United finally got a much-deserved second goal in the 67th minute, when wee Patrice Evra headed home, beating towering Per Mertesacker and Thomas Vermaelen, you suspected they might run riot over the Gunners. Although that didn't happen, questions will once again be asked of Arsene Wenger's side. Unthreatening at best, error-prone at worst, Arsenal sputtered, lacked pace aside from much-maligned Andre Santos down the left and ultimately put in a poor shift.

Some thoughts:

Arsenal didn't show up
After the awful loss at Norwich, an infamous day in which the Gunners took a plane to the match, and an ugly 1-0 win over QPR at Emirates Stadium, Arsenal could ill afford to drop more points in the league. But their loss to United now sees the Gunners with 15 points in 10 matches, nine behind United.

At the start of the match, Ian Darke mentioned how Arsenal had the "best defense" in the league, having conceded only six goals. "Make of that what you will," Darke said, no doubt suggesting what we've seen from Arsenal the past few years – errors, which once again played a part at Old Trafford.

In no less than the third minute, Vermaelen tried to clear his lines and ended up making a hash of it, giving the ball straight to – who else? – Robin van Persie, whose first touch of the game, on his right foot, opened the scoring. In a shocking day for the defender, Vermaelen gave the ball away again in the 45th minute as if he had two left feet. If anything, it was keeper Vito Mannone who did fine, with four saves. The rest of the Gunners simply didn't show up for this match. Jack Wilshere was booked for a careless yellow card in the 14th minute for a challenge behind Tom Cleverley, then saw a second yellow in the 69th minute for an equally daft tackle on Evra. Where was Lukas Podolski? Why was Arsenal's first shot on goal (by Olivier Giroud) in second-half stoppage time, and their first goal (by Santi Cazorla) the final kick of the game? How come Wenger didn't make substitutions at right after halftime to try to reinvigorate his lackluster side?

Is this United's preferred starting XI?
Sir Alex Ferguson started the same players who defeated Chelsea under controversial circumstances last weekend, and once again they put in a decent shift. It wasn't high-octane United, of course, with sloppy passing; a wayward Michael Carrick cross-field pass in the second half, for example, went to Cazorla, although sub Theo Walcott couldn't finish on a tight angle. Overall, however, the Red Devils were in control. Ashley Young and Antonio Valencia provided the natural width in the midfield diamond, and there was terrific fluidity about the forward-thinking players. In the 26th minute, Valencia broke down the right before passing the ball to right back Rafael, who drifted into the middle. He then dished the ball to Wayne Rooney, who had sprinted out wide right. His cross came to nothing, but the interchange demonstrated United's threat – and this sequence didn't even include the team's best player, RvP, whose movement was too much for his former team. (On an aside, was RvP lucky not to have seen red for his tackle on Bacary Sagna, which Darke described as a "yellow-plus"?)

United's penalty woes
The Red Devils have been anything but convincing from the spot. At the end of the first half, Young blasted a ball at Cazorla, who raised his hands to protect his face. Penalty. But Rooney's effort was pulled wide left. Do the math: United have converted only one of five penalties in the Premier League and Champions League this season. Robin van Persie is 1-for-2; Chicharito and Nani also have missed. The rest of the Premier League has four misses combined in league play.


Harry might have the last word
This wasn't the 8-2 thrashing Arsenal experienced last season, but in many ways it was even worse. With United missing easy chances -- Valencia, in particular, had a gilt-edged opportunity after failing to connect with a low RvP cross -- the Gunners were still in this game, even after 2-0. But they could muster little in attack aside from the bluster in stoppage time. This week, Harry Redknapp said that if Wenger gets Arsenal to finish fourth, it will be the manager's greatest achievement. Forget the Invincibles or even last season's scrappy third-place finish. This, Redknapp said, would be a herculean effort. After watching this Arsenal side at Old Trafford, that kind of says it all.