The Friday Four: Gunners under the cosh?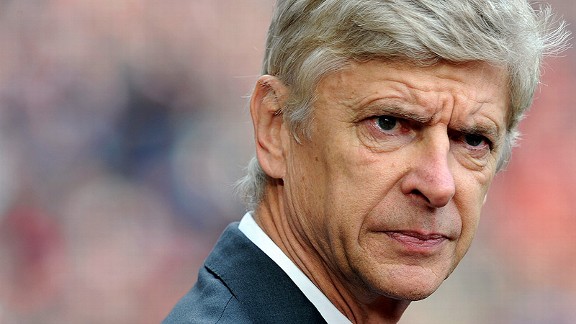 David Price/Arsenal FC/Getty ImagesArsene Wenger surely remembers Arsenal's last league trip to Old Trafford. What does Saturday hold in store for the up-and-down Gunners?
Rarely are we impressed by the itinerant scribbling of soccer fans, but when Manchester United fans unfurled this sarcastic banner at Stamford Bridge during their team's League Cup clash with Chelsea, we were forced to doff our existential caps in their direction.

Cleverness and Manchester no longer belong in the realm of the oxymoron, and if Red Devils supporters can be witty, then we can go 4-0 in our predictions for the week. Really.

Arsenal vs. Manchester United

It's the Halloween aftermath, and like Michael Myers, United simply will not die. Trailing league leader Chelsea by four points and faced with their annual momentum-lost pilgrimage to West London, Alex Ferguson's men found a (Mark Clattenburg-aided) way to win with the kind of guts and gusto that consistently escapes their upcoming opponent.

Arsenal has been busy since the summer, not in the purchasing of quality players but by adding proficiency in expectation management to the club's established skill of buying players low and selling them richly. When Champions League qualification is a trophy and a stirring comeback against a secondary side like Reading is, to Arsene Wenger, "one of my greatest victories," a victory for the ages, the manager shows his mastery of folderol.

Yet what he cannot seem to engineer is a positive result at Old Trafford. Since 2000, Arsenal has made 18 trips up north in all competitions and has never won when United has scored on its home soil -- the Gunners' three victories were all shutouts. In their 13 EPL away meetings, the overall tally sits at 26 goals to eight for United -- take away last season's 8-2 re-enactment of the Guns of August, and this fixture was still lopsidedly U-G-L-Y.

It doesn't help that Arsenal's best players from the past two years now play in Barcelona or the Etihad, or lead the line for United, while Theo Walcott and Andrei Arshavin still sport the cannon. Mon dieu! To make things worse, the likely injury absence of Kieran Gibbs and Abou Diaby leaves the defense even more exposed, while it's fair to say that Arsenal will miss Gervinho as much as United fans pine for Michael Owen.

Does Arsenal stand a chance? Of course. The irony of the Walcott gibe is that he is precisely the type of player who should give Rio Ferdinand and Calamity Evans a torrid time: an uncompromising, head-down-and-handbrake-off runner. Jack Wilshere's gradual return to full match fitness also presents a challenge for United's addled midfield; his angular passing style and general sense of adventure could easily dupe Paul Scholes or Michael Carrick into red cards and ruin.

But it will take more than a headless English chicken and a semi-hobbled midfielder to distract Ferguson from manhandling a pack of gum on the sideline, especially when he can count on the in-form troika of Robin van Persie, Wayne Rooney and Chicharito. While we sincerely doubt that we will see anything like last year's humbling, the final score will not reflect United's likely dominance.

Manchester United 2, Arsenal 1 (and five points out of Wenger's trophy contention)

Tottenham vs. Wigan

Andre Villas-Boas won't be happy that he has to visit the DW Stadium in late April, such is the grit with which the Latics tend to play down the stretch. Yet Wigan is a different beast in October. Following a summer in which Roberto Martinez's most noted player, Victor Moses, parted the Latic Sea and took Roman Abramovich's oily lucre to sit in a comfy substitute's chair, the proud team from a rugby town is still finding its sea legs.

It's not all bad; the best Wiganite thus far, Arouna Kone, spent last year being hot-potato'd around La Liga but has acclimatized nicely to the Prem's unique rigor. What should make this match a lot of fun to watch is that Wigan fields a 3-4-3 -- I know, crazier than a cat with a tinfoil tooth -- and that commitment to attack against a Spurs side that is probably the most naturally fast-forward team in the Premiership could lead to goals aplenty.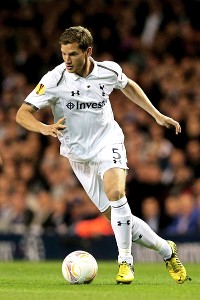 Scott Heavey/Getty ImagesSpurs fans would much rather see talented Belgian defender Jan Vertonghen in his natural center back spot, though his burgeoning rapport with Gareth Bale down the left flank has been a bonus.


The transition from a just-run-about crew to a more artful, dynamic side under Andre Villas-Boas has not been smooth. Given that the girth of Tom Huddlestone, the blandness of Sandro (think: Brazilian Darren Fletcher) and the rawness of Jake Livermore can't possibly match the artistry in Luka Modric's headband, the struggle was to be expected.

Well, that, and Tottenham has surprisingly been stronger away from the Lane in the early part of this season, scoring more points (nine vs. eight) and goals (nine vs. eight) while conceding fewer (six vs. seven) on their travels.

Spurs fans won't like that Benoit Assou-Ekotto's lingering injury will probably force Jan Vertonghen to reprise his role as emergency left back -- as Tottenham's most elegant and natural defender, his talent is needed centrally instead of out wide -- but the Belgian's astonishing rapport with Gareth Bale down the flank means more trouble for the visitors. With Bale marauding and Aaron Lennon finally showing signs of fulfilling his potential, we see Spurs racing out to a quick 3-0 lead before displaying their usual fugue of disinterest in the second half.

Spurs 3, Wigan 2

Queens Park Rangers vs. Reading

What happens when the weak meets the bad? The EPL season is almost 25 percent gone and these two squads have managed a Derby County-esque zero wins between them. You'd have to look in the Arsenal trophy cabinet, post-2005, to see a cupboard this bare.

The malaise has left Rangers fans divided. On the one hand, this is a key six-point relegation battle for their hooped heroes, and Brian McDermott's Royals are coming to Loftus Road bearing the serious psychic wounds that accompany blowing a four-goal lead at home to Wenger's creche brigade. On the other, a loss almost certainly spells the end of Mark Hughes' astonishingly inept display as manager. Most of the QPR fans we know (OK, two of the three) are torn.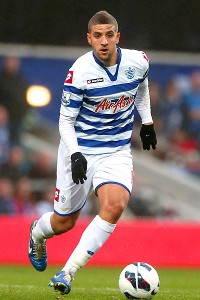 Scott Heavey/Getty ImagesQPR's most talented player, Adel Taarabt, rarely sees the starting lineup, just one of many reasons that Mark Hughes' side is floundering.

It was never supposed to be like this. Regardless of who you blame -- the new owners, a transfer policy akin to taking home the last one standing at the bar come last call, the least inspiring manager in history, or the brigade of Prem surplus currently masquerading as a first team -- the output is rank disaster. Seven goals from nine matches gives anemia a bad name.

The pain is salted by the fact that Mark Hughes refuses to play his most talented player, Adel Taarabt, on a regular basis. Yes, he's temperamental, but the Moroccan midfielder dragged Rangers into the EPL and still leads the team in shots attempted despite starting just four times this season. So what if he's young, difficult and possesses the on-ball intelligence of Daniel Sturridge? The passion Taarabt almost always brings to the field is something QPR desperately needs. As much of a liability as Joey Barton was, at least he could motivate his teammates.

We think that Hughes remains employed another week as Reading's Walcott-induced hangover leaks into Sunday's contest.

QPR 2, Reading 0

Liverpool vs. Newcastle

Newcastle and its silvery haired manager, Alan Pardew, were the belles of the British ball last season, but in keeping with the season, they've been more pumpkin than stagecoach in 2012, still seeking the brio that made footy purists swoon. Were it not for an injury-time winner at home versus West Brom, the Magpies would be below Project Rodgers in the Prem, having thrown away points to Sunderland, Reading and Aston Villa.

Both Newcastle and Liverpool like to husband the ball, but unlike last year, Pardew's charges aren't doing such a good job in possession, holding it just 46 percent of the time away from home. Liverpool was traditionally a side that liked to control the flow of the game -- until Kenny Dalglish came back to town, that is -- and it's an ethos that will be etched on Brendan Rodgers' epitaph. Liverpool sits fifth in the ball-holding charts, seven places above its current league position.

The problem for Liverpool is a simple one -- they're almost trying too hard to break whatever bad karma Luis Suarez hath invited upon the club. For all the near misses, denied goals and/or 'orrible flops, any perceived victim complex doesn't mask the obvious: one win in five home games and only four goals scored.

Catharsis is elusive; ergo, we'll get a tight, low-scoring game because the Reds are just much more timid at Anfield than they are when they go abroad. That, and neither side will risk losing further ground.

Liverpool 1, Newcastle 1

Paul Kanarek is a freelance soccer writer living in Los Angeles, the only city in America where MLS teams outnumber NFL teams 2-0. James Tyler is an editor for ESPNFC.