Deadly Drogba a worthy Blues icon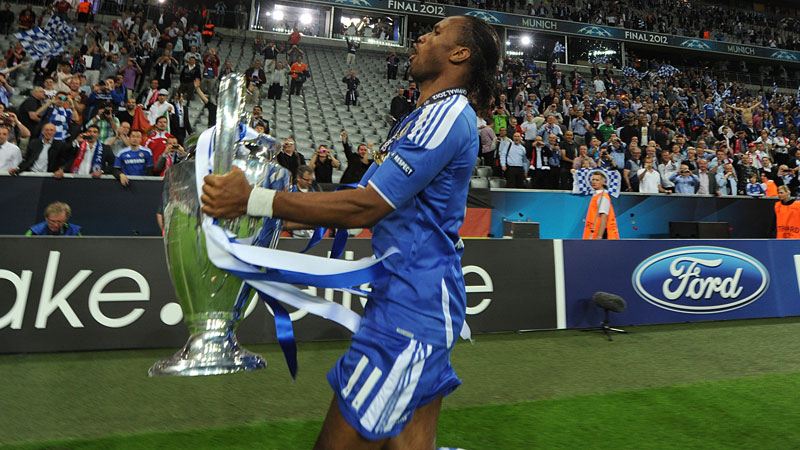 PA PhotosDidier Drogba leaves Chelsea having helped the club to their first Champions League trophy
If we're only discussing pure talent, it would be very difficult to describe Didier Drogba as the greatest player in Chelsea's history - as the club's official magazine have just done after a public poll.

- Drogba voted Chelsea's best

Take the anecdote about how one former player responded when they saw the Ivorian train for the first time. "He's got one of the worst first touches of a professional footballer I've ever seen."

As such, you don't have to go as far back as someone as genuinely gifted as Gianfranco Zola to find someone more innately gifted than Drogba in Chelsea's history. There are enough of them in the current squad, not least the likes of Juan Mata and Eden Hazard.

It would, however, be pretty ridiculous to put the Belgian playmaker, for example, so high on any such list so soon. In that case, polls like this aren't really a question of talent. They're a question of application of talent, especially in the most exacting of games.

After all, what is the point of having Pele's ability if you're unable to properly use it when there's an element of pressure?

Drogba, of course, never had that problem. In fact, it was he who often only escalated the pressure in games. That was what Jose Mourinho recognised when he made the forward the focal point of his side. The Special One once commented: "His work rate is unbelievable. He's the kind of player I have to play. There's no rest for the boy."

There have been myriad memorable performances over the years and his ability to completely dominate teams when on any kind of form was exemplified by a magnificent performance at Anfield in October 2005, when he may not have scored himself but created all four goals as the Blues ran out 4-1 winners.

What's more, he also worked on that touch. Not too long after the player who initially scoffed at Drogba was frozen out at Chelsea, the Ivorian was expertly backheeling the ball against Barca in order to completely take a marker out of the game and power the ball into the top corner.

"People don't realise just how fundamentally important he is to the team, even when he doesn't score," Mourinho once argued. "He fights for Chelsea, not for statistics."

In truth, though, those statistics are still pretty impressive.

If we're reducing his career to strike rates, Drogba managed a record of one in every two for Chelsea overall and won the Premier League Golden Boot twice. In 2009-10, his goals directly provided 20 points in 32 games, the sixth-joint best such record in Premier League history. Of course, there was the odd campaign when he badly dipped, most notably under Luiz Felipe Scolari in 2008-09 and either side of the Carlo Ancelotti-Ande Villas-Boas tranisition in 2011.

It only illustrates his sheer importance to Chelsea, though, that these happened to be the club's worst campaigns since Roman Abramovich took over. In other words, if Drogba wasn't firing, neither were Chelsea. He also countered that when, in Mourinho's most difficult season of 2006-07, the team were often struggling in a manner they weren't accustomed to; the forward lifted them with a series of match-winners. Even the otherwise difficult 2008-09 season saw Drogba end it with the key equaliser in the FA Cup final.

Because, if one criticism has been that he hasn't been completely consistent from season to season, there's no-one to really match him in terms of consistently producing in the biggest games. In what has been by far the most illustrious era in Chelsea's history, no-one has been so central to the most celebrated moments, so often.

For a start, there was the fact his physicality effectively defined and set the style of Mourinho's first two title wins, with Drogba also scoring in the 2004-05 League Cup final triumph. And, aside from his fearsome form in the 2006-07 campaign, he also scored all of the goals in the club's two domestic cup final wins. Despite a relatively disappointing term in 2007-08, he still hit two of Chelsea's four goals in the semi-final win that at last broke the club's Champions League duck against Liverpool, putting them into the final for the first time ever.

Although Drogba eventually let his side down in that showpiece itself by getting sent off against Manchester United, he made up for it in emphatic fashion when Chelsea finally returned to that stage to meet Bayern Munich. Ultimately, he was the key figure in the greatest moment in the club's history, dominating an occasion in the way few players do in general.

Many, of course, may argue that Drogba enjoyed the benefit of a particularly talented group of team-mates to assist him, unlike so many club legends of the past. The point here, though, is that we can only go on the evidence we have.

Ultimately, we can only argue that the likes of Peter Osgood and Zola would have flourished in such teams. With Drogba, though, we [em] know [em] he did. He both defined and decided the most demanding games like no-one else, not even Frank Lampard.

And, so frequently being on top of his game means he deserves to be on top of Chelsea's list.