Football must move with the times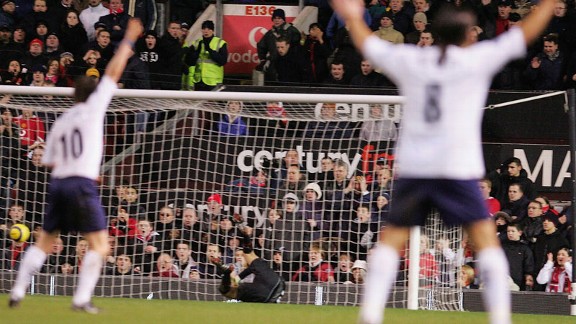 GettyImagesPedro Mendes hit the headlines back in 2005
It used to be very clear cut in my mind: video technology and football were not natural bedfellows. A simple game had no business in becoming more complicated unless there was a very sound reason to do so.

During my time living in the USA, I would find the amount of time it took for 'plays' to be reviewed to be staggering. Meanwhile the poor, shivering spectators would cling to the tips of their woollen gloves for several minutes, desperate for a decision (any decision!) to be made. I grew tired of hearing the words 'after further review.'

The last thing football, the ultimate continuous action sport, needed, was to take a leaf out of the NFL's book.

Then a couple of big incidents in 2005 made me re-consider the previously obdurate stance. The first was in a match refereed by (interestingly enough) Mark Clattenburg at Old Trafford in January 2005. With the game heading for a goalless draw, Spurs' Pedro Mendes fired a speculative shot from long range; scrambling back, Manchester United keeper Roy Carroll spilled the ball and television viewers clearly saw the ball bounce a good two yards over the line.

Yet neither Clattenburg nor his assistant Rob Lewis had a good enough view to be able to say for certain that it was a perfectly good goal. It bothered me that the officials were at such a disadvantage compared to those of us watching from the comfort of our sofas.

Then, if you like, the opposite occurred four months later. Commentating on the Champions League semi-final first leg between Liverpool and Chelsea, for ESPN viewers around the world, the game had barely kicked off and we had a full blown goal-line controversy.

Liverpool's Luis Garcia gave the home side the lead on four minutes. My instinct at the time said Garcia's effort didn't cross the line. I've yet to view a replay that proves conclusively (the key word here!) that it did. But Lubos Michel and his Slovakian assistants saw it differently and it proved to be a match-winning, tie-winning moment.

Since then, we have all taken on board how other sports use video technology. Tennis, I would suggest, has it spot on compared to the rest. The concept of players being allowed 'challenges' to the umpire or line judge's original call serves to help the officials get the important decisions correct. Unlike in the NFL, the verdict is delivered swiftly and efficiently and then it's on with the match again.

FIFA's plan is to introduce goal-line technology but I wonder if what we really should be experimenting with is a video referee. Suppose that person had access to what the television viewer at home sees. What if we were to go down the 'challenges' road along the same lines of tennis. For the sake of argument, let's give both teams one challenge per half.

Say Arsenal are playing Tottenham. Lukas Podolski makes a late run in the 5th minute, receives a weighted pass from Santi Cazorla, homes in on goal, sticks it in the back of the net and celebrates wildly. Only then, he notices that the flag is up. Arsene Wenger is livid, convinced that Podolski was onside. So, the Arsenal boss uses his challenge and it's immediately referred to the video official.

The replay shows in fact that the assistant referee was correct. Podolski was indeed offside. In this case, Wenger loses his challenge and will have no more in the first half. His opposite number Andre Villas Boas still has his first half challenge up his sleeve.

Had it been the other way round (Podolski seen to be onside), then Wenger is vindicated, he still has a challenge left and the goal stands. The officials are spared the outcry from all and sundry that they keep getting the big ones wrong.

All these thoughts went through my mind while commentating from chilly Fir Park on Friday night during ESPN's live match between Motherwell and Hibernian. Motherwell's Steven Hammell looked as though he had headed his team into the lead; Hibs keeper Ben Williams pushed the ball away but I strongly suspected the ball had crossed the line

Our always-on-the-ball match director, Grant Philips, confirmed within seconds that Motherwell had been hard done by with a brilliant replay showing what referee Stevie O'Reilly and assistant referee Francis Andrews had failed to spot.

I know FIFA and the International Board are unlikely to consider anything as radical as this in the near future. The trouble is that fans at games with modern phones can access such replays, thus making life even more difficult for our beleaguered referees. They can't win.

Let's find a league or a cup competition willing to experiment. Anything that helps the officials get things right, must surely be welcome.