A 'super' rivalry renewed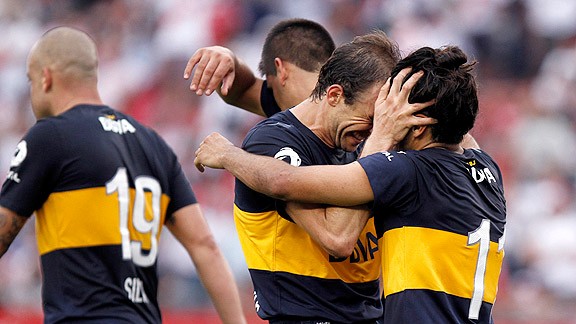 Gabriel Rossi/LatinContent/Getty ImagesThat the result itself -- a dramatic 2-2 draw -- has no larger meaning wasn't an issue. What counts is that the Superclasico is back.
They say that absence makes the heart grow fonder, but obviously no one told fans of either Boca Juniors or River Plate.

River's relegation to the second tier in 2011 -- its first demotion in club history -- has meant that the world has been deprived of one of its fiercest derby games for 17 months. As such, there was an added tension ahead of Sunday's encounter; not only were the Millionarios' fans itching to finally set the record straight against their arch rivals, but Boca Juniors' supporters were just as desperate to remind their hosts of where they had spent the past year.

It is either one of the most special things (or the most grating) about the Superclasico that this single, often inconsequential game -- in footballing terms at least -- is built up to levels of near unthinkable importance.

There have, of course, been times when River Plate versus Boca Juniors has led to a title -- River secured the 1994 Apertura with a 3-0 away win and Boca triumphed on penalties in the 2004 Copa Libertadores semifinal, for example -- but Sunday's 2-2 draw was most certainly not one of them, given the two sides' inconsistent and largely unspectacular seasons.

But the pressure does tell on those involved as players often sacrifice quality for safety, crippled by the fear of making a mistake on the biggest stage. Therefore, it's reasonable to think that Agustin Orion was hoping for the turf in his little corner of Nunez to open up and swallow him whole when, inside the first two minutes, he managed to botch a routine save from Leonardo Ponzio's free kick to give River Plate an early lead.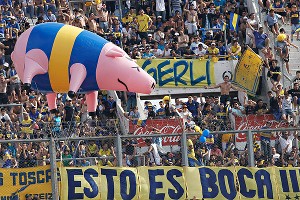 Gabriel Rossi/Getty ImagesRiver Plate's giddy fans had plenty to celebrate against Boca -- including the unveiling of a giant inflatable pig -- though the visitors would have the last word.

The stench of gunpowder was still in the air and the flares had yet to burn out, but after nearly two years of not playing Boca in the league, River fans were delirious with joy -- they weren't finished, either. Live wire Uruguayan forward Rodrigo Mora was a constant thorn in Boca's side and with strike partner David Trezeguet clearly not yet match fit, it was seemingly up to Mora to do the running for the two of them. This he did with a willingness and passion that has endeared him to the River faithful; he deserved his second-half goal that doubled his side's lead in the 70th minute.

Also fitting was that the assist came from Carlos Sanchez, arguably the hosts' best performer along with Mora, and despite his game being full of pace and bustle, the pass to set up his fellow Uruguayan was the deftest of through-balls that found Mora's run perfectly and allowed him to round Orion.

Once more, el Monumental erupted. A leaping, screaming, barely believing mass of 55,000 clad in red and white delighted in a deserved second that hinted at victory with just 20 minutes left to play.

The taunts, jokes and pranks between the sets of supporters have long formed a sidebar to the game itself and Sunday was no different. Aside from the booby-trapped, red-and-white smoke bombs set to go off right in front of Boca's fans as the teams came out -- cleverly masking the sea of blue and yellow behind -- there was an enormous inflatable pig, kitted out in Boca kit, floated up toward the visiting fans at halftime as well as the mocking chants of "Riqueeeeeelme" with reference to their fallen idol.

Boca would have its revenge once falling 2-0 behind; while much of the ground was looking on at the lamentable scenes in the visitors' stand, where some fans were violently assaulting security personnel -- hospitalizing 25 -- they won a penalty on a dubious decision by showman referee Pablo Lunati that was smashed home by Santiago Silva.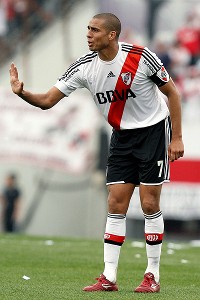 Gabriel Rossi/LatinContent/Getty ImagesVeteran striker David Trezeguet underwhelmed up front for River Plate; also, his late-game profligacy allowed Boca the chance to equalize.

From there, nerves began to show. Where previously the River fans had been saturated by euphoria, they were now overcome by restlessness, their team unable to maintain control after two enforced substitutions in the first half.

And as is so often the case, this negativity and worry transmitted to the players and began to affect even the most experienced performers. Champions League, European Championship and World Cup winner David Trezeguet is no naive little soul, but his attempt to smash home from outside the area when the game was creeping into stoppage time was verging on negligent. With an overlap to the right he could have taken his team into the corner or simply retained possession in order to run the clock down; instead he surrendered possession to Boca with which it would punish the home side.

A swift counterattack was instigated by the youthful Leandro Paredes and he spread the ball right to Pochi Chavez, who belied an anonymous 90 minutes by crossing for Silva. The forward flicked it high in the air under an aerial challenge and as the ball looped downward, River keeper Marcelo Barovero's slow reaction allowed the onrushing Walter Erviti to pop in from midfield and steal Boca a point.

The goal was celebrated like a winner. The stadium, 90 percent full of River Plate fans, was silent apart from the raving away supporters high up in the Centenario Alta stand. After all the jokes that had been made at the Bosteros' expense, it was their turn to taste the unique joy and delirium that the Superclasico has to offer.

The best was still yet to come as several thousand fans masquerading as ghosts could be seen after the final whistle as the home fans were mocked by the "ghost of la B," ready to take them back to their darkest moments. The letter B was suddenly visible everywhere. Several banners made reference to "la B" and on departing the stadium, Boca Juniors fans had used spray paint to ensure that everyone in the area knew that River's relegation shame would not be forgotten in a hurry.

In the cold light of day this result has little effect on anything, with neither side going to feature in the title race anytime soon and River looking very unlikely to capitulate and go down like they did in 2011. But such is the nature of rivalry that an inconsequential draw can feel like a sensational cup win or a rip-your-guts-out loss -- this weekend showed that even though River's absence has not made anyone's hearts grow fonder, it is brilliant to have such a passionate and historic fixture back on the calendar.

Ed Malyon is a freelance sports writer who has written for The Daily Mirror, The Guardian and FourFourTwo among others. He can be contacted on @eaamalyon or by whistling in F sharp on the night of a full moon.