Have United and Chelsea forgotten how to defend?
There will be no peace now. After two controversial red cards and a dubious winning goal, the arguments between Manchester United and Chelsea fans will rage like untended fires for days. There will be wild talk of institutionalised corruption, there will be vague assertions that this sort of thing "evens itself out" and, after Fernando Torres' sad little face was captured for posterity and beamed across the world, there may even be a campaign against the campaign to end diving in football. But amid the drama of Manchester United's 3-2 win, one fact is indisputable: The two most successful English teams of the past 10 years have completely forgotten how to defend.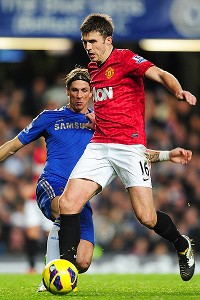 Press Association/AP ImagesMichael Carrick has vision in attack, but his defending can be woeful.
United at least have the excuse of injuries to three centre backs, but for them the real problems are slightly further up the pitch. Michael Carrick brings many things to his team: vision, composure and a range of passing that makes a full-sized playing surface look like a five-a-side pitch. On the downside, he offers the same protection against opposing midfielders as a paper napkin does against unexpected rain. His is a most curious form of defending. Instead of clattering around the pitch, kicking people up in the air and growling at their stricken bodies like a modern-day Roy Keane, he ambles around like the concerned parent of an adventurous toddler. He gently positions himself in the way of marauders, always looking rather surprised when they hurtle past him without so much as a by-your-leave. It's not quite the cover that Rio Ferdinand and Jonny Evans require.

United were almost willfully negligent at the back at Stamford Bridge, as if Sir Alex Ferguson had just accepted that his team were going to concede and had made a pre-emptive resolution to hit back harder. This wasn't so much a 4-1-4-1 as a 4-0-1-4-1 with no defensive midfielder, only one conventional midfielder and the rest of the department unleashed on the Chelsea defence like a chapter of Hell's Angels on a quiet seaside town. It worked, of course, but you wonder if that would have been the case against 11 men instead of just nine. United have now shipped two or more goals in six of their 13 matches this season. It's exciting, but it's a dangerous way to exist.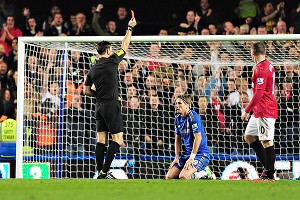 Shaun Botterill/Getty ImagesChelsea's ability to defend wasn't helped by the fact they were reduced to nine men.
Danger is Roberto di Matteo's middle name. Only a man addicted to adrenaline would have gone out against Shakhtar Donetsk with three attacking midfielders and just John Obi Mikel and a rather pedestrian late-model Frank Lampard to protect the back four. The Ukrainians had 17 shots on target that night and the only reason that Chelsea escaped without a red-raw bottom was an inspired display by Petr Cech. With Ramires back in the centre, it seemed that Di Matteo had learned his lesson, but then something very strange happened. Mikel, a physically imposing midfielder who tends to trundle around blocking gaps like a large wardrobe on well-oiled casters, started to creep up the pitch. At one point, he seemed to be imposing himself on Chelsea's much-vaunted attacking trio. Behind him, United's counterattacks whistled into open space.

All of which is very entertaining for the neutral, but rather disconcerting on a wider level. It seems a little churlish to criticise Chelsea, in particular, for their cavalier spirit given the unkind words that were written of their backs-against-the-wall Champions League victory, and indeed the bulk of their years since Jose Mourinho rocked up in 2004. Nevertheless, there was something vague and unfinished about their play here. John Terry has been heavily criticised in recent months for his increasing awkwardness, among other things, but even his enemies couldn't deny that he is a multiplier on the men around him, cajoling them and organising them in a way that David Luiz, for example, could not. Chelsea miss him terribly.

Ferguson has always been committed to attacking play, feeling a responsibility to the traditions of the club, but he's never pursued it at the expense of his defence. United, while being quite capable of shooting their own toes off in the past, could usually be relied upon to at least hold a two-goal lead.

All of which leads us to a few conclusions rather more solid than the suggestion that a shadowy David Gill-led conspiracy exists at the heart of the national game: Firstly, that it might be worth backing German and Spanish clubs for the Champions League this season. Secondly, that defensive midfielders may be at the top of several shopping lists come January. And thirdly, that we might be in for the most open Premier League title race in years.