Clarke invokes spirit of Sir Bobby on Tyneside return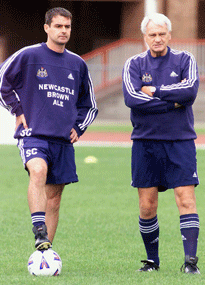 PA PhotosSteve Clarke worked under Sir Bobby Robson at Newcastle
Kenny Dalglish, Jose Mourinho, Ruud Gullit... it's fair to say Steve Clarke has worked with some of the biggest names in Europe. But the one most on his mind when he makes his return to the north-east this weekend is one whose opinions he is sadly no longer able to counsel.

Sir Bobby Robson, a playing legend at Clarke's current club West Bromwich Albion as well as a managerial icon at St James' Park, did much to shape the career of a man who then still had half an eye on returning to the pitch.

Which is why the Scot will feel he has a fatherly hand on his shoulder as he takes his place in the visitors' dug-out for the game against Newcastle United on Sunday afternoon.

"I was lucky to work with Bobby for a year and took a lot from the way he dealt with and managed the players," Clarke said. "He was great to me because he knew I was a young coach who wanted to learn and he sat me in on some of the meetings when he was one-to-one with a player. He would have me there to watch and observe and see how he spoke to and dealt with players - and that was absolutely invaluable for me."

So what made the old man tick?

"It was just his manner and his way of getting the best out of players," Clarke recalled. "As a manager, there is not one way to get the best out of a number of different people. There are a number of ways and Bobby seemed to have the gift of being able to recognise and understand what sort of motivational tool he had to use at that time."

Robson was kind enough to send another of his young breed - indeed, a much higher-profile individual given their association at international level with England - a congratulatory message when Albion performed their Great Escape in 2004-05.

Bryan Robson, like his namesake a north-easterner who made his football name first in the Black Country, was the recipient of the thoughtfulness on that occasion.

Now, with the definitive Captain Courageous a Hawthorns figure of the past, it is Clarke who is attracting attention as he enjoys early success in his first managerial appointment.

"I actually had one game as Newcastle's caretaker," he recalled. "Ruud had just gone after we lost at home to Sunderland and our next game was Manchester United away. The record books show we lost 5-1. What they don't show is that it was 1-1 at half-time and we conceded and had a player (Nikos Dabizas) sent off straight afterwards. It was a long half with ten men...

"I'm much older now, much more experienced and much more comfortable in the role. In my head then, I don't think I had accepted I had finished playing. I still thought I could make a comeback somewhere if I needed to."

The conversation soon skips forward to the recent past and the present... "I thought Newcastle were fantastic last season. They've got some really good players and are dangerous from a lot of areas on the pitch. I would say it is the best team since that Sir Bobby team that did really well.

"I'm sure they can challenge towards the top half of the League but (qualifying for) the Champions League is difficult. The fact they have the Europa League to contend with as well is an issue. They have done a great job to get in the position they're in the Europa League, where they've managed to almost qualify from the group. If they could win their next game in it, they would be comfortable.

"To balance the two competitions must have been a bit of a challenge for Alan Pardew and his staff and I think they have done it well."

So can Albion, on their much more modest resources and attendances, in any way emulate the boom on Tyneside?

"I think it is a blueprint for any club with ambition," Clarke added. "Every club wants to be successful and if you are, is it the right thing to go out and sign 20 players and double the size of your squad or do you try to nurture what you've got and bring through some young ones?

"That's what Newcastle have done and they've done it with a good balanced squad and without being crazy in the transfer market. That's a good blueprint for a number of clubs who might be in that position in the future."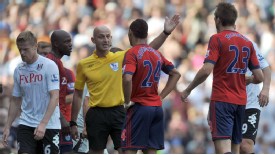 EmpicsSteve Clarke hopes he has calmed Peter Odemwingie's temperament
Clarke is considering promoting Peter Odemwingie to his starting line-up after the Nigerian's positive impact as a substitute against Manchester City last weekend.

The Hawthorns head coach smiles at the 'assist' the player effected for Shane Long's breakthrough goal - a horribly mis-hit shot that turned into a perfect pass. But he is adamant the striker-turned-winger has learned his lesson from the sending-off for his red-mist moment in the 3-0 defeat at Fulham in September - and the three-match suspension that followed.

Like Sir Bobby would have done, Clarke will have made sure he has.