Time For Silvio To Axe Mad Max?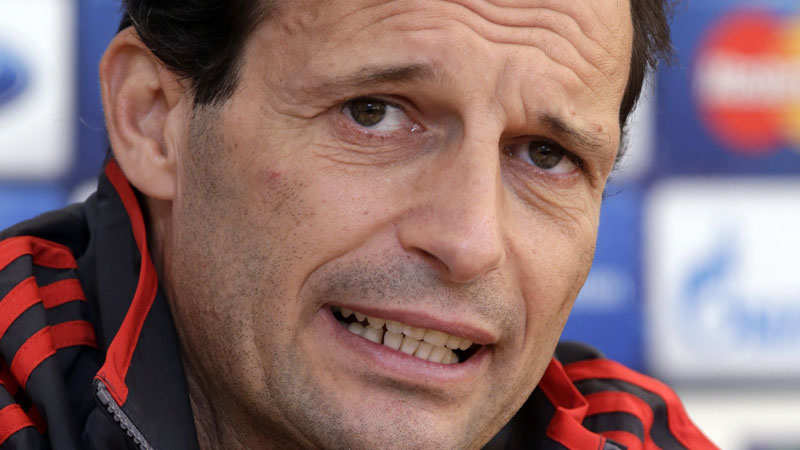 PA PhotosMassimiliano Allegri has faced substantial criticism this season
"Poor Devils" declares the front page of Friday's La Gazzetta dello Sport, reflecting on yet another loss for Milan, Serie A's own diavolo. The defeat to Malaga marks their third consecutive defeat and is the sixth time they have been beaten in the opening 11 games of the campaign.

In itself, an away loss in the continent's elite competition is not reason enough to press the panic button – after all it is a fate they share this week with the Champions of England, Spain and indeed Europe as Manchester City, Real Madrid and Chelsea were all beaten in their Matchday Three fixtures.

Yet it is hard to avoid the feeling that for Milan this is very different. Where those three are almost unbeatable at home, the Rossoneri's Champions League performance against the Spanish side was a perfect replica of their woeful domestic form that has seen them make their worst start to a season in living memory.

Of course it is easy to point to the departures of Zlatan Ibrahimovic and Thiago Silva as the major factor in their decline; particularly on a night where the former scored and the latter helped new club Paris Saint-Germain keep a clean sheet in their 2-0 away win in Zagreb. Add in the sheer volume of veteran players who have also been allowed to leave and excuses for the demise of this great club are all too readily available.

Milan CEO Adriano Galliani has been at his diplomatic best in defending the club's position, playing the political game in a way his boss Silvio Berlusconi rarely has, as he talks of a 're-birth' and the importance of cutting costs in order to comply with UEFA's Financial Fair Play Regulations.

However, even Galliani seemed to see Malaga as one loss too many. Witnessed leaving his seat at the Rosaleda, he shook his head before snapping at reporters: "It will not be Allegri's last night. Stop it with this story, it's become nauseating!"

But, even allowing for the wholesale changes in the squad, questioning the future of the coach is entirely justified. He has undoubtedly been hindered by such sales, but it is also he who marginalised Andrea Pirlo, a player who inspired Juventus' unbeaten march to the Scudetto and Italy's run to the final of the European Championships.

It also fell to Allegri to appease Antonio Cassano after he became disillusioned with the changes around him, yet he also left and is now a key figure with neighbours Inter; central to the kind of revival causing envious glances from the red half of the city.

While those who remain, such as club captain Massimo Ambrosini, praise the efforts of the coach, none of the players who have left have spoken well of Allegri. Some, such as Alessandro Nesta and Gennaro Gattuso, publically lambasted his approach over recent seasons and for every positive change or decision he has made this term, Allegri has seemingly condemned himself with a greater mistake.

He has helped Stephan El Shaarwary make huge progress in realising his potential but in turn he then hampered the form of Kevin Prince Boateng and Antonio Nocerino by not allowing their natural game to flourish as he seeks to accommodate Riccardo Montolivo and Ambrosini into the midfield.

The promotion of Mattia De Sciglio to the first team has seen the youngster seize his opportunity with both hands, but then Allegri has persisted with Daniele Bonera and Mario Yepes in defence despite Milan having Phillipe Mexes and Cristian Zapata available. He even chose the Malaga game to trial a three-man backline, surely not the time or place to make such a gamble?

There are many reasons to pity the situation Allegri finds himself in, yet he still has quality players available to him. They are no longer the giants of Milan's illustrious past but they are far better than those at the majority of clubs above them. However there they sit: in sixteenth place and already some eleven points away from the Champions League places that are undoubtedly the minimum requirement of any coach on the Rossoneri bench?

Often when looking at such a crisis - and make no mistake, that is exactly where the San Siro club are right now - it is commonplace to offer a tactical solution or suggest personnel changes that could rectify the situation. But looking at Milan's current plight they are seemingly beyond that and, as Allegri insists "I will not resign," it is time for owner Silvio Berlusconi to do what he does best and once again offer himself as the club's saviour.

Never one to shirk the limelight, it is always he who steps forward to fire failing coaches, usually while trotting out a speech about it being "for the good of my Milan." With the current incumbent unable to arrest the slide and even going so far as to insist the side are playing well perhaps it would be the best thing for Massimiliano Allegri too.