Mancini suffers another setback in Europe
The Champions League must give Roberto Mancini cold sweats at night. The dapper Italian has demonstrated that league football is no problem for him - three Scudettos with Inter and the historic Premier League title with Manchester City last season. Ah, but chasing after that shiny cup with the big ears has been the provenance of psychic pain for him. It'd be going too far to call it Mancini's Holy Grail, but after yet another stumble in the Champions League - a 3-1 loss at Ajax on Wednesday coupled with a Dortmund win over Real Madrid was the worst possible scenario for the Sky Blues - glory in Europe continues to remain a pipe dream.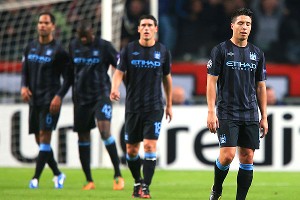 Press Association/AP ImagesWith the lost to Ajax, Manchester City sits bottom of the Group D with one point and three matches left to play.
In 2008, Mancini's Inter was defeated in the first knockout round of the Champions League by Liverpool, a crushing blow that led the manager to announce that he was going to quit at the end of the season. A day later, Mancini changed his mind, but by the end of the campaign, Inter Milan made its own decision. The gaffer was sent on gardening leave, as they say, and the Special One was brought in.

- Mancini facing early exit
- Mancini takes blame for defeat
- Fans arrested in Amsterdam

No one expects Mancini to make a similar, hasty pronouncement after the debacle in Amsterdam, but it exposed his struggles in Europe yet again. Though, to be fair, not all of the problems were of his making, especially early on.

Mancini set up the side with strength, height and power - Micah Richards at right back; Edin Dzeko, the team's weekend savior, justifiably rewarded with a start up top; and Gareth Barry and Yaya Toure holding down the midfield. And sure enough, after an early spell of Ajax dominance, particularly by the brilliant Christian Eriksen, a midfielder playing in a forward role, City struck first. On the right, Richards executed a tremendous pass to James Milner, who had drifted inside. With Sergio Aguero making a dummy run into the center of the box, opening up space for Samir Nasri, Milner picked out the Frenchman, who finished to the far corner.

That's where it should have started to come into focus for Mancini. The Sky Blues had slowed the tempo and were closing down space, as evidenced by Ryan Babel's 35-yard effort in the 43rd minute, which did little to trouble keeper Joe Hart. Ajax lacked cutting edge and ideas in front of goal; City puffed out its chest. But at the close of the first half, Ricardo Van Rhijn sent in an early cross to Siem De Jong, whose first-touch smash leveled the match at 1-1.

Then, in the immortal words of Husker Du, everything fell apart. Despite a strong start in the second half by City and Mancini's persistence with a physical side, a simple corner taken by Eriksen in the 57th minute was headed home by Niklas Moisander - a goal that will prompt another round of vicious hate mail to any proponent of zonal marking. So fair warning if you're one of them. It was a stoppable goal, or at least City could have done more, especially Joleon Lescott, who failed to get up in Moisander's grill.

And here's where the critics are going to have a field day on Mancini, who switched to three at the back (Gael Clichy to left center back, Richards to right center back, and Lescott going off for Aleksandar Kolarov), even though the 3-5-2 has hardly been kind to the manager, including against Dortmund (a match where only a perhaps harsh handball call allowed City to equalize). You can look at this two ways: Credit the manager for trying to chase the game, or pillory him for losing the plot and panicking. Either way, the experiment was short-lived and damaging, a dreadful 10 minutes or so that saw the City players look uncomfortable and Eriksen score. He charged up the right channel, forcing an out-of-sorts Clichy to back off. Then Eriksen cut inside to take his shot, which deflected off Clichy's leg. Hart had no chance. (Hart would later make a terrific save off Tobias Sana in the 70th minute, and Kenneth Vermeer repaid the favor moments later when Dzeko latched on to a long ball and almost scored before the Ajax keeper made himself big.)

In the end, Mancini had thrown on all his big guns: Dzeko, Carlos Tevez, Mario Balotelli and Aguero. It was chaos, a point not lost on commentator Gary Neville: "There is no system now." And try as City might, the highly skilled Ajax - confident on the ball, patient in their build-up play - rode the game out to victory. The loss could go down as perhaps Mancini's worst, especially given the amount of world-class players at his disposal. He failed to make it beyond the group stage with Lazio in 2003-04, and then suffered a quartet of failures with Inter: crushed 3-0 on aggregate by AC Milan in the 2004-05 quarterfinals, beaten on away goals by Villarreal in the 2005-06 quarterfinals, lost again on away goals to Valencia in the final 16 of the 2006-07 season, and that infamous 3-0 aggregate loss to Liverpool in 2008.

Last season, Mancini's side was stuck in a tough group, failing to make it out with Bayern Munich (the eventual finalists) Villarreal and Napoli. About this time last year, he also endured the Carlos Tevez affair.

Hope may be Mancini's only ally now, as his side sits bottom of the table of Group D with a measly point. Even if City win their three remaining matches (a big if), they would finish with 10 points, which wasn't enough to see them through last season.

How big of a black mark could this be for Mancini? Will the City powers that be let this failure slide, or will they seek to make a change next season for someone who has proven success domestically and in Europe? Perhaps a manager who has said he'd like to come back to the English Premier League, a manager who succeeded Mancini at Inter ... and won the European Cup. It's idle chatter, of course, but a "special" thought, too.