Three titans rattled in the Champions League
When you're preparing to face one another in what promises to be a tense and contentious Premier League game on Sunday, it's funny that a midweek Champions League jaunt can appear to be a giant trap. For Manchester United and Chelsea -- and to a lesser extent, Barcelona -- Tuesday's Euro action played out like a 90-minute sucker punch. Yet only the Prem front-running Blues emerged without a point.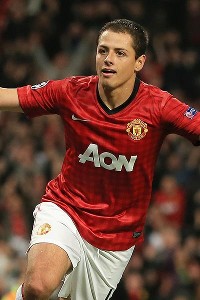 Richard Heathcote/Getty ImageChicharito scored two goals to help rescue United at home vs. Braga.
First, United's curious 3-2 win over Sporting Braga at Old Trafford. Sir Alex Ferguson has had a difficult few days, trying to rebound from his heavily criticized foot-in-mouth news conference about Rio Ferdinand and an unworn T-shirt. Even the habitually inflammatory Donald Trump couldn't hold a candle to Fergie's odd remarks, which the Scot chased in full by benching the stalwart defender in favor of Michael Carrick at center back.

The argument to be made is that players were being rested for Sunday's trip to Stamford Bridge -- indeed, Alex Buttner, Javier Hernandez and David "Rotation" De Gea were all given minutes on Tuesday. But Braga scored twice in the opening 20 minutes: The majestically named Alan beat Buttner to a close-range header inside 90 seconds before profiting from Eder's forceful run to double the lead.

But Robin van Persie and Shinji Kagawa dragged the Red Devils back into it, something Fergie probably envisioned when signing the pair this past summer. (Fergie's decision to switch formations from an ill-conceived midfield diamond to a simpler 4-4-2 also helped.) Kagawa's cross was bundled home by Chicharito for 2-1 and Jonny Evans smashed home a rebound from a corner on the hour mark before Little Pea scored what turned out to be the winning goal.

United fans will be dismayed that it took an aggressive opponent and a two-goal deficit before the side finally came to life, but the resiliency will hearten fans heading to West London this coming weekend.

Speaking of Chelsea, their 2-1 defeat at Shakhtar Donetsk started similarly but took a drastically different path. Roberto Di Matteo opted for a largely first-choice XI, with only Eden Hazard held on the bench from joining Oscar and Juan Mata in the trio's usual hijinks. Fernando Torres up top, John Terry lurking at the back -- all things we'd expect on Sunday were it not for JT's suspension.

The Blues began flatly, conceding after three minutes as Alex Teixeira slotted home Terry's botched clearance. But that jolt in the Ukraine failed to galvanize Chelsea in the slightest as the home side grew in confidence.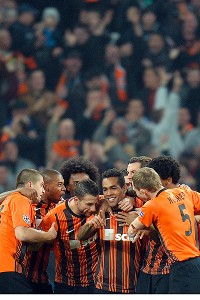 Sergei Supinsky/AFP/Getty ImagesWhile Barcelona and United found ways to win, Chelsea lost to an in-form Shakhtar Donetsk.
It shocks me still that Shakhtar is still considered an outsider in club soccer. Drawing with Juventus in Turin on Oct. 2 wasn't a massive surprise considering the resources on hand: owner Rinat Akmetov's wealth, coach Mircea Lucescu's ebullient eight-year tenure, the impressive Donbass Arena and an exciting, settled lineup boasting several intelligent Brazilians at its core. Willian was a constant menace on the flank in Lucescu's fluid 4-2-3-1, showing why Chelsea and Tottenham have tried to sign him in recent transfer windows.

That Shakhtar should have been leading 4-0 by halftime will have rattled Di Matteo as much as Frank Lampard's ankle injury after just 15 minutes. The second half played out much like the first with the Ukrainians slick and speedy in transition, scoring a second via Fernandinho's angled finish following more fine work by Willian in the final third. Game over. Oscar's late goal restored some luster but it was a lopsided defeat.

Barcelona also struggled at home to Celtic, as befuddled by the SPL side's dogged rear guard -- and a career effort by Fraser Forster between the posts -- as it was hobbled by the increasing pile of injuries and suspensions. Javier Mascherano was again a center back; for 94 minutes, the Blaugrana flitted about in search of openings with the pace and futility of mice trapped in a maze.

Celtic scored a classic counterattack goal after 18 minutes as Charlie Mulgrew's set piece pinged off Mascherano and past Victor Valdes, prompting Neil Lennon's side to sit deep and hang on. Never wise against a team boasting Lionel Messi and Xavi, but the Scots' gambit almost worked until Jordi Alba shinned Adriano's deep cross in with 30-odd seconds left on the clock. Eighty-two percent of the ball and 28 shots on goal (10 on target) finally earned its points.

In short, three titans of the game were left rattled (and in Chelsea's case, humbled) by three teams likely given little shrift in the pregame given the pressure of the EPL and La Liga schedules.

Just what Euro nights should be all about.