Fear and loathing in North London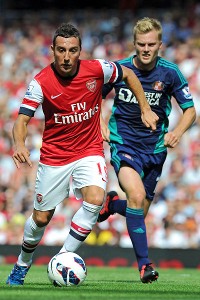 Santi Cazorla was a bright spot in Arsenal's scoreless draw against Sunderland, and will no doubt help lead the Gunners going forward.

Early in the second half against Sunderland, under a scorching sun, Arsene Wenger looked down at his water bottle with menace. It became something of a trademark for him last season when the Frenchman vented his frustrations on the sideline. But this was the first match of the season, and there was plenty of time left. Yet he was poised to let fly on another hapless bottle. By the final whistle, the boos rang down on the players as Sunderland left the Emirates with a point in hand, a 0-0 draw well-earned by Martin O'Neill's side.

All of the talk is going to be about how Arsenal was lacking Robin van Persie, though missing Alex Song -- on his way to Barcelona -- could loom as the bigger loss in midfield. The Gunners had 70 percent of possession, as well as seven corners and 23 goal attempts to Sunderland's zero corners and four attempts on goal.

RvP's replacements Lukas Podolski and Olivier Giroud failed to score in their debuts. Sunderland gamely put out fire after fire, with yeoman efforts by Carlos Cuellar and Kieran Richardson in the back and the man unwanted at many a pub, Lee Cattermole in midfield, where he did his sweaty best to shut down Santi Cazorla, the third (and best) of the Gunners' big new signings.

That was a huge bright spot for Arsenal, really. If Cazorla wasn't threatening Simon Mignolet, he was creating chances, drawing defenders -- the same sort of performances we saw from last season with Malaga. In the 82nd minute, he pulled Cuellar and John O'Shea out of position before slipping Giroud into space in the box. The shot, however, was well off the mark. Only three of Arsenal's chances were on target.

But more of that type of performance from Cazorla and surely Arsenal will be getting on the score sheet much more often. Of course, it would help if Theo Walcott got a footballing brain transplant -- his shot in the 63rd minute into the side netting from a position where he had no chance, instead of putting the ball back across the goal, was for Gunners' fans all too typical.

Surely, though, even the most downtrodden Gooner can see there were enough signs that Wenger's purchases will start to gel, link up as they integrate into the side. The side's wide play could be sharpened and more threatening. The defense, meanwhile, held up -- though in fairness, when Sunderland did make a rare foray forward, it was able to cause problems, as when Richardson all too easily found James McClean between Thomas Vermaelen and Per Mertesacker, so the jury is still out.

So let's hold off any great, dramatic conclusions until, I dunno, the second game of the season. Well, except for maybe one: If there's anyone who might keep Wenger from sacrificing more innocent water bottles this season, it will be Cazorla.