Media management just a blip for Roberto Carlos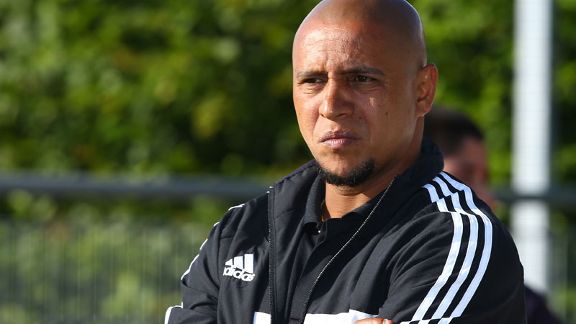 GettyImagesRoberto Carlos is cutting his teeth in management and still has some things to learn.
"I'll tell you where I'm going in May; perhaps in Turkey, perhaps in Spain."

Most of the other topics from Roberto Carlos' wide-ranging interview about wives, Clarence Seedorf's hair and Bugatti Veyrons paled in insignificance. This one line uttered by the Sivasspor manager in an interview with La Gazzetta dello Sport in early February gave the Turkish media, and Sivasspor fans, a bone of contention.

The original plan -- or so Sivasspor thought -- had been a two-year stay in Sivas, a city deep in central Anatolia. Yet when pressed for an answer, the Brazilian maintained his secrets as inadequately as Adriano maintains his waistline. "I have two concrete offers [for next season] and four or five other teams have already spoken [to me]," he blurted out.

The usual footballing airwaves in Turkey, latching onto the story from Italy, went into overdrive, with a swirl of intrigue around possible offers from China's or Istanbul's clubs. Carlos, though, seemingly annoyed at a story of his own making, released a statement attacking the media and rubbishing claims he apparently made himself in the interview. "Don't buy the claims of me leaving, I will announce the correct information on my Twitter [account]."

The affair, perhaps indicating the inexperienced coach still has a way to go to adapt to the media demands on a manager, has detracted from what has so far been a very promising first season. The former Real Madrid player spoke of "lofty ambitions" on his unveiling in Sivas, and the disappointing 12th-place finish last season looks certain to be improved upon.

Sivasspor form part of the second rung of clubs in the Turkish Super Lig -- behind the Istanbul giants Besiktas, Fenerbahce and Galatasaray -- each of which looking to claim a place in the top five. With current leaders Fenerbahce presently serving a European ban, Europa League qualification now extends to the fifth-placed team. The secondary pack is headed by dark horses Sivasspor and Karabukspor, with the more traditional heavyweights Trabzonspor and Bursaspor struggling, yet not out of touch.

The crowning glory so far in Sivasspor's chase for European football was a 2-0 home victory over Fenerbahce in early February. Roberto Carlos, looking vaguely like nightclub security in a skinny black suit, marshalled the touchline against the club he represented between 2007 and 2009, edging the players on in their fluid 4-3-3/4-2-3-1 system. As most Fenerbahce fans maintain, though, Sivasspor did have a helping hand from the referee, with a questionable red card for Egemen Korkmaz, and the failure to give the Istanbul side a penalty for a hand ball.

Yet much of Sivasspor's success this season has been found in individual-player improvement and rehabilitation of those who may have lost their way. British fans will be familiar with Manuel Da Costa, the former West Ham defender who has scored six goals this term, John Utaka and Mehdi Taouil. Former Real Madrid and Roma full-back Cicinho also followed Roberto Carlos to Sivas, a trusted lieutenant in the adaption to management.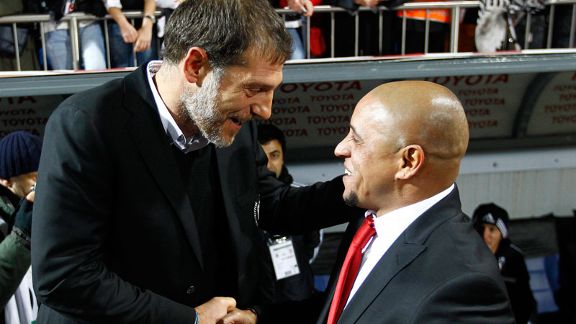 GettyImagesBesiktas coach Slaven Bilic (L) and Sivasspor coach Roberto Carlos (R) shake hands before their meeting in December.
The real glowing success, however, has been the form of French-born, Moroccan player Aatif Chahechouhe. The 27-year-old was playing amateur football in France as recently as 2009 and, following a spell in Bulgaria, has found his way to Anatolia, where, with the careful coaching of his manager, he has already more than doubled last season's goal tally of six. Chahechouhe fits the emerging Roberto Carlos mould for a player: versatile, able to adapt to a number of formations and tactical systems and, above all, effective.

Indeed, the Brazilian's philosophy, to use the ubiquitous buzzword, doesn't settle upon solely trying to outthink the opposition tactically. In an interview with the Turkish edition of FourFourTwo magazine at the beginning of his tenure, the World Cup winner intimated that detailed tactical plans are not always necessary to win a football match.

The influence of Guus Hiddink, who he worked with during his time at Anzhi Makhachkala, is obvious. "He is a professor for me," Roberto Carlos indicated. "Thanks to him I have obtained all the necessary equipment [a manager requires]."

Aside from managerial ability, Sivasspor fans will be hoping that the Brazilian has not inherited Hiddink's wandering nature, and can, in time, learn from his recent media (mis)management. Roberto Carlos has evidently succeeded in improving individual performances of players through coaching and man management, although the one major blip in his time in Anatolia resulted from his own willingness to divulge to the press.

Next time the opportunity of an interview comes up with a foreign or domestic newspaper, however, the Brazilian might be better served sticking to Seedorf's hair and Bugatti Veyrons. Rumours can be left to the myriad Cay and Kahve talking shops that line Turkish piazzas and boulevards.

Roberto Carlos' job is to achieve the "lofty ambitions" he first spoke of upon taking charge in Sivas and, so far, he's doing that quite well.