David Moyes stakes his reputation on Wayne Rooney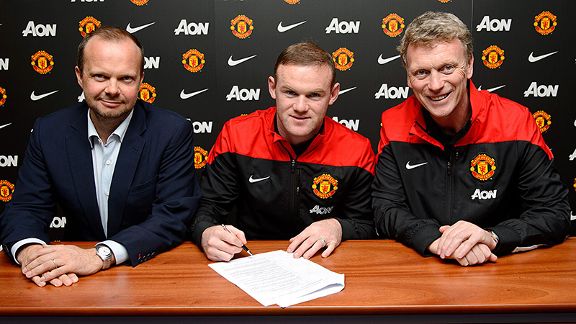 AllsportManchester United exec VP Ed Woodward and manager David Moyes are banking the future at Old Trafford on Wayne Rooney.
Manager David Moyes and executive vice chairman Ed Woodward just could not afford to let Wayne Rooney leave Manchester United. If he exited Old Trafford, he would only ever turn up for an English club -- it is impossible to consider him receiving foreign language lessons. Rooney in a Chelsea shirt would be just another thing to remind of a quickly ebbing cachet. Shedding leading players sends out bad signs, not least to prospective signings, and United's dynamic duo could hardly afford that.

Sir Alex Ferguson could hardly have made his disdain for Rooney much clearer by the end, but the new regime has signed him to a lucrative four-year extension to his current deal.

Rooney was the most obvious hospital pass that Ferguson made to Moyes; Ferguson saw Rooney as a disaffected player perhaps past his peak. Ferguson and Rooney's relationship was fractured enough, but the real beef lay with Paul Stretford, the agent who has guided the Liverpudlian's career since he was a teenager. The schism caused by Rooney's October 2010 threat to leave the club was never properly repaired, and revenge was dished out once Ferguson had no more use of Rooney. The player Ferguson anointed as Cristiano Ronaldo's successor as the hub of his team turned on the manager; Ferguson waited to bludgeon back.

With Robin van Persie signed, and Ferguson knowing he was stepping down, the kiss-off was to leave Rooney in limbo; he has rarely responded well to uncertainty. The freeze began last year on March 5 when Rooney was left out of United's Champions League match versus Real Madrid at Old Trafford. As Ferguson signed off with a final title, Rooney glowered as teammates celebrated around him. Even now, despite some conciliatory words in an autobiography that was vetted by the club, you must wonder if their relationship is beyond repair. Briefings from the Rooney camp suggested the main reason Rooney wanted to leave last summer was his fear that Ferguson remained in power at the club.

Yet in a post-Ferguson world, the victors are Rooney and Stretford. Nobody else would have paid 300,000 pounds per week in wages since nobody else needs Rooney quite like Moyes and Woodward do. Such a state of affairs under Ferguson was as likely as his managing Liverpool. Rooney was a player, Ferguson was the manager. Players did as the manager said, but Ferguson was the last of his kind, and Moyes' arrival has brought about a change in culture.

Meanwhile, Moyes has used Rooney to demonstrate that the new manager is his own man, no puppet of Ferguson's. In the early months of the season, a rehabilitated Rooney was perhaps the only player showing obvious benefits from an intense new training regime. Moyes spent his early weeks in charge dampening the Rooney speculation, warding off some classic Jose Mourinho chicanery to hold on to the player he gave a league debut at Everton. "I didn't fall out with Wayne," Moyes said after the Community Shield, a message repeated throughout the early weeks of the season and now rubber-stamped by Rooney signing back on again.

Rooney's stay throws up questions. Shinji Kagawa is the least of them, and he will surely be cashed in this summer. Rooney's insistence on playing at No. 10 has stymied the Japanese player's development. Juan Mata, isolated on the wings, may be the next victim if Moyes cannot find a way to accommodate both. Van Persie, handed primacy by Ferguson, has also suffered in the light of Rooney's centrality and may leave. Many would view Rooney as the problem rather than any solution, yet his future is now tighter bound than any of those who occupy his area of the team.

The effect on United of Rooney's reassertion has hardly been unimpeachable. While Rooney, before the turn of the year, was playing probably his best football in four seasons, United were having their worst results since Ryan Giggs began shaving. If Moyes' trajectory continues to slither downward, there is the distinct possibility that Rooney will soon become someone else's problem.

The prospect of Rooney as a 33-year-old veteran is as difficult to consider as the thought of his taking a Berlitz course. He has miles on the clock, with a physique that needs the type of special care its occupant sometimes chooses to ignore; Moyes has already had to send him for warm-weather training. Yet Moyes, and Woodward, have staked their reputations on Rooney.

They desperately need him to repay their investment.