Media can't get enough of Mourinho -- whether he speaks or not
The contrast with the previous week couldn't have been starker...

Jose Mourinho came out for his pre-match news conference on Friday determined to say, well ... absolutely nothing.

It's difficult not to think this wasn't equally as concerted.

The majority of his responses were certainly negative.

Whatever about specialising in failure, this was specialism in just refusing to respond. It at least began, like seven days beforehand, with a question about Chelsea's title rivals.

Jose, both Arsenal and Manchester City had Champions League problems during the week...

"My Champions League starts Wednesday."

Do you think it'll affect the title race?

"I play Wednesday and I concentrate on that."

Arsene Wenger said last Sunday he was 'embarrassed' by a remark he found 'silly and disrespectful'. Do you have any response to that?

"No."

It looks like Wayne Rooney will sign a new contract with Manchester United. He was someone Chelsea were interested in; how would you react to that?

"I don't react."

But you did show an interest?

"We did show an interest in the past. It doesn't bother me at all."

Roberto Martinez has done an impressive job with Everton so far, what have you made of him?

"I don't comment."

Do you have any comment on the title race?

"No. The table is there. You can look at the table and see how it is."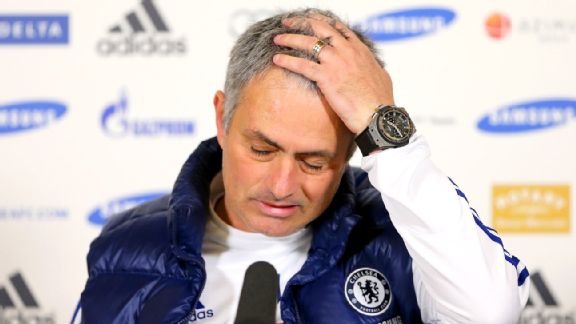 Ian Walton/Getty ImagesJose Mourinho keep his responses curt on Friday ahead of Chelsea's match against Everton.
On this occasion, of course, you only had to look at Mourinho to see how he was. His facial expression said everything his mouth refused to.

The Chelsea manager was not happy.

If all of this seems somewhat frivolous, Mourinho himself has made it relevant. The Portuguese coach's personality and thereby his relationship with the media -- for better or worse -- have been two of the defining traits of his career beyond results. He absolutely and obviously attempts to use the press to his advantage, as he has repeatedly admitted in the past. This time, however, he didn't quite like his words being used in the way they were.

Mourinho described Wenger as a "specialist in failure" on Friday, and the phrase was still being used in a UK newspaper headline about Arsenal on Thursday.

For all the talk of mind games, this was one game he didn't want to play.

That, you could reasonably argue, is part of the problem when you attempt to use your words as a weapon in such a way. So, on Friday, he gave absolutely nothing.

Despite the perceptions of the manager's relationship with the media, this was the different side that is often obscured by the headlines and easily quotable phrases.

By now, it's also fair to say we've seen just every side of Mourinho since his return. The "happy one" has been and gone. In the meantime, we've seen Mourinho in combative mood; Mourinho being magnanimous; Mourinho at his most manipulative; Mourinho laying on the charm and, now, Mourinho simply being obstructive.

The last time he was at Chelsea, between 2004 and 2007, the Portuguese often got so irritated with the media that he would pull down the shutters and refuse to do press conferences for weeks on end.

This wasn't quite that bad, but it was perhaps an attempt to do the same simply through his demeanour.

Mourinho was just refusing to engage, shutting everything out.

The ultimate reason for that, of course, is that Mourinho engaged far too much the previous week. Those close to the Portuguese state that he later became perturbed at how the tit-for-tat responses were portrayed and received. The Chelsea boss was annoyed he was seen as the aggressor and not Wenger.

Tony Montana's monologue in "Scarface" about "the bad guy" comes to mind, and Mourinho used exactly those words in his comment after the FA Cup defeat to Manchester City that hinted at his mindset.

"The only thing I feel is that I was very quiet, in my place, and somebody spoke not in a nice way about us," Mourinho argued. "After that, I don't accept that one is always mister polite and the other one is always the bad guy. I don't accept. I'm sorry."

It's difficult to know whether Mourinho is also now sorry for his comments last week, but it seems unlikely. Chelsea sources state that he was genuinely annoyed when he initially saw Wenger's comments and felt he had to respond.

This is the thing with Mourinho.

There can be an element of honesty about him, in contrast to many of his peers, when he feels he has a grievance. Rather than skirt around issues and only hint at them, he will go all in. He will bluntly make his feelings clear. That can be refreshing, even if the comment about Wenger was ridiculously harsh and needless.

The problem and double-standards, you might say, is that he then just expects to be able to stand back from them and suffer no repercussion. When asked again about how the "failure line" reverberated in the news conference after the City defeat, he had the gall to say "that is your fault" to the media. As if it was not something he knew would have such an effect.

There was another example before the Premier League game with City too. Mourinho started casually mentioning "clubs" who had a "dodgy" approach to financial fair play, but then refused to elaborate.

Here, he certainly wasn't elaborating either.

It is said that, once the Wenger controversy went past the weekend, he felt he needed to close it down or at least stand back. The only way he believed he could was through bluntly refusing to discuss absolutely anything other than the most specific Chelsea matters -- injuries, John Terry's return.

When most managers attempt such a reversion, they usually just resort to the cliche or the bland. Saracens coach Brendan Venter once went for the comic, merely repeating every question back.

With Mourinho, though, there remained an element of the theatrical.

The precise dismissiveness of his mood -- not to mention his demeanour -- brought more questions and intrigue than bland responses would have.

Again, we come back to whether it was concerted or not. While there is a persistent danger in giving managers too much credit for this type of thing, Mourinho refusing to talk meant everyone else was again talking about him rather than his team.

That is particularly relevant given the events of the week even beyond all the bluster. Last Saturday, Chelsea lost to City in a performance Mourinho admitted was just "not good." This Saturday, they face one of the few teams to have already beaten them this season, and an Everton side who do play the exact type of game that can cause the Stamford Bridge outfit problems.

As such, there does seem more of a danger than usual that Mourinho could finally lose that long unbeaten home league record. That, naturally, is the type of issue that could add to pressure and distract the team from what Mourinho from acknowledged were concentrated preparations to correct errors.

On Saturday, Everton may well end up being as difficult as Mourinho. Instead, it wasn't talked about. That said enough.