Euro 2016 -- Platini's farcical attempt to fix international football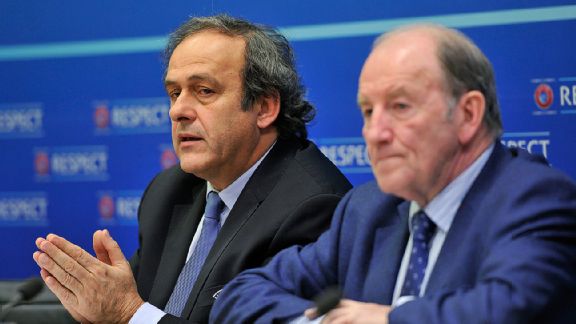 Harold Cunningham/Getty ImagesMichel Platini's hopes that the decision to expand the team count for the European Championship will help international football but will the quality of play suffer?
The once thrilling novelty of a Euro or World Cup has been reduced by exposure. Globalisation, through both a freer movement of players and TV access to leagues from far-flung countries, has damaged international football, perhaps terminally.

World Cups remain the greatest show on Earth, but backstage noises-off are damaging. Brazil as 2014 host is suffering a torrid pre-tournament, while Qatar 2022 has caused widespread controversy ever since it was ordained in 2010.

Football administrator David Davies, formerly executive director of the English Football Association, believes that the face of international football is soon to change. "We are in the last days of this system," he suggests. "Because I think international football post-Qatar will be played in two blocks of the year -- November/December and June/July -- that will be one of the longer-term outcomes of the inevitable decision to move the World Cup to winter."

UEFA president Michel Platini wants to reassert the importance of international football. Euro 2012 was the last 16-team tournament. France 2016 will be made up of 24 finalists, qualifying from 54 member nations. "You've got to be in bad shape not to make it," as former Ireland and Faroe Islands coach Brian Kerr puts it.


Host France will take part in the qualification campaign as a ghost 54th team, a Marie Celeste to make up nine equal groups of six teams. Points will not count from fixtures involving Les Bleus. Instead, their matches will be known as "centralised friendlies." Previous hosts Ukraine and Poland found it difficult to organise friendlies ahead of 2012, but then again, neither had the cachet of France.

Kerr suggests why such step has been taken. "I can understand the logic," he says. "FIFA have reduced the number of friendly dates. Given the number of days is limited, it's more likely that everyone is going to be playing on those international dates so they're left with very little potential opposition."

"As a veteran of the build-up to Euro 96, it is very difficult to arrange friendly matches," confirms Davies.

Qualifying schedules have also been reorganised, with a new Week of Football ending the usual Friday-Tuesday double-header of qualifying games. Ties will now be played from Thursday to Tuesday with set kick-off times, as in UEFA's club competitions. When nations face two matches they will be scheduled to play on either Thursday/Sunday, Friday/Monday or Saturday/Tuesday. And the broadcast rights have been sold centrally. "In my view it was an almost inevitable development," says Davies. "There is a section of football fans who will watch football wherever it is being played, and this is a move to capture that audience."

"He's an advocate of international football," says Davies of Platini. "He's trying to do his best to buttress international football, and that's what it's about. He thinks, rightly, that international football has suffered in the last 15-20 years and that something needs to be done to bolster it, and this is one way. I wish him well."

This experimentation may prelude the big idea, rearranging friendlies into a post-2018 continental competition called the Nations League, across nine divisions, with relegation and promotion and prize money for eventual sectional champions. How it might affect qualification for the 2020 finals is not yet known, and neither does it account for inter-continental friendlies with teams from other confederations. In addition, the reaction of clubs to their players featuring in yet more 'competitive' football is hardly like to be warm.

"My immediate thought there is that we shouldn't overcomplicate things," says Davies. "How the clubs react is another matter. I always remember it was Arsene Wenger who led the charge that teams should play Friday-Tuesday so that players got back sooner."

UEFA's twiddling has not been confined to international football; the Europa League is an unsatisfactory competition borne of the Champions League's devouring of first the European Cup Winners' Cup and then UEFA Cup. Commercial concerns mean that the irresistible purity of a straight knock-out is the last thing that will ever be considered. There is danger that European international football might soon resemble UEFA's unwieldy club competitions, with group stages largely predictable before knock-outs can take place.

Memories of 24-team World Cups are hardly rich, as Platini may recall from his own playing days. Spain '82 was hampered by an unwieldy second group-stage arrangement, while the 1986, 1990 and 1994 tournaments were cheapened by four third-place finishers qualifying for the last 16. Only a third of teams exiting after the first round delivers a significant lack of tension. Ireland reached the quarter-finals in 1990 without ever actually winning a match in open play, for example.

European championships expanded from 8 to 16 teams for Euro '96. While that was by no means a compelling tournament, Euro 2000 and 2008 were far higher in quality than any World Cup of recent years. In Poland and Ukraine, eventual champion Spain's passage from the group stage was kept uncertain until the very last moments. Only the Irish, in Spain's group, were true whipping boys. Euro 2016 might feature eight worse teams than Ireland.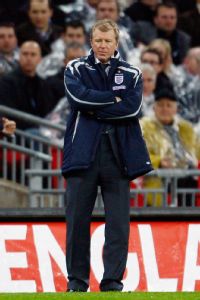 Reuters/Eddie KeoghWith more teams being able to qualify for the Euros, dramatic moments like England missing Euro 2008 won't likely happen anymore.
"He's trying to keep everybody happy and increasing the number of finalists will help that. It give more teams a chance of getting there but as a level of competition and standard of football, I don't think this is a good thing, says Kerr. "Look at the standards of the games back when it was eight teams, when Ireland made it to Germany in 1988. The opposition was really top and it was an achievement to be there.

"If you are FIFA or UEFA you want the leading teams in your tournament," Davies suggests. "England not qualifying in 2008 will become a far less likely scenario."

"Only eight teams go out of the first round?" Kerr says. "They're not really writing off anybody, are they? It's a party for everybody."