Top Tenner: Good, but not good enough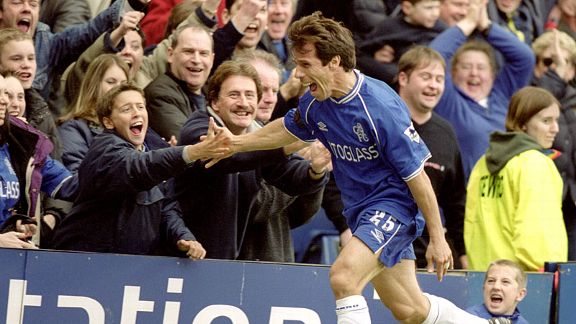 GettyImagesGianfranco Zola was a true hero to every Chelsea fan.
Top Tenner picks out some of the greatest players never to win the title in England.

10 -- Gianfranco Zola

There is a danger of overrating players because they seem such warm and lovely people, just as there is of underrating someone you think is a bit of a buffoon. There is a nagging sense from those of us who didn't watch him every week that this is the case for Zola, but if you ask those Chelsea fans who voted him the greatest player in their history ahead of the likes of Peter Osgood, Ron Harris and Andy Myers, their eyes will glass over with the beatific and vacant look of someone remembering a passionate affair in the summer of love. Zola so very nearly was part of the new, title-winning Chelsea too, as the first thing Roman Abramovich, the old shrewdy himself, did upon arrival was try to persuade the departing munchkin to stay. Whether he, had he said yes, would actually have been retained by the notoriously "pragmatic" Jose Mourinho is something only known in a parallel universe, but he said no, after giving his word to Cagliari, word that he could not break. What a guy.

9 -- Jimmy Greaves

Like Bobby Moore, Greaves should really have a place in history as a true World Cup winner to make up for his lack of a league title, but while he was eventually awarded a medal as part of the England squad in 1966 (but only in 2009 after an FA campaign, as only the 11 players who finished the final were initially given medals), he will not be remembered as such because he barely played in the tournament. Most Englishmen can rattle off the winning 11 in a heartbeat, but what of the squad members? An injury in the third group game against France meant that Greaves was destined to be amongst them, and had to watch as his replacement Geoff Hurst scored the winner against Argentina in the quarterfinals, then knock in a few in the final as well. Greaves just missed the league title a few times, making his Chelsea debut a couple of years after their success in 1955, leaving AC Milan before they won Serie A in 1962 and joining Spurs after they did the double in 1961. He did however drive in the 1970 London to Mexico rally, finishing sixth in a Ford Escort. So... that's something.

8 -- Liam Brady

It was a close run thing between Brady and Glenn Hoddle for the "mercurial midfield genius" slot in this list, but the Irishman takes it by a nose. Arguably Brady's best form came in Italy, where he won Serie A twice with Juventus and also played for Sampdoria, Inter and Ascoli, but for much of the mid-70s, he was a shining light in a pretty gloomy Arsenal team that spent most of their time at the ugly end of the table. Things improved towards the end of the decade as he reached three FA Cup finals (winning two), but he departed for foreign lands without the big one. Brady would return to Arsenal as their youth coach in 1996, and thus played a role in bringing through the likes of Ashley Cole, Jack Wilshere and others, so at least he has contributed to Arsenal's success under Arsene Wenger, but it doesn't quite feel the same.

7 -- Gary Lineker

When Lineker moved to defending champions Everton in 1985, he must have thought that a haul of title medals was his for the taking. However, despite scoring 40 goals for his new team, Everton could only finish second, and that was the closest Lineker got to the big one in his home country, or indeed beyond. He was sold to Barcelona after just a season at Goodison Park, again finishing runner-up (twice, both to Real Madrid, of course) before a spell on the wing then the sidelines led to a return to England, where he once again came close, finishing third in his first season at Tottenham. There followed a couple more campaigns of personal success but decreasing league positions, before spending the last couple of years of his career with Nagoya Grampus Eight in Japan. He didn't win the league there either.

6 -- Robbie Fowler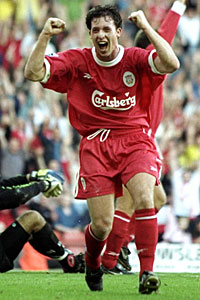 GettyImagesIn the 90s, Robbie Fowler was one of the Premier League's deadliest finishers.


Is being known as the one true deity by the fans who supported you from when you were yay high better than a league-winning medal? Maybe, but even aside from Fowler's lack of Premier League stripes on his lapel, there is always a sense that his was a talent unfulfilled. From the moment he deposed his predecessor in the Anfield God stakes, his holiness Ian Rush, Fowler was pegged as one of the greats, the saviour of English goalscoring, hewn from the very midi-chlorians themselves.

However, while his numbers (171 goals in 330 games) are impressive, he left Liverpool with that most unholy of purposes, to seek regular first-team football, after being deposed himself by the decidedly un-messianic Michael Owen (what a pity it is, incidentally, that Owen's 11 games for Manchester United in 2010-11 mean he has a league medal when Fowler does not), and even more ignominiously, by Emile Heskey, and joined the likes of Seth Johnson, Michael Bridges and the £10,000 goldfish at Leeds. Despite a return to Liverpool, upon which he beamed like a cat who had just discovered a cream factory, his career petered out a little from that point on. From God to Muanthong United. It should have been so different. He should've been a contender.

5 -- Steven Gerrard

Of course, while Liverpool are perhaps a little short of a serious title challenge this season, such is the improvement in Brendan Rodgers' side that Steven Gerrard's career might not end without a league title. However, if it does and he retreats to his dotage having never won the top domestic prize, will Gerrard be constantly dogged by the feeling of "What if?" After all, Gerrard was of course a hair away from joining Chelsea on a couple of occasions, basically agreeing to leave Anfield but changing his mind. It seems that it was a decision of heart over head, with Gerrard apparently set on the idea of a switch to Stamford Bridge, only for his family to persuade him otherwise in 2004 and a late U-turn a year later. How many titles might he have won at Chelsea?

Gerrard of course did win the Champions League with his hometown club, which is a decent achievement for any career, but it's clear that the Premier League is the big one for him. "It scares me in a way because I don't know how I'd handle myself," he said in January about the prospect of being in a real title race. "When I won the Champions League, the week after that talk about being on cloud nine or over the moon -- all the cliches -- it was better than that. If I could add a Premier League title to my collection it would mean the world to me, it would probably be the best day of my life besides my kids being born. I think it would top the Champions League because it is the one I haven't got."

4 -- Paul McGrath

While it's been said that many players who went off the rails could have benefitted from being managed by Sir Alex Ferguson (and there's one further down this list), here's a man with similar demons who did play under Ferguson, but who still couldn't be turned into a title-winner. While Ferguson managed to largely eradicate the drinking culture he found when he arrived at United in 1986, McGrath was another thing entirely, which given the chronic nature of his illness, the tales of which are starkly laid out in his autobiography, is not a sleight on player nor manager. Indeed, it was McGrath's alcoholism and non-existent knees that led Ferguson to try and persuade him to retire in 1989, which he refused to do and was instead sold to Aston Villa. Ferguson replaced him with Gary Pallister, and the foundation of his first great side was laid. It would've been great if McGrath was part of it all, though.

3 -- Sir Tom Finney

The idea that a player's worth is defined by his list of medals was surely dispelled by the tributes paid after Finney's death a week ago. Finney not only never won the league, he never won a single major title in his 14-year career, a second division win in 1951 with Preston the best his trophy cabinet could muster. Finney never left North End, although almost did in 1952, when Palermo offered him a deal worth 130 pounds-a-month (he was making 14 pounds--a-week in England) and a 10,000-pound signing-on fee, as well as his choice of sports car and unlimited travel back to England. Unfortunately for him, Preston flat-out refused to sell their star man, and there he stayed.

A versatile forward, he played all across the attacking line in his career, and was described by venerable journalist Brian Glanville as "perhaps the most complete British footballer of all time." The closest he came to winning a title was when a couple of runners-up spots in 1953 and 1958, hardly just reward for a player about whom Bill Shankly said, when asked to compare Finney to a star of the 1970s "Aye, he's as good as Tommy. But Tommy's nearly 60 now."

The last word on Finney should belong to Sir Stanley Matthews, another man whose talent was not rewarded with a league title: "To dictate the pace and course of a game, a player has to be blessed with awesome qualities. Those who have accomplished it on a regular basis can be counted on the fingers of one hand –- Pele, Maradona, Best, Di Stefano and Tom Finney."

2 -- Paul Gascoigne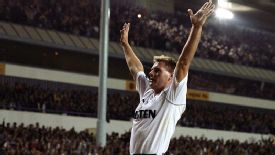 GettyImagesPaul Gascoigne: He could do things with a football no other Englishman could.


The man who many regard as the most talented player England has ever produced, never mind merely the most talented never to win the league. This list is full of "what ifs", but perhaps the biggest is the question of what might have happened if Gascoigne had joined Manchester United and Sir Alex Ferguson in 1988, rather than Tottenham. United thought they had their man, and indeed Ferguson headed away on holiday thinking the deal was done, only for Spurs to play a trump card (they bought Gascoigne's parents a house in Newcastle) and nick a genius from under United's collective nose.

"I think it was a bad mistake, and Paul admits it," said Ferguson in 2008. "We had Bryan Robson, a Geordie, Steve Bruce, a Geordie, Gary Pallister, from Middlesbrough... we had a structure of players who could have helped him and it could have given him some discipline." Gascoigne agrees: "He always says one of his greatest regrets was not signing me, but I think it was the other way round, me not signing for the guy... It was a massive missed opportunity."

1 -- Bobby Moore

Feeling sorry for Bobby Moore for never winning the league title is a little like sympathising with a man who doesn't have enough storage space for the one million pounds of cash he's just been given. Moore won basically everything else, including of course captaining England to the 1966 World Cup, aged just 25, and the FA Cup with West Ham in 1964, plus of course being lauded as the best defender of all time by everyone from Pele, to Franz Beckenbauer, to Sir Alex Ferguson. "There should be a law against him. He knows what's happening 20 minutes before everyone else," said Jock Stein, marvelling at his talent and trying to figure out how on earth to get past him.

Despite having Moore, Geoff Hurst and Martin Peters throughout the 1960s, the highest league place West Ham could manage was sixth, achieved in Moore's first and last seasons at the Boleyn Ground, and indeed they flirted with relegation on a couple of occasions, staying up by just one place in 1971. Still, Moore has his reputation as one of the greatest players his country has ever produced, even if he didn't feel the need to say so too much. "If you're quite good at something, you don't have to tell everyone," he said. Quite so.