Pellegrini's rare ref rant was a big mistake
Manuel Pellegrini was not a happy man after Manchester City's 2-0 home defeat to Barcelona in the Champions League. And he let the world know with the kind of language that could land him in trouble with UEFA.

In the Machiavellian world of football management, there are three reasons you would blame the referee after a game.

The first is when you lose and want to deflect responsibility from your performance or that of your players, but I'm not sure this fits the bill at all.

Yes, Martin Demichelis' lunge on Lionel Messi was ill-advised. Regardless of whether you believe it was inside or outside the box, it still would have been a foul and a red card. But Demichelis actually had played well until that point. In fact, except for the initial 10 to 15 minutes, when Barcelona had a sizeable edge in terms of possession and penetration, City more than held their own.

- Curtis: City struggle to assert themselves
- Hunter: Barca show winning patience
- Brewin: Demichelis lets City down
- News: Barca brush off conspiracy claim
- FC TV: Sid Lowe on Barca's win
- Report: Man City 0-2 Barcelona

You can always second-guess your own decisions as a manager (or, more likely, have others do it for you), but the impression last night among fans and club officials was that Pellegrini had gotten the lineup and formation correct. And, in any case, the absences of Sergio Aguero, Matija Nastasic (a better match to Barca's strikers than Demichelis) and James Milner (maybe not a superstar, but potentially tactically useful in a game like this), as well as Fernandinho returning from a month's layoff, offered mitigation.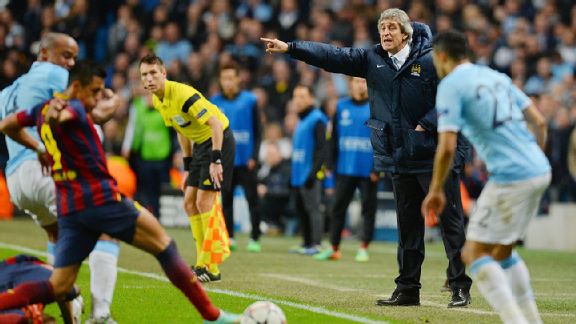 AllsportPellegrini doesn't usually rant as he did on Tuesday night and will surely regret his harsh remarks.

The second is when you want to send a message. It's one of the oldest tricks. You complain about refereeing and hint at conspiracies in the hope that it will plant a seed in the mind of the next official who, perhaps, will overcompensate to show he's not biased against you by sending a few 50-50 calls your way.

It's basic human psychology and plenty of officials have been known to fall in the trap or, at least, struggle with it. Again though, it might make sense in a league format or in a finely balanced tie. This is neither. Barcelona are halfway to the quarterfinals and are taking a two-goal lead back to the Camp Nou.

The third is when you genuinely feel aggrieved and angry at a perceived injustice -- and you let it all spill out. Possibly because you have some pent-up emotion over something else. I suspect this was the case with Pellegrini last night. We're used to him being cool and unflappable, but everybody boils over sometimes. And Tuesday night was his time to lose it in a very un-Pellegrini-esque way.

In refereeing circles, views on Jonas Eriksson are mixed. Some begrudge the fact that he is one of those "fast-track" referees. He took charge of his first top-flight match when he was 26 and became a FIFA listed official two years later. By contrast, Howard Webb was 34, eight years older, when he achieved FIFA status.

Then there's the fact that Eriksson is reportedly a multimillionaire, a side-effect of investing in the right sports marketing company at a relatively young age and then making a killing when he sold his shares. Nothing wrong with being a rich referee but match officials, like many other human beings, can be jealous folk.

Now, it's true that Eriksson did make a number of mistakes Tuesday night. But Pellegrini's allegations "not impartial to both teams ... he decided for Barcelona from beginning to end" -- are wide of the mark. If you want to parse incidents, sure, maybe he didn't blow his whistle when Jesus Navas appeared to be fouled by Sergio Busquets in the lead-up to the penalty. And perhaps Demichelis' foul on Messi was outside the box, though here you get into where the foul began and where it ended and, in any case, it's a very tough call.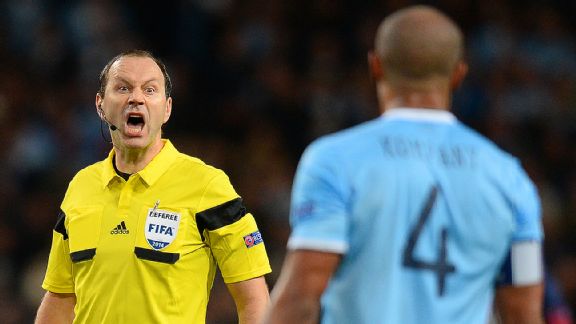 Andrew Yates/AFP/Getty ImagesJonas Eriksson could have called a better game, granted, but Manuel Pellegrini was wrong to go after him following Man City's defeat.

But then he could have called another penalty when Gael Clichy handled the ball in the box. And Gerard Pique's disallowed goal should have stood. As for the Demichelis on Messi incident, even if it was just outside the box, he was denying a goal-scoring opportunity and should have been sent off, which would still have left City with 10 men and Joleon Lescott in central defence.

This was a night where the referee was poor but you'd have to really stretch to find that his decisions favored one team over another. Yet, even then, if that's how Pellegrini sees it, that's fine. You can live with it. He made mistakes and they ended up penalizing one side more than the other. Fair enough.

Had he stopped there he would have been OK. But he went much further.

He accused Eriksson of favoring Barcelona to "remedy" some mistakes he allegedly made when he last officiated them against Milan in 2012, in a scoreless draw. Leaving aside the obvious point -- Barcelona won the return leg 3-1 and still advanced, so it's hard to see how bent out of shape they could possibly be -- you're going to get the book thrown at you when you accuse a referee of a "makeup call" for something that happened two years ago, and which turned out to be irrelevant anyway.

Now that he's presumably cooled off, he probably regrets saying what he did. Because it's one thing to say the officiating was bad; quite another to say the referee was biased in favor of one team. That much such should be obvious.

Odds are he'd like to have his other comments about Eriksson back as well.

"I think it was not a good idea to put a referee from Sweden in such an important match ... I think there is more important football in Europe than Sweden."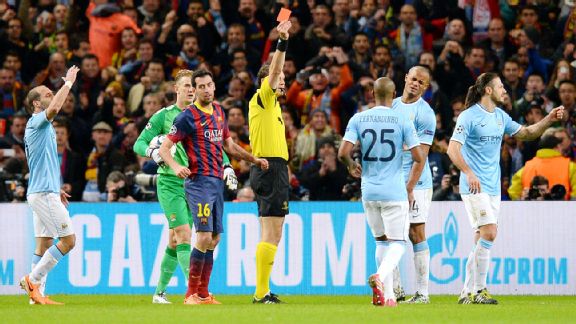 ANDREW YATES/AFP/Getty ImagesNo matter how much Pellegrini rants about the officiating, Martin Demichelis still clearly deserved to be sent off.

The implication here is that a guy from Sweden can't be a good referee because the Swedish league isn't as good as other leagues. That's a bit like saying that it's not a good idea to appoint a coach from Chile to manage such important clubs like Real Madrid or Manchester City because, after all, there are many more important leagues than the Chilean one.

In other words, it's silly and prejudicial.

Just as Pellegrini did, despite playing his entire career in Chile and managing there for 14 seasons before going abroad and working his way up to the highest level, so too did Eriksson.

We can debate whether Eriksson deserves to be in charge of top Champions League games -- or if Pellegrini deserves to manage City or Real Madrid -- but if we do so, we have to do it on the basis of whether he's good enough. Not on whether he's Swedish (or Chilean). Otherwise we're basically saying that if you're from any country other than England, Italy, Spain or Germany (France, Mexico, Brazil and Argentina at a stretch) you should never be allowed to officiate a top game, simply because your league isn't that good.

Those were very un-Pellegrini-like comments and, odds are, he'll pay a price for it. And so he should. Just why he went so out of character -- on a night when, 11 vs. 11, his team performed well without arguably their best player against one of the best sides in the world -- is a mystery. My hunch is that the guy just snapped and said stuff he now regrets.