Manchester United's competitive edge
GettyImagesEric Cantona was signed from Leeds in 1992
It is seen as non-negotiable in the murky world of the transfer window, the deal-breaker that gives the established order an advantage when recruiting: Champions League football. A European adventure long formed part of Manchester United's allure; a contract at Old Trafford practically came with a guarantee of rubbing shoulders with the continent's elite on an annual basis.

Until now. Languishing in seventh place in the Premier League, 11 points adrift of the top four, United will likely relinquish their season ticket for Europe's private party, unless they finish the season in spectacular style, or find success in Lisbon's final in May. If the consequences could be considerable -- and not least in the damage done to David Moyes' reputation -- the early assumption is that it will hamper them in the wholesale rebuilding job that is required this summer.

There are pessimistic predictions that United will struggle to sign their preferred targets if they are not in continental competition or, perhaps worse, are only in the Europa League. This outlook contributes to a broader picture of doom and gloom around Old Trafford and, after United's winter of discontent, they could get a second dose of the summertime blues.

And yet the argument that world-class players will elude them because of a lack of Champions League football fails on two fronts. Last year, as newly crowned Premier League champions, boasting a substantial budget and in a summer that did not contain the distraction of a World Cup or a European Championship, United did not manage to conclude a signing until the final minutes of the window -- and even that was Marouane Fellaini, who doesn't seem to fill the bill at Old Trafford. Their sights will be set on better midfielders this year, with United almost certainly in a less promising position.

Nevertheless, there are precedents for bringing in big names in such situations. While Sir Alex Ferguson was famously thwarted in his attempts to recruit Alan Shearer and Paul Gascoigne, the quarter-century between the 1968 European Cup win and United's next league title in 1993 was scarcely a time when the Old Trafford pitch was populated by nonentities.

Bryan Robson was a British record buy; Gordon McQueen, Joe Jordan, Frank Stapleton, Ray Wilkins and Gordon Strachan did not come cheap, either; Mark Hughes returned via Bayern Munich after a spell at Barcelona. Nor was a manager of the stature of Ferguson or Sir Matt Busby needed to sign most. McQueen joined a club that had gone a decade without a league title and promptly declared: "99 percent of players want to play for Manchester United. The other 1 percent are liars." The mystery and the mythology of United enticed many.

If they were different days, when United's attentions were concentrated on the British marketplace, the club could still have the same pulling power. If globalisation has changed much, Europe's finest have not always made Champions League football a prerequisite for their arrival on English shores. Ruud Gullit, Gianluca Vialli, Gianfranco Zola and Marcel Desailly were superstars lured to Stamford Bridge at a time when Chelsea had no Wednesday meetings with opponents from overseas. It was the challenge and the glamour that excited them.

This was before the Champions League expanded and acquired its current, all-pervasive sense of importance, yet even in the 21st century, United have firsthand experience of a coveted talent spurning one of its premier members for the task of reviving a fallen giant: Ronaldinho rejected them to sign for Barcelona in 2003.

A Nou Camp colleague of the Brazilian later showed that even clubs devoid of a significant history and with no tradition of attracting the best can sign them, regardless of Champions League football, even if Samuel Eto'o's move to Anzhi Makhachkala was motivated more by money.

Rather closer to home, some of the expensive additions that Manchester City secured in the years before they debuted in the Champions League followed a similar path. If a few, such as Emmanuel Adebayor, Carlos Tevez and Robinho, illustrate that ambitious clubs outside the top four sometimes have to take a gamble on rather wayward characters others may mistrust, the same cannot be said for the low-maintenance pair of Yaya Toure and David Silva.

Destroyers of United in the past, they should offer hope for their future. If the Ivorian's arrival was partly caused by the presence of his brother Kolo Toure at City as well as Yaya's oft-stated desire to make history, the Spaniard's signing is perhaps more instructive. Had Jose Mourinho wanted to take Silva to Real Madrid, the thought is that the playmaker would not have ended up in Manchester; instead, City pounced.

That may prove the lesson for United: Even if they are not players' first-choice option, it is possible to profit by picking up those players who are passed on by the very best. Sheikh Mansour's wealth enabled City to compete in the same league; the financial advantage United have is the way Ed Woodward and the commercial team are monetising their vast worldwide fan base. They ought to be able to pay prices and wages that many inside the Champions League cannot.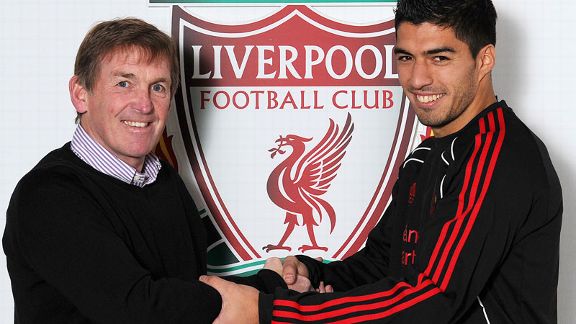 GettyImagesLuis Suarez didn't need Champions League football to join Liverpool in 2011.
The other, and often overlooked, element of City's rise was acquiring young players whose career trajectory was aiming upward, such as Vincent Kompany and Pablo Zabaleta. Elsewhere in England, United can look up the league table and see similar examples of footballers who are capable of playing on Europe's grandest stage, but did not insist on it when signing: Tottenham's finest purchases, like Hugo Lloris, Jan Vertonghen, Paulinho or the Liverpool duo of Daniel Sturridge and Philippe Coutinho. Most obviously, though, there is Luis Suarez, whose ability was glaringly apparent long before he joined a Liverpool club in January 2011 that was then below Sunderland in the league.

It may have aided Liverpool's cause that Suarez was serving a lengthy suspension for biting PSV Eindhoven's Otman Bakkal at the time. It is the sort of action that can deter potential buyers. Mavericks and miscreants can become available more often and, if a manager can harness their ability and galvanise them, there are rewards to be reaped. United know that all too well.

Like Suarez, Eric Cantona was seen as damaged goods almost two decades earlier when Ferguson bought the striker in 1992. The Frenchman proved to be the world-class talent United needed, transforming them into champions. Next summer's aims may be lower, simply to find the players who can restore them to the top four. And while their current troubles render it harder, as history shows, it is far from mission impossible.