Could Marcelo Bielsa rescue Peruvian football?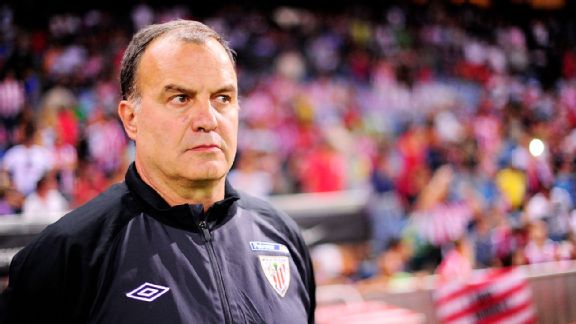 Gonzalo Arroyo Moreno/Getty ImagesMarcelo Bielsa transformed Chile but it was right place, right time for the enigmatic coach. Would the same be true in Peru?
Peru have announced their objective to make Marcelo Bielsa the next coach of their national team. And, according to the opinion polls, the eccentric Argentine is the overwhelming popular choice for the job.

A law unto himself, Bielsa's response is difficult to predict. He might find the challenge irresistible; since their great generation of the 1970s, Peru have made little impact on the global stage. The last time they made it to a World Cup was all the way back in 1982, and as such, the prospect of leading them back to glory might be enticing.

On the other hand, Bielsa may well be dwelling on the observation that circumstances in Peru are very different from those that applied in Chile in 2007, when he took over that country's national team and effectively began a new era in Chilean football.

Chile for Bielsa was probably the perfect job at the perfect time. He took charge a few months after Chile's youngsters had reached the semifinals of the World Under-20 Cup in Canada. A generation of bright young things were ready for grooming. The likes of Alexis Sanchez, Arturo Vidal and Gary Medel were ambitious and keen to learn -- wonderful raw material for a coach who excels at youth development.

And Chile gave Bielsa something he never had in his previous spell in charge of Argentina: a blank canvas. In his five-year stint with Argentina, Bielsa could never win over the old-timers, those who had grown up on the country's mythical number ten with a foot-on-the-ball elegance. There was no place for the maestro Juan Roman Riquelme in Bielsa's line-up. He wanted high tempo, high-energy dynamism -- not the old-fashioned "pause."

But in Chile there was no problem of a clash between Bielsa's style and a pre-established footballing identity. As one of the country's all-time greats, defender Elias Figueroa, explained to me a few years ago, Chilean football had been characterised by a lack of identity. They had tried to copy Brazil, Argentina and Germany but had no proper style of their own.

That ended with Bielsa. His high-pressing game has since become the template. His use of attacking width was perfect for a country that produces lots of quick players with a low centre of gravity. During his time in charge, Bielsa kept himself famously aloof from the Chilean club game.

Even so, having seen the performances of the national team, Chilean clubs fell over themselves to appoint Bielsa clones. The current domestic champions, for the first time in their history, are O'Higgins, coached by the former Bielsa protégé and assistant Eduardo Berizzo. The national team, seen by many as World Cup dark horses, are commanded by self-confessed Bielsa disciple Jorge Sampaoli.

Bielsa and Chile was a marriage that worked. Is there any chance that Bielsa and Peru could get along so famously?

There are reasons to be doubtful. The rhythm of domestic Peruvian football is hardly intense. The Peruvians are unlikely to take naturally to the high-energy game that Bielsa would seek to impose.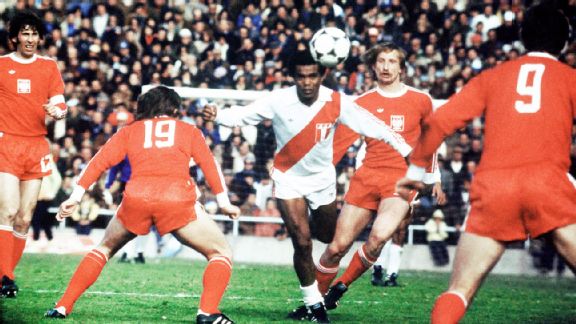 STAFF/AFP/Getty ImagesLed by Teofilo Cubillas, Peru made a splash at the 1970 and 1978 World Cups. Could Bielsa get them there again?

There is, however, an interesting generation of young players coming through. The financial problems of even Peru's biggest clubs -- Universitario de Deportes and Alianza Lima -- have obliged them to put their faith in youth. But how good do these youngsters really want to be? Are they prepared to put in the sweat and sacrifice needed to be big names on the global stage, rather than just local heroes?

In Peruvian football, this is a pertinent question. So often a player considers he has "made it" if he gets into the first team at Alianza or Universitario. Happy with his first big contract, he is seduced by the bright lights, loses focus and fails to get near to fulfilling his potential.

Universitario would seem to have an immediate example of the phenomenon in midfielder Christofer Gonzalez. He has a remarkable gift for the game. He even scored last year with his first touch in international football, after coming on as a substitute in a friendly against Trinidad and Tobago, and was a key player in a young "U" side that won last year's Peruvian title.

With his all-round game and the range and imagination of his passing, he reminds me a bit of a young Paul Gascoigne, the England midfielder so instrumental in the side reaching the semifinals of the 1990 World Cup. Last week, however, Gonzalez made his debut in the Copa Libertadores, at home against Velez Sarsfield of Argentina. This time he was more reminiscent of the blown-up, fitful and fretful figure cut by the late-era Gascoigne.

The difference is, of course, that in between Gascoigne achieved plenty in his career and came back from serious injury before eventually succumbing to his personal demons. Christofer Gonzalez, meanwhile, is 21. He should have prepared to take this Libertadores campaign by the scruff of the neck. Instead, as his team went down 1-0 to Velez, he looked sluggish and off the pace, rarely venturing into the penalty area. Occasionally he came up with an interesting pass, as if to taunt and remind us of the talent that he is in danger of betraying.

How might Marcelo Bielsa cope with these problems of the Peruvian mentality? A Bielsa shock might be the best thing that could happen to the local players. But the Argentine coach could hardly be blamed if he looks at the size of the challenge in front of him and concludes that there are easier ways to earn a living.