Football must do more against racism than bumper-sticker politics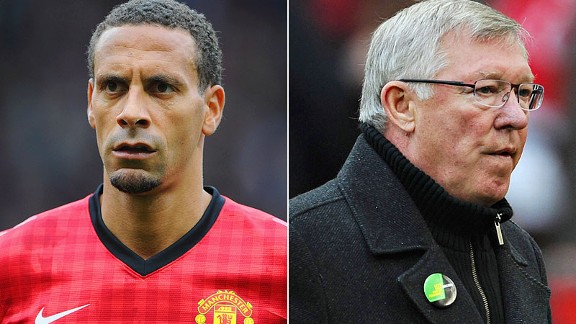 Getty ImagesThe controversy between Rio Ferdinand and Alex Ferguson highlights the shortcomings of the Kick It Out campaign.
It's a crying shame that Bill Maher doesn't watch football. Because, like him or not, the agitprop comedian would skewer the hypocrisy, idiocy, do-nothing measures and double standards being applied to the sport's problem with racism. But we can certainly imagine what he'd have to say about one of the more curious battles of the weekend, Rio Ferdinand versus Sir Alex Ferguson.

Let's cut straight to the issue. Rio Ferdinand was absolutely right in his boycott on Saturday. The Manchester United defender chose not to wear the Kick It Out anti-racism T-shirt that Premier League players were being encouraged to show off during prematch warm-ups. He was joined by Man City players Joleon Lescott (who hasn't worn such a T-shirt in five years) and Micah Richards, Stoke City's Kenwyne Jones, and Reading's Jason Roberts, the man leading the boycott.

And let's get this right out of the way, too: Sir Alex Ferguson was absolutely wrong in his anger. Calling the center back's decision "embarrassing" and telling Sky Sports that he would deal with it, as if there was real discipline to be meted out, is appallingly poor judgment. Ferguson, a legend in footballing matters, should have taken a page out of the playbook of Reading coach Brian McDermott, who said he backed Roberts "100 percent." Then, on Monday, a report suggested Ferguson was really only miffed that Ferdinand didn't alert him ahead of time that he wasn't going to wear the T-shirt, and that this made Ferguson look bad. Ah, yes -- worry about one man's image trumping concerns for the commonweal.

The point these players are trying to make, of course, is that bumper-sticker politics don't work when not accompanied by measures to bring about meaningful change. I can only imagine that Ferdinand & Co. would have felt incredibly uncomfortable donning those shirts given what they see going on around them – or, more to the point, what's not going on. Danny Rose endured unspeakable abuse, which was heard by journalists and players, during last week's U-21 match between England and Serbia, yet UEFA can only say it's launching an investigation into the "alleged racist chanting." Rose himself fired off an angry tweet demanding that action be taken "now, not tomorrow."

We are expected to treat the Kick It Out campaign with gravitas and greet this as a serious attempt to combat racism. Yet we watch with incredulity when Chelsea decides that John Terry will remain the club captain. We're supposed to believe gear worn during warm-ups (which, let's face it, are barely shown on TV aside from the occasional Sky news report or pre-game bit) will change perceptions and raise awareness. Yet we're asked to swallow the notion that Chelsea actually fined Terry – a man ranked No. 88 on Forbes' richest athletes in the world list – a meaningful amount of money. (And you best not wait around for Chelsea to publicize their price.)

And now we learn that UEFA will ask Terry to wear an anti-racism armband if he captains Chelsea against Shakhtar Donetsk in the Champions League on Tuesday. More bumper-sticker politics.

It gets even more inane. This month, UEFA fined Lazio 32,500 pounds for racially abusive conduct by its fans during last month's Europa League tie against Tottenham at White Hart Lane. Last season, another fine was handed down, this time for Porto fans' treatment of Man City players – 16,700 pounds. Both were symbolically empty gestures considering the wages for most top-level footballers.

But don't worry – football can take a stand when it matters most. Like last year, when Ryan Babel did the unspeakable by tweeting a mock picture of Howard Webb in a United uniform. The Football Association fined the player 10,000 pounds. UEFA laid down the law against Nicklas Bendtner during the Euros when he flashed the waistband of his underpants, sponsored by Irish bookmakers Paddy Power. You don't try to cut into the coffers of UEFA sponsors, son – and thus a one-match ban and 100,000 euro fine.

What's next? The football association deciding to stamp out diving by making the players wear T-shirts with a figure jumping off a board, a large circle and line through it? Don't laugh – the powers that be thought that a "Respect" campaign of banners would stop player abuse of referees.

This isn't the time or place to take a deep dive in understanding the issue of race in football. Nor is there a magic bullet that will change the uglier side of human nature. It is, however, time for the governing bodies to take a no-tolerance approach that will make players, clubs and supporters pay attention. Leave your T-shirt in the closet.

To borrow from Bill Maher, a "New Rule": If your club's fans racially abuse players, or if your players racially abuse opponents, deduct points from the offending club, and legislate that future infractions will be due cause for fixtures to be played behind closed doors or even the club's being yanked out of European competitions.
No tolerance. No B.S.

As far as Ferdinand & Co. go, their actions spoke the loudest. They saw through the sham. Football is badly tainted, yet it can only contrive to pay lip service to a problem that isn't going away with token efforts. That, Sir Alex, is the real embarrassment.