Mourinho and Wenger: The rift reopens
When Jose Mourinho walked into the Cobham meeting room for his Friday afternoon news conference, there wasn't initially much sign of the storm to come.

The Chelsea manager even offered an apology for being late. In the 13 minutes he kept the media waiting, though, it is tempting to think he was planning exactly what to say in response to Arsene Wenger's comments earlier in the day.

There could be no disputing the deliberateness of each of his eight acidic words, nor the fact he himself was waiting to say them. After two mild questions about whether this is really Chelsea's Premier League title to lose, Wenger's words were eventually put to him.

The Arsenal manager had claimed that other coaches had constantly downplayed their team's chances because of "fear of failure." Mourinho was not afraid to say exactly what he thought.

"He is a specialist in failure," responded the Chelsea manager. "I'm not."

- Mourinho: "Wenger is a specialist in failure"
- Wenger: "Mourinho has a fear of failure"
- Rodgers rubbishes "failure" talk

For those in the room, and especially those who had also been at London Colney for Wenger's news conference, it was a genuinely eyebrow-raising moment. Any laughter heard was out of shock someone would go so far, rather than mirth. The Portuguese spoke in very specific terms, with no hesitation but a strong element of irritation.

As to whether Wenger actually intended to spark that kind of response, that's a little less clear, although the Arsenal manager is certainly no innocent in this.

He criticised Mourinho's attitude to the title race as far back as December, and was probably absolutely correct to call out the patent nonsense that the Stamford Bridge side are "little horses" in this league race: "Only Chelsea can lose it because they are in front and all the other teams can win it," Wenger rightfully said.

The line about "fear to fail," however, was a little more ambiguous. Mourinho wasn't actually named when Wenger was then asked why certain managers downplayed their chances, and the Arsenal manager didn't identify him. The delivery, though, made it difficult not to think there was an element of agitation about it. The context was also obvious.

"It's fear to fail."

Either way, Mourinho later proceeded to escalate it all in the kind of way only he is prepared to do. It all got so much more edgy.

All of a sudden, it was easy to forget this was supposed to be a slightly more subdued FA Cup weekend, even if the Premier League top four face off against each other.

It was easy, in fact, to forget entirely about the cup. Instead, it became about the effect of all this on the title race and it certainly adds a frisson. Two managers who weren't even playing each other began publicly bickering in a manner not seen for at least half a decade.

The news conference at Cobham had the feel of one of those to be remembered and regularly quoted, alongside Liverpool manager Rafa Benitez's 2009 speech about "facts" or Kevin Keegan proclaiming in 1996 that he would "love it" if his Newcastle beat Manchester United. This was up there with the most catty of them.

It would be unbearably po-faced to argue that does not add an element of enjoyable pantomime to what is ultimately a game, and few are better at playing a role in all of that than Mourinho. He is the ultimate wind-up merchant and the mistake so many make is in reacting to words.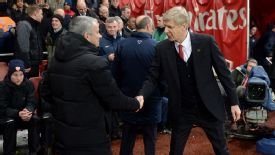 AllsportMourinho and Wenger may not be quite so cordial next time they meet.
At the same time, it did appear that for once Mourinho was a touch wound up himself, which puts a different spin on the debate about who riled whom and the whole notion of "mind games."

The Chelsea manager admitted he was "annoyed" by Wenger's comments. He also seemed to plead that fair response was required, given the words "go around the world."

The resentment between the two managers, of course, has been around for some time too. Despite an initial element of deference and respect this season, especially around Chelsea's League Cup win when the two clubs met in October, it did seem as if this kind of controversy required only a prod to be provoked.

Mourinho responded with daggers.

"[Wenger] loves to look at this football club," he said. "I thought between 2007 and 2013 was enough time for him to forget this, but it looks like he always likes to look at this [club].

"Am I afraid of failure? What is that?

"I believe, at the end of the day, I'll be the [one seen as the] impolite guy, the one who's aggressive in his words but of course. He is saying we're not candidates because we're afraid of failure. Failure of what? Not winning a title this year ... or in two years?

"I have a lot of respect for him. Failure is not winning a title in seven or eight years. That's failure. Am I aggressive in my words? I don't know."

Mourinho offered his only moment of contrition when he was asked about calling Wenger a "voyeur" back in 2005. He immediately interjected.

"I am sorry for that, so sorry for that."

That sounded genuine. Mourinho clearly meant everything else and, for all the pantomime, that is one of the reasons this exchange feels so pointed.

It is exceptionally rare for a manager to so go beyond protocol and to be so blunt. This extent of criticism was surprising even for Mourinho.
It also felt almost personal precisely because there was truth to it.

Wenger is undeniably one of the greatest managers of all time, but that reputation comes primarily because of the period of his career between 1988 and 2005, rather than the 8½ barren years since.

Sure, in that time, he had the obvious barriers of a new stadium to build and the nouveau riche of Manchester City and Chelsea themselves, as well as Manchester United, to beat. Those explanations start to run a little short, however, when you consider how little money was reinvested from a range of unplanned sales.

Wenger fought hard to keep players from Emmanuel Adebayor to Cesc Fabregas so it would be ludicrous to suggest their exits were part of the economic plan. Despite that, Arsenal didn't properly spend the money received.

It seems clear now that, after the glory of the 2003-04 title win, Wenger wanted to build a brilliant team in a different way; to properly bring through a young core. When modern realities impinged on that, however, the Arsenal manager refused to readjust. In that, he was someway culpable of failure.

Now, in a season when the club have broken their transfer record for Mesut Ozil and kept a young collective, it feels as if no more allowances can be made. Wenger himself maintains the side is ready.

They must certainly be ready to avenge last week's horrific defeat at Liverpool in Sunday's FA Cup rematch. This fixture takes on an extra significance precisely because such a difficult run of games has started so dismally, but also because it arguably presents Arsenal's best chance of a trophy. In that, although it is notionally their least important game of the next two months, it should be viewed with the most vigour.

Mourinho showed plenty of vigour. Of course, the final reason that managers so rarely do that is because it can also tempt fate and put greater pressure on themselves. For all Mourinho's deliberations about development this season, perceived failure would not now be so easily forgiven.

It's quite a time to face a Manchester City side some may feel are due to defeat Chelsea, after two successive losses. Manuel Pellegrini, however, refused to rise to anything the Portuguese had to say.

"I also don't like a lot to speak about other managers," Mourinho said with a straight face. "I think he's right. I think he's right. So if he doesn't want to speak about me, that's perfect. That's perfect."