Hughes gets point to build on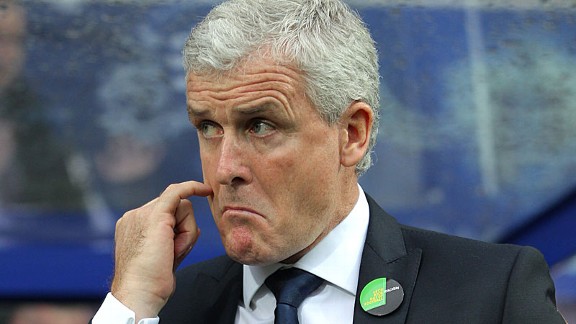 GettyImagesMark Hughes: Doubts over his future
Before this match against an impressive Everton, it was anticipated that this could be the end of Mark Hughes' time at QPR. Instead, after a creditable draw in which his side could well have finally won a game for the first time this season, the manager can walk away making a reasonable argument that this could well be the start of something better.

They may have not claimed a victory in 2012-13 but there was enough in this display to suggest one isn't too far away. More importantly for Hughes himself, though, he's avoided a situation that seemed a little too perfectly set up for Harry Redknapp.

When the former Tottenham Hotspur boss took over at White Hart Lane in 2007-08, it was after the North London side had drawn two of their first eight games. A defeat here would have seen QPR repeat that record but it might also have been the trigger for Hughes to lose his job and Redknapp to again step in.

QPR didn't just avoid that. They also put in an impressive display that suggested much better for the future.
Their intent was signalled from the off as, in an open game characterised by quick breaks from one end to the next, the excellent Junior Hoilett picked up the ball from an Everton corner, charged up the pitch and eventually shot past Tim Howard via a sizable deflection.
For once with QPR, the display was reflected in the scoreline; to be fair to Hughes, overall performances haven't really been too much of a problem.

Other than the opening-day defeat to Swansea and then a disappointing home loss to West Ham United, they've generally competed well in the rest of their eight games. What has cost them, though, has been the kind of individual errors and lapses which come from a lack of cohesion. And, here, we saw the same again.

A defence still getting to know each other allowed Sylvain Distin a free header from a set-piece as he sent the ball home via the back of Julio Cesar and the help of a post. The fact it was marked down as an own goal wasn't just significant, but symbolic.

"We're pleased with the level of performance," Hughes said. "Although we've let ourselves down at a set-play. We'll have to work on that. You shouldn't allow a powerful centre-half a free header from six yards so we'll look at that. But, again, that little detail cost us.

"In the end, we've gone up against one of the best sides in the Premier League who have started like a house on fire, and we've more than matched them. On another day, we should have beaten them but we're disappointed because we need to get three points on board."

That, of course, is the other big issue for Hughes beyond solving the defensive lapses. Given that they remain without a win, there is a danger that frustration can give rise to anxiety, only exacerbating the situation.

"I think it's the emotion we all feel - frustration. We showed today our football is good. We tried to play in the right manner, to get the ball down," he added. "We've shown that since the beginning of the season. We haven't been able to take the final step of getting three points on the board. The guys in the dressing-room are very disappointed.

"No-one saw any sense of desperation in our play. We still tried to get it down. It's just not falling for us at the moment. We've gone up against most of the top 10. We've competed in almost every one of them. We know there are going to be days when results and games go for us. Things will turn around, I'm convinced of that."

On the other side of things, Everton are perhaps the proof of the effects of belief and confidence. Because, despite being without Marouane Fellaini in midfield due to injury, as well as Steven Pieenar for the last half an hour due to his harsh red card for a second booking, they re-organised, rallied and held together to claim a creditable point.

For that, though, they can still look to their goalkeeper with gratitude. With Hoilett leading the charge, QPR bombarded Everton late on and it was only Tim Howard's athleticism that kept out a magnificent curling strike from the young forward.

This may not have been a top-four performance, then, from Everton but the point at least means they stay in that position.

Afterwards, Moyes declared himself happy with the draw, if not the referee Jon Moss. As well as Pieenar's red card, he also waved away contentious penalty calls from both sides. It followed a build-up filled with discussion, as a number of players, including Anton Ferdinand decided not to wear the Kick It Out t-shirts.

"It was very, very harsh to give somebody a red card for that," said Moyes. "Incredible. I think it was the wrong decision definitely. It was going to make it difficult for us to win when we went down to 10 but we attacked at the right moments. It was a big game for QPR as we can say but I'm really pleased."

Hughes may not have got the win he so craves but, after that display and point, he no doubt feels much the same.