How a manager's method and message can vary
In recent years, something called "The Dictator's Handbook" became all the rage among those who study leadership and power, particularly when it comes to politics and business.

The two men who wrote it -- New York University professors Bruce Bueno de Mesquita and Alastair Smith -- argue among other things that people in charge, whether they be tyrants, elected leaders or CEOs, are motivated primarily by the need to preserve power.

To do this, they need support, which in turn means identifying and looking after certain essential stakeholders in certain ways while treating others in different ways.

In other words, you don't need to be nice and do your best for everyone. In fact, that's the wrong thing to do. Why? Because you can do only so much and if you try to help everyone, you end up helping everyone a tiny bit.

On the other hand, if you take care of the "important people" -- those whose backing matters -- and do so in a significant way, then you'll have a better chance of staying in power, even if it means you don't do much at all for the less important guys.

It's a lesson we've seen time and again in football. Managers keep their jobs (or put themselves in a position to move to bigger and better jobs) largely in two ways.

The first is by how much their owners like them. It's often a one-to-one relationship and a selling job. You sell your work to your boss on a daily basis, convincing him or her that what you're doing is right and will come good eventually.

Some owners are more independent-minded than others, some base themselves on what they see and read in the media, and some have entourages of hangers-on helping them assess their managers. Ultimately, so much hinges on the personal relationship and the selling the boss does.

If he's more Ricky Roma than Shelley Levene (yes, it's the 30th anniversary of "Glengarry Glen Ross"), then he'll buy himself time.

- Moyes hits back at critics
- Pellegrini ignores Mourinho comments

Of course, the second point is results. Sure, anyone can read the league table and look at points and standings, but results are juxtaposed with expectations. And this is where a good manager can do a sales job of his own.

If you are, say, David Moyes, and manage to successfully sell the notion that you inherited an aging, spent team requiring a total overhaul, then you buy yourself a bit more time, because expectations are lower and therefore your league standing doesn't look so bad.

If you also talk incessantly about how well your team played despite indifferent results and get the owners to buy the idea, then your chances to hold on to power increase because, heck, all you can do is play well and sometimes luck just doesn't go your way.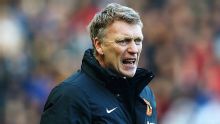 Matthew Lewis/Getty ImagesMoyes was handed a six-year contract when he took over as Man United manager.
By the way, I'm not suggesting that Moyes is doing this consciously or that he's being somehow duplicitous. He may well believe what he says or it may simply be the message that the media are putting out. Either way, that's the sales narrative that is reaching his bosses.

Moyes, of course, isn't the only one. Jose Mourinho put out the notion that his Chelsea side were the "little horse that needs milk" pitted against giant Clydesdales after that impressive win over Manchester City last week.

Again, thanks to the magic of the underdog trope, you push the idea that finishing third with your little foals would be quite an achievement and that, of course, winning it, would once again prove your "Specialness." Mourinho returned to the theme after Tuesday night's 1-1 draw at West Brom, where he talked about how his players lacked "personality."

It was a curious choice of words at first glance, because frankly, Mourinho-coached teams through the years have rarely lacked personality and mental toughness.

When they've come up short, it's been for a variety of reasons -- tactical errors, lack of quality, better opposition, refereeing decisions -- but rarely has it been an issue of mental toughness and cohesion (with the obvious exception of his final season at Real Madrid).

On the other hand, there's a good reason why you would peddle this idea. If you make the 1-1 draw about a lack of personality, you create a "problem" that you can easily fix, because Chelsea have plenty of personality, as you'd expect from a team where most players have won silverware.

But here's where "The Dictator's Handbook" comes in. Managers, broadly speaking, have three constituencies: bosses, players and fans.

And then there's the media, which they use to communicate with their constituencies to varying degrees. With supporters, it matters plenty; with players, less so; and with their bosses, very little. Thus, to some degree, you can get away with sending different messages to different stakeholders.

The idea -- laid out in just about every sports movie or book ever written -- is that the coach gets the athlete to believe he or she is good enough to win and that creates the confidence required to achieve victory.

That is, you presume, the message Moyes and Mourinho tell their guys in the privacy of the dressing room. You don't expect the United boss to sigh and say "Well, Sir Alex Ferguson had Paul Scholes in the prime of his career and I'm stuck with you, Tom Cleverley, so just try not to screw things up too much."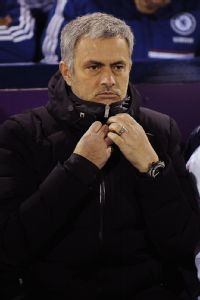 AP Photo/Rui VieiraMourinho has sought to maintain his side's underdog status in recent times.
Nor can you imagine Mourinho telling Eden Hazard and Oscar that they're just young kids and that Chelsea have overachieved in getting this far with them pulling the strings.

But when it comes to their bosses, it's a different matter. And when it comes to the media who sell their narratives to the fans, they often need to contradict their dressing-room speeches as well. (Although, to be fair, they have to be careful, too, because they're also part P.T. Barnum and if they push the "we're no good" line too hard, nobody is going to roll up to their carnival.)

The folks who wrote "The Dictator's Handbook" may disagree, but clearly it's not the only formula to stay in power. Arsene Wenger and Manuel Pellegrini haven't played the "we're not good enough" card this season (if they have, they've done so sparingly and rarely in public).

You also can't imagine Pellegrini going to Sheikh Mansour and saying something like "we're going to spend another couple hundred million bucks but, realistically, don't expect me to deliver any major silverware because, well, we'll need to spend more next summer."

As for Wenger, he's been doing things his own way for years -- sitting on enormous piles of cash and generally not spending it -- so it would be a tough line to peddle.

It doesn't mean that Pellegrini and Wenger are somehow "better" than Moyes and Mourinho. Far from it. Indeed, their behaviour is influenced by many other factors, including how strong their position was at the start of the season.

Pellegrini was a foreign coach surrounded by skepticism from some quarters. He had to show confidence or he might not have been given the job, whereas Moyes was hand-picked by Ferguson, so he knew it was a slam dunk.

Equally, Mourinho had enormous political capital to spend among Chelsea fans and the English media. And Wenger, as we said above, has been marching to the beat of his own drummer for much of his career.

But professors Bueno de Mesquita and Smith are on to something here. If you want to stay in power, you don't treat everybody the same way. You favor some at the expense of others (which we've long known: your superstar striker gets treated differently than your reserve right-back).

Moreover, crucially, you send different messages to different people at different times. And you hope that they either don't compare notes and see the obvious contradictions, or if they do, they think you're being truthful with them while having a good reason to be less truthful with the others.