Arsenal-Man United has feeling of finality
The day after Manchester United endured just the latest low point of a dismal season against Fulham, David Moyes went into Old Trafford for a series of meetings with club officials. One of them lasted over two hours and almost everything from player contracts to the imminent trip to Dubai was discussed.

The big issue, and one that so many people are now wondering about, was not touched upon. Moyes was not given an ultimatum or anything of the sort. The club are maintaining a long-term viewpoint.

If the manager is not on the brink, though, he is undeniably under pressure. Sources state to ESPN FC that the mood of some of the meetings made that all too clear.

- Cross: Arsenal on the precipice?
- Mitten: Worse coming at Old Trafford
- Payne: Three reasons why United could win

Mikel Arteta, meanwhile, made all too clear the fury that Arsenal players were feeling during half-time of their own disaster at Liverpool.

"It was the angriest I've ever seen him," the midfielder said of manager Arsene Wenger as his side remarkably trailed 4-0 at that point.

On Tuesday, the Arsenal manager was much cooler, and impressing a different message on his players: to remember why they are where they are.

"It's important, we tend always to forget how good we are when we are not successful," Wenger said. "It's important that we remind them we have done until now very well, that we are in front of a very important week for us and we have worked very hard until now to be in that position. I love this group of players. They deserve success and I think they will respond in a very positive way tomorrow."

The reality is that they simply must, as must Manchester United, which means this genuinely could be one of the most meaningful games of the season, with so much on the line for both sides.

Sure, the Manchester City 0-1 Chelsea game realigned the title race, but was still just one of a number of juncture games that slightly altered the campaign's remaining course. This fixture, by contrast, has a curious feeling of potential finality about it.

If Arsenal were to lose a second big game in a row, so early in such an exacting run of fixtures, it would be difficult not to think their challenge would be over in an "emotional" sense -- if not a mathematical one.

If United were to suffer yet another bad reversal from another poor performance, it would be difficult not to think that pressure on Moyes could transform into something even more pressing.

The champions' last match against Fulham certainly felt like a tipping point, at least in one way. It was the ultimate illustration of everything currently wrong with the United regime, with the extreme nature of the circumstances reflected by the remarkably ludicrous character of the game. It's difficult to think of any modern match close to it, where one team attempted the same tactic a scarcely believable amount of times, only to see if fail so often.

For United, recent history repeated itself so frequently that it was difficult to know whether it was tragedy or farce. It was probably both.

The most lamentable aspect for Moyes is this: With 55 goals conceded in 25 games, that Fulham team actually have the third-worst defensive record in the last 40 years of top-fight English football, only behind Swindon Town 1993-94 and Derby County 2007-08.

Despite that -- and despite so many different teams and forwards of variable quality scoring so many different types of goals against Fulham -- United still kept attempting the same type of attack -- a record 81 crosses. Only 17 of them actually found a red shirt, and neither of the home side's goals came directly from such an approach.

Whatever about the definition of insanity, this was a demonstration of inability. It all reflected a damning bankruptcy of innovation and creativity.

Even if Moyes does not think he has the midfield to play a different way, the dismal nature of this game demanded at least a different type of pass. Instead, United kept playing aerial balls at Robin van Persie's head as if he was a mid-80s mid-table target-man rather than one of the most technically accomplished forwards in world football.

The further issue with that, and one of the real problems with the approach, is that the dismally predictable approach is deadening the mood and further exacerbating issues that were out of his control.

At present, United look to be in what Andre Villas-Boas notoriously once called a "negative spiral". Everything is going wrong. At the other end of the pitch, a manager known for his defensive durability is seeing his back-line punished with disturbing regularity.

The situation is so dysfunctional that it would be genuinely incorrect to say this is all a fair reflection of a fundamentally good manager like Moyes but, at present, it is as if his every decision is only worsening it. The impression now is that the pressure is so great he is fearfully second-guessing every decision. Worse, almost every word he utters only serves to increase that pressure.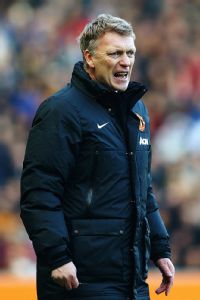 Matthew Lewis/Getty ImagesDavid Moyes' Man United lacked attacking ideas versus Fulham.
Comments about "luck", "trying" and not "knowing" what the team have to do to win simply do not set the right tone at a club like Manchester United, and in a situation like that. It is perhaps one reason why he cut his press conference so short on Tuesday, but even then there was still a comment that raised eyebrows.

"We're doing the right things, we need to keep going and your luck will change, there's no doubt about that."

After the Fulham game, of course, a statement like that could only serve to increase doubt. Ahead of the visit to the Emirates, however, bloody-minded persistence could bring points.

This is one match where the onus will ironically be on the opposition to change tactics rather than Moyes. The new United manager, after all, continued the club's fine recent record against Arsenal back in November by following Ferguson's lead. In that match, the champions claimed their 10th win out of 13 against Wenger's side. Just like the majority of those matches, they sat deep, disrupted Arsenal and sought to punch them on the break.

It emphasised that Ferguson perfected a clear template to defeat Wenger, and that the Arsenal manager himself still refuses to deviate from a general template of his own. If the Frenchman falls into that clear trap again, given all the issues at United, it would add deeper concern to the long-term question once more raised at Anfield.

Prior to that game, there was evidence that Arsenal were starting to drop-off in terms of performance. The rampant displays of September to November had given way to ground-out wins, not least in the last three home games, all of which were against relegation-threatened sides and only settled by two second-half goals. It was as if Arsenal were just about holding things together, with their defence standing firm as their attack badly needed a lift. Whether it was resilience or recession depended on circumstances. Saturday at Anfield seemed to force the issue.

Despite all of that, and despite repeated warnings in games against Everton and Tottenham Hotspur about the folly of leaving Liverpool's attack so much space in behind, Wenger still felt he could go there and largely play his own game. Instead, his team were blown out of the match.

That persistence, if in a different way to Moyes, has been one of the flaws of the last eight years at Arsenal.
Wednesday night, something's going to have to give.

Either way -- in different manners, and for different reasons -- both teams need something to change.