Asian stars of yore could return for upcoming World Cup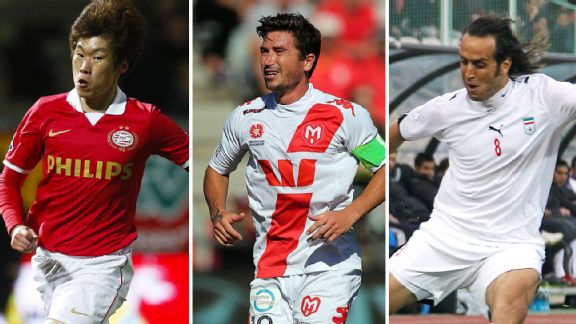 Getty ImagesPark Ji-Sung, left, Harry Kewell, center, Ali Karimi, right, are retired internationals who could make their return to their national teams.
Shout it from your Myspace account, the 2014 World Cup could have a distinct 2006 feel if you are an Asian fan with some of the continent's biggest, and oldest, stars being linked with a return to their respective national teams. Will the coaches be able to resist calling up a former hero from the sidelines? And if so, will the vet be prepared to go into action once again?

Park Ji-Sung

International retirement: January 2011
Where he is now: After that ill-fated move to QPR, he's back where it all started, in Europe at least, with PSV Eindhoven.
Pros: Compared to his aging contemporaries, Park is still relatively young at 32 and active in Europe, even managing a UEFA Champions League qualifier against Milan this season. Not quite as energetic as before but the brain is fitter than ever. Perhaps his most valuable possession is experience and leadership. Korea's squad is one of the youngest around and could do with a player who has been there and done it many times over.
Cons:Park happens to play in a part of the field where Korea is strongest and have options. If he goes to Brazil, he goes to play and it is debatable if he deserves a starting spot. He is also reluctant.
Coach: Hong Myung-Bo is keen and is currently in the south of the Netherlands hoping to persuade his former national team-mate to come back.
Desire: Park's camp have repeatedly said that he is not interested in a return and is stressed by such talk as he plans his wedding (although this looks likely to take place after the World Cup has finished).
Chances of happening: Low but possible. Hong feels there is a chance and appealing to a sense of national duty has done the trick in Korea more than once in the past.

Harry Kewell

International retirement: never retired but last played in 2012
Where he is now: In the A-League. Despite missing much of the first half of the season through injury he is starting to play well for Melbourne Heart as the club look to climb off the bottom.
Pros: Has played at the highest levels around the world in all kinds of Champions League games, has handled the pressure at some big clubs and is now right on the Socceroos' doorstep. With injuries to some key players like Robbie Kruse and Rhys Williams likely to keep them off the plane to Brazil, a man of Kewell's talents, experience and profile could be what the Socceroos need. Would be big news and greeted enthusiastically by many.
Cons: Would be greeted with a groan by many. Kewell divides opinion down under and while plenty would welcome a return, plenty would not. He has not exactly set the world alight since the 2010 tournament and has not always impressed in the A-League even when he has been fit.
Coach: No comment from Ange Postecoglou, Kewell's coach during a brief spell at Melbourne Victory that ended in 2012, but that is sure to change before too long.
Desire: Kewell wants to go to Brazil
Chances of happening: Could happen and there are growing calls in the media that it should. Injuries have pushed Kewell closer to the squad. If he can stay fit until the end of the season, he's got a chance.

Ali Karimi

International retirement: Has happened a number of times but the most recent was May 2013.
Where he is now: The Wizard of Tehran is playing for Tractor Sazi in the Iranian Premier League.
Pros: He hasn't been away for long and in terms of natural ability, he is still one of the best there is. It is unlikely that he would be starting many games in Brazil but as an impact substitute to come on late in the game against tiring defences, he has plenty to offer. On his day, the former Bayern Munich star can still make things happen. Would go down very well with most fans and media.
Cons: Has slowed down considerably since his heyday and it would be hard to see the 2004 Asian Player of the Year lasting 90 minutes in the humidity of Brazil. While he has World Cup experience, he was also at the centre of a major split in the dressing room in 2006 that went a long way to ensuring that a talented Team Melli did not make it out of their group. Ali Karimi brings lots of things to the table but there is always a bit of baggage too.
Coach: Carlos Queiroz uttered the magic words in January, "The door is open."
Desire: The player would love nothing more than a trip to Brazil this June.
Chances of happening: Reasonable. Iran's team lacks international experience and with preparations not going well, Karimi could become a very attractive choice.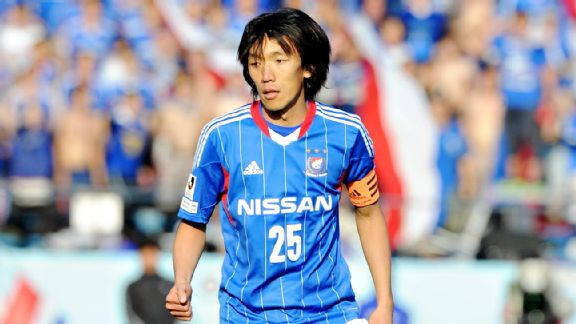 Etsuo Hara/Getty ImagesShunsuke Nakamura has rumored to return to Japan but the odds are slim.
Shunsuke Nakamura

International Retirement: In the summer of 2010
Where is he now: Banging them in for Yokohama F Marinos in the J-League.
Pros: Nice and simple in that he is playing very, very well. The midfielder was named J-League player of 2013 after an excellent season that was marred only by his team throwing away the title at the death. He scored ten goals last season and has targeted 15 for the coming campaign. A good player in great form is always tempting for a coach.
Cons: There was a reason Nakamura played a peripheral role back in 2010, the country is stuffed with silky midfield players.
Coach: Alberto Zaccheroni may be seen as a little too attached to his starting eleven but did not rule out a return for the former Celtic star earlier this year.
Desire: Pretty low if comments made by the player earlier this week are anything to go by.
Chances: Slim to non-existent. Nakamura says he doesn't want to go to Brazil and even if he did, it is far from certain he would get the call.