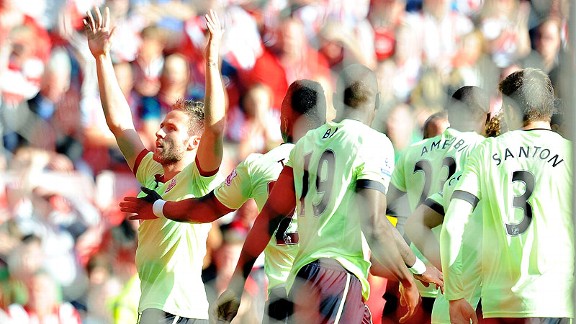 AP Photo/Owen HumphreysNewcastle and Sunderland have had contrasting fortunes this summer.
I'll admit that the thought of midfielders Cheik Tiote and Lee Cattermole going head-to-head at the Stadium of Light in Sunday's Sunderland-Newcastle derby excited me. It's a watered-down version of Roy Keane versus Patrick Vieira, but enticing and bruising nonetheless.

Unfortunately -- although not unsurprisingly -- Cattermole couldn't play because he was (you guessed it) suspended for collecting a red card in the League Cup last month. After 25 minutes of Sunday's encounter, Tiote joined him on the sideline when he was shown a straight red for putting his studs into the shin of Steven Fletcher. An easy decision for referee Martin Atkinson.

At the final whistle, the commentator in the U.K. proclaimed, "Wonderful ... exciting and entertaining from beginning to end."

He must have been watching a different game, because riveting it wasn't.

If anything, this had all the makings of Arsenal's 1-0 loss at Norwich on Saturday.

For all the possession Sunderland enjoyed in the aftermath of Tiote's dismissal, the home team barely created a chance in trying to erase a 1-0 deficit. No surprise, then, that when the equalizer came in the 85th minute, it was via a Demba Ba own goal. Ba worked tirelessly for Newcastle and didn't deserve to be left red-faced; unlike Wayne Rooney this weekend, he wasn't able to score at both ends.

Winger Hatem Ben Arfa was as impressive, smart and selfless as usual, and prior to the sending off, Newcastle was certain to be the runaway winner. The Magpies, boosted by the return of calm and influential captain Fabricio Coloccini in the heart of defense, were a class above the listless Black Cats.

Meanwhile, Sunderland manager Martin O'Neill should be worried. If Sunderland loses Fletcher for an extended period, not even the Irishman's considerable managerial skill might save his side from drifting into the bottom three.

Now for three takeaways from Saturday:

The good and bad for Arsenal

Arsenal fans, rejoice: Midfield dynamo Jack Wilshere is back.

When his name was scrawled on the team sheet Saturday, it must have rekindled memories of the days Wilshere lined up alongside Cesc Fabregas and Robin van Persie. Happier times.

Arsenal manager Arsene Wenger was never going to play Wilshere for the full 90 minutes against the Canaries following a 15-month absence, but tell me this, Arsene: Why leave him on the bench and introduce 17-year-old novice Serge Gnabry as the final substitute in the 83rd minute with your team trailing? Did Wenger lose his bearings for a moment and think it was the League Cup?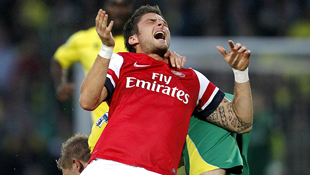 Ian Kington/AFP/Getty ImagesOlivier Giroud was disappointing for Arsenal in the Gunners' 1-0 defeat at Norwich. He wasn't the only one, either.

The Gunners were poor, poor and poor, to put it mildly. Once hardworking Norwich neutralized playmaker Santi Cazorla, it was job done. Wilshere's return might mean fewer appearances for Aaron Ramsey, who had another difficult outing. Ramsey, left back Andre Santos, keeper Vito Mannone and winger Gervinho were especially noteworthy for their ineffectiveness.

When Wilshere hits form, his partnership with Cazorla and Mikel Arteta -- Arsenal's best player Saturday -- in the center of midfield will be fun to watch.

It won't be enough to drag Arsenal into the title race, though. Trailing Chelsea by 10 points, the Gunners are now closer to the relegation zone than first place.

AVB keeps 'em guessing

When Andre Villas-Boas makes decisions like he did Saturday, it's no wonder he's a target for the media. What was the purpose of benching Brad Friedel in favor of Hugo Lloris against Aston Villa two weeks ago, only to then drop the Frenchman for the visit of Chelsea after he kept a clean sheet when Villa came to White Hart Lane? (AVB's midweek explanation for omitting Friedel also made little sense.)

On this occasion it won't garner many headlines because Saturday's story was mostly about Villas-Boas losing against the organization that, if reports are to be believed, ran him out of West London.

Tottenham's William Gallas was rightfully criticized for his defensive display in the 4-2 defeat, but stand-in left back Jan Vertonghen deserves special mention, too. Vertonghen's giveaway led to Chelsea's tying goal; his eagerness to go forward leaves far too much space at the back.

Remember, though, that Tottenham was without its two top midfielders, Gareth Bale and Moussa Dembele. Clint Dempsey was thus given a start; did anyone else notice him getting booed by the Spurs faithful?

Fergie vs. Rio

Manchester United manager Alex Ferguson doesn't like his players rebelling. Just ask David Beckham or Ruud van Nistelrooy.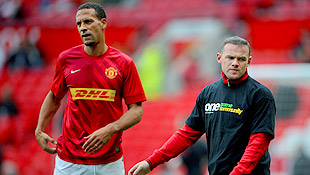 Michael Regan/Getty ImagesWas Sir Alex Ferguson right to criticize Rio Ferdinand so publicly for his refusal to wear the pregame T-shirt? One senses that the Scot misjudged this situation.

So when Rio Ferdinand refused to wear an anti-racism T-shirt while warming up for the game against Stoke and thus countering what Fergie said Friday, the boss fumed. In a leaguewide initiative, only Ferdinand and a smattering of others Saturday -- Stoke's Kenwyne Jones and Reading's Jason Roberts included -- didn't comply.

Fergie was "embarrassed" and said Ferdinand "will be dealt with." But why, exactly? If Ferdinand, who is black, like Jones and Roberts, doesn't feel enough is being done to combat racism in a week when England's under-21s were targeted in Serbia, why wear the shirt? By not donning it, Ferdinand brought more attention to the issue. Had Ferdinand stormed off before a game or given Fergie the eyes when being substituted, you could understand the Scot being annoyed.

Interestingly, Reading boss Brian McDermott backed Roberts, who has long been involved in trying to eliminate racism in the game.

"I support him 100 percent," McDermott said.

On a related note, there's no need to elaborate on Chelsea not extending John Terry's four-match ban or not stripping him of the captaincy -- both were obviously never going to happen.