50-50 Challenge: Liverpool vs. Arsenal
In the latest installment of our 50-50 Challenge series, club experts David Usher and Andrew Mangan face off ahead of Saturday's big Premier League clash when Liverpool host Arsenal at Anfield.

David is one of ESPN's resident Liverpool experts and is the founder and editor of the popular Liverpool fanzine and website The Liverpool Way. He has written two books on the Reds, The King's Last Stand -- The Final March with Kenny's Army and Like I Say ... The Story of the 2012-13 Season. You can follow him on Twitter @theliverpoolway.

Andrew Mangan is one of ESPN's Arsenal experts. He's the owner and writer of the award winning arseblog.com and has blogged about Arsenal every day since 2002. He likes late winners, clean sheets, bullet headers and John Terry falling over. You can follow him on Twitter @arseblog.

Both writers will address the same topics, so here we go:

LIVERPOOL-ARSENAL MEMORIES
DU: I've got plenty, but very few of them good. The worst is fairly obvious; I was a 15-year-old kid left heartbroken when Michael Thomas ran through our exhausted defence to win the title for Arsenal at Anfield in 1989. To make matters worse I was sat just yards away from the travelling Gooners and I can vividly remember leaving the stadium, choking back tears whilst hurling insults at the Arsenal fans on my way out. They were too delirious to even notice, which made me feel even worse.

I despise Charlie George even though I wasn't even a twinkle in my dad's eye when he hit that famous FA Cup Final winner against the Reds in 1971. My grandad never forgave George for that infamous goal celebration and although he passed away when I was very young, his contempt for the long-haired former Gunners' star lives on through me.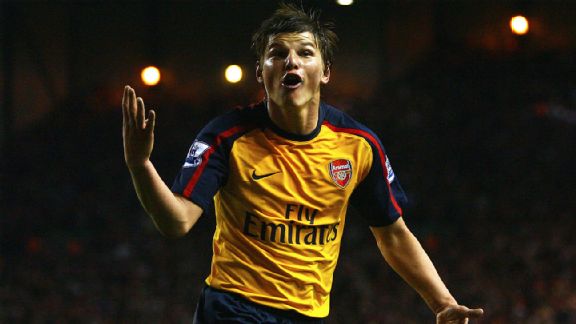 Alex Livesey/Getty ImagesAndrei Arshavin destroyed Liverpool's title hopes in 2009. Can the Reds get revenge in 2014?

In recent years there was the 4-4 draw at Anfield in 2009 when Russian flop Andrei Arshavin scored all of Arsenal's goals in a game that more or less ended Liverpool's hopes of catching Manchester United. Another one that stands out is a 2-1 defeat in 2012 that caused a downward spiral in the Reds' form that ultimately cost "King Kenny" his job. Liverpool were chasing a top four spot and absolutely battered Arsenal that day yet somehow lost and after that the wheels came off their season completely. I'm seriously depressing myself here, I need to find my happy place ... Ah, there it is ... the Millennium Stadium, Cardiff, 2001. "1-0 down, 2-1 up, Michael Owen won the cup ..."

Full Coverage:
- Bennett: Who will break first?
- Kelly: Rodgers vs. the old guard
- Cross: Gunners must have faith
- FC TV: Can Arsenal stay top?
- Watch: Tommy Smyth's Top Tips

AM: The obvious one from an Arsenal point of view is Anfield '89; it's hard to top winning the title in such a fashion. Considering their status at that time, it was truly remarkable to go there and score twice, especially so late. But I often think back to the game in the 2003-4 season when Arsenal had been knocked out of the FA Cup by Manchester United and in the Champions League by Chelsea in the same week. Liverpool came to Highbury and led 2-1 at half-time. It might have been the moment Arsenal's season fell apart, but Thierry Henry dug deep in the second half, drove the Gunners to a 4-2 win and we continued the season without losing a game. The character the team showed that day, having been so gutted by the European exit in particular, was phenomenal.

The worst? Probably the 2001 FA Cup final when Liverpool's keeper, Stephane Henchoz (!), made a wonderful save to deny an Arsenal goal and Michael Owen scored twice late on to nick it. Painful to lose a cup final like that.

THE RIVALRY
DU: It's a healthy rivalry without the bad feeling you often get between other big clubs. Obviously Everton and Manchester United are Liverpool's biggest rivals due to geographical reasons, but so many epic clashes with Arsenal over the years and both sides having been competing for the same prizes brings its own kind of rivalry. It's a similar situation with Chelsea, although in general Liverpool fans have a lot of respect for Arsenal as a club whilst having next to none for Chelsea.

AM: I think it's always been relatively respectful. There's no geographical element to raise the stakes, and when we were battling with United throughout the 90s and 2000s, I think there might have been a touch of the "enemy of my enemy" stuff from a Liverpool point of view. When I was growing up, they were the all-conquering Liverpool, the most successful team of the generation, and with that has come a stature that's impossible to shake. Arsenal versus Liverpool is always a big fixture in the calendar.

FEAR FACTOR
DU: Everyone -- Where do I start? The thing with Arsenal is they come at you from all angles, and shutting down one player is not going to make any difference. Theo Walcott being out is a big bonus for a Liverpool defence that can often look vulnerable to pace on the break. Given what Gabriel Agbonlahor did the other week for Aston Villa, I'm delighted that Walcott won't be playing. Nevertheless, Arsenal have so many players who can pop up with a goal that there's no single player I'm especially worried about -- it's more the collective.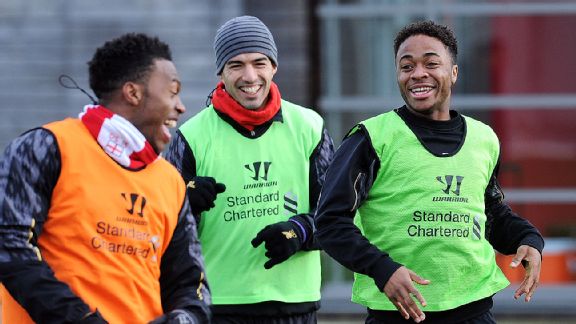 John Powell/Liverpool FC/Getty ImagesThe potent pace of Liverpool's front three will surely test the Gunners.
AM: Luis Suarez, obviously -- He's having a fantastic season and since his return has showed exactly why Arsene Wenger tried to buy him in the summer. Somewhat unusually for modern football, they have a strike partnership as he's dovetailed very well with Daniel Sturridge. Their quality means that the Arsenal defence, as good as it's been all season, will need to be at the top of their game tomorrow. I also think Jordan Henderson in midfield has come on leaps and bounds. He reminds me a bit of Aaron Ramsey in the way he plays, albeit without the Welshman's incredible goal-scoring record this season.

X FACTOR
DU: Kolo Toure -- I have a strong feeling Toure is going to have a big say in the outcome of this game, but I'm not sure whether it will be a positive or a negative impact! Being up against his former club and with a point to prove after his howler last week at West Brom, the veteran Ivorian will be desperate to impress but even disregarding his faux pas last weekend, he's looked a little unsteady of late after making a flying start to his Anfield career. I'm concerned about him defensively, but I have a gut feeling he may well pop up on the end of a Gerrard set-piece to claim his first Liverpool goal.

AM: Santi Cazorla -- From an Arsenal point of view, the recent form of Cazorla has been outstanding. The Spaniard hadn't been at his best in the first part of the season but having got over his injury problems, it now looks like he's close to 100 percent again and also that he and Mesut Ozil have found a way to play together effectively. The thought of seeing the two of them together was a mouthwatering one at the start of the season, and now would be a great time for them to really click.

PREDICTIONS
DU: Draw -- The heart says Liverpool to win 3-2, but the head is telling me I should be happy with a draw as Brendan Rodgers has found it very difficult against Arsenal since taking over at Anfield. It's not a good match-up in terms of style for Liverpool -- Arsenal tend to do what Liverpool want to do, only they do it better. Still, Liverpool's front three will cause anyone problems and Anfield has been something of a fortress this season, so it promises to be a great spectacle.

AM: Draw -- Despite Arsenal's defensive stability, it's away from home where they've been most likely to concede. Liverpool's quality up front makes it difficult not to see them make a breakthrough at some point, but Arsenal have goals throughout the side too. A score draw for me.