Do titles turn on big-game battles?
For all Jose Mourinho's continued downplaying of Chelsea's title chances after the win at Manchester City, there was one facet of his team he couldn't resist trumpeting. "We won because we were the best team," he said. "We defended very well -- we were very compact. We deserved it. We love the big games."

There can be little disputing that. Mourinho's teams, beyond the brief period at Real Madrid when he initially struggled to match a brilliant Barcelona, have always had a magnificent record against their main rivals. There is so often a focused aggressiveness about his sides, allowing them to rise to the occasion but also keep their composure -- and the points.

It is no coincidence that Chelsea's best and most convincing performances of this campaign came against Liverpool and Manchester City, and that is also a trait that goes back to when Mourinho first arrived at Stamford Bridge in 2004.

The 1-0 victory at the Etihad on Monday gave the Portuguese a total of 63 points from 31 league games against Champions League-challenging sides in all his time at Chelsea. That's 2.03 points a game, a return his side are close to matching this season. Although they still have an inferior record to City's against the big teams, that is tempered by the fact that they are the only one of them to take points from Manuel Pellegrini's side -- and they have done so twice.


| | | | |
| --- | --- | --- | --- |
| Team | Games | Points | Return |
| Manchester City | 8 | 18 | 2.25 |
| Chelsea | 8 | 15 | 1.88 |
| Liverpool | 7 | 10 | 1.43 |
| Arsenal | 6 | 8 | 1.33 |
| Everton | 7 | 9 | 1.29 |
| Tottenham Hotspur | 8 | 6 | 0.75 |
| Manchester United | 8 | 5 | 0.63 |


The deeper issue is whether all this actually means much beyond displaying mettle, and it is an issue that is particularly pertinent for Arsenal. This weekend's trip to Liverpool is the first of nine such big games from the next 12 in all competitions. The period may define their season, but do such games really decide the title race?

The question carries even more weight for Arsene Wenger because, so far, Arsenal have the worst return of the top three in such games and a middling one in all: two wins, two draws, two defeats. Arsenal's best return against the top teams since the 2003-04 "Invincibles" season was 1.83 points per fixture in 2006-07.

None of this is to say that they are as poor against the big teams as is mistakenly perceived -- they have defeated Borussia Dortmund this season in a crunch fixture, for example -- but they don't yet look quite capable of generating the psychological intensity of Chelsea or the exceptional extremes of Manchester City.

Of course, Wenger could reasonably point to their supreme record in every other match and the fact that it so far puts them top of the only ranking that matters: the Premier League table itself.

The question is whether that can last or whether Arsenal must raise themselves to claim a key victory in one of their remaining games against Chelsea and City. Will Pellegrini's side, by contrast, be made to pay for twice falling to Mourinho?

The last two campaigns provide contrasting examples.

Last season, Manchester United were so ruthless against the rest of the field that it didn't matter that City were better against the best. While Sir Alex Ferguson's side claimed 11 points in matches against Chelsea, Arsenal and Tottenham Hotspur -- again, the clubs that actually had a reasonable chance of Champions League qualification -- Roberto Mancini's City side amassed 14. It still wasn't enough to get them anywhere near to closing the immense gap United had created. Ferguson had done enough.

The previous season was wildly different, as emphasised by the exhilarating ending and what the title actually came down to.

City claimed six more points than United against the top teams, with the difference provided by the two derby victories. Of course, with that also leaving them dead level going into the last day of the season, the seven goals Mancini's men hit against United ended up deciding the destination of the trophy on goal difference.

So their games against each other couldn't have mattered more. Naturally, then, the type of title race greatly matters too.

In that, the summer of 2004 set a certain trend. The arrival of Mourinho and Rafa Benitez solidified the first "big four," as Chelsea and Liverpool joined United and Arsenal, while the increase in the Premier League's Champions League places to four emphasised the full importance of the continental competition. From then, qualification became so important precisely because the revenue from it conditioned so much. The greater cash increased the gap between the elite and the rest, meaning more teams were getting higher points hauls.

It is perhaps no surprise that since then, six of the nine title races have been won by the sides with superior big-game records. Even more relevant: In four of those six, the overall gap between the top two was small enough for those crunch fixtures to be of genuine significance.

Many might point to the self-evident reality that a side needs to do sufficiently well in the majority of their games to even put them in that position in the first place, but the point is that modern football economics are making that more and more of a given.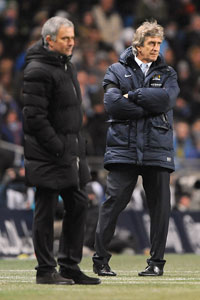 PA PhotosJose Mourinho got the better of Manuel Pellegrini on Monday.
This season arguably reflects those realities more than many, given that City have racked up historic goal returns but were still out-thought by a Chelsea team employing one of the most successful managers of all time. Arsenal, meanwhile, have so far reaped the rewards of breaking their transfer record when they signed Mesut Ozil from Real Madrid.

As a consequence, it feels as though this race could be sufficiently close for their faceoffs to be significant. The classic example of this comes from Spain, with Pellegrini himself having suffered the most exacting campaign. In the Chilean's one season at Real Madrid in 2009-10 -- the season before Mourinho took over -- Los Blancos beat more of the other 18 sides than Barcelona. The Catalans, however, claimed victory in both Clasicos to stay top.

Pellegrini will hope that history does not repeat itself in this campaign.

Wenger will hope to alter a trend -- either in terms of big games mattering or improving his own results.

Mourinho, finally, will hope to be trumpeting his team again.