Clock ticking for Meulensteen as Fulham edge toward the abyss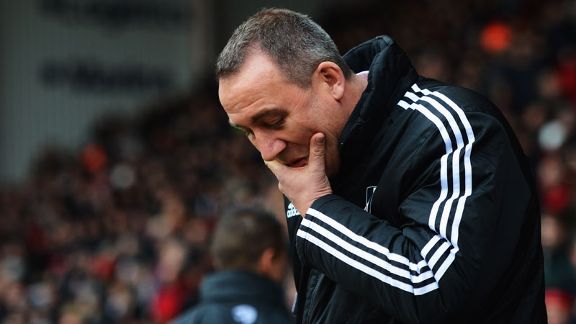 GettyImagesRene Meulensteen has failed to turn Fulham's fortunes around since replacing Martin Jol.
Only those of a Sheffield United persuasion could consider themselves fortunate to have attended Tuesday's FA Cup replay at Fulham following the teams' 1-1 draw on Jan. 26. For Fulham, the 1-0 loss on Tuesday was a study in ineptitude played out in rancid conditions. If any passing tourists sat in Craven Cottage's famed "neutral area," they would have struggled to tell which team faced relegation to League Two and which was bottom of the Premier League.

At his postmatch news conference, Fulham coach Rene Meulensteen was as unconvincing as his team. "It was as bad as the weather," he joked in a Dutch accent that has taken on a Mancunian influence from his years on the coaching staff at Manchester United. The gag met with stonewall silence. Most in the room knew that Fulham's situation is now anything but a laughing matter.

The sparse crowd at the Cottage had lost patience. How long Fulham owner Shad Khan and CEO Alistair Mackintosh retain theirs is the next question. Vast improvement in Fulham's next two matches is almost certainly required if Meulensteen is to keep his job. Manchester United away and Liverpool at home will decide his fate, though just three wins in 10 Premier League matches with 30 goals conceded might already seal the deal.

Old Trafford on Sunday might yet be a triumphant return. There has been no better time to visit for an away boss since the late-1980s. Meulensteen has hardly been slow to celebrate his own part in Sir Alex Ferguson's triumphs but admits he has been seeking his mentor's advice as his predicament deepens at Fulham.

The signs so far are that Meulensteen is the latest Ferguson assistant to wither under the glare of becoming his own man. Brian Kidd and Carlos Queiroz lead the lengthy list of powers behind the throne whose own managerial careers have been a faint shadow of Ferguson. Only Walter Smith, Ferguson's assistant with Scotland and who spent half the 2003-04 season as a much-needed confidante, has ever truly flourished, and Smith was always more contemporary than underling. Steve McClaren might point to successes after cutting the cord with Ferguson in 2001, but he has suffered some crashing failures

Meulensteen might still be at United if he had accepted David Moyes' offer to stay, but the former Everton manager's desire to have complete control of coaching at Old Trafford did not match the Dutchman's undoubted ambition.

Much of Ferguson's later success was owed to successful delegation to carefully selected adjutants. He did not take a training session beyond the 2004 day he made the call to Smith. In the final years of Ferguson's reign, following Queiroz's departure for the Portuguese national team, it was Meulensteen who assumed control of United's coaching philosophy and took it into the 21st century. Each player's regime was tailored by data-led technology. Cristiano Ronaldo led the beneficiaries of a concentration on skills.

A year ago, Robin van Persie pronounced himself a confirmed admirer of Meulensteen, his compatriot and former coach. "I go into work every day whistling," he had said, in marked contrast to the reports of a testy relationship with Moyes. Only recently have United's new manager and star striker hit on an agreement that Van Persie's fragile physique requires bespoke husbandry rather than Moyes' preferred one-size-fits-all approach.

Meulensteen might empathise with Moyes' problems: Managing players can be difficult. Fulham is his third foray into prime leadership. He was ejected from Danish club Brondby just six months after leaving a youth-coaching role at United in June 2006. That spell in Copenhagen is now notorious for a team talk in which he instructed players to become their favourite animals. Such blue-sky thinking was swiftly returned to Ferguson's back office.

Fulham have actually provided Meulensteen with his second stint as head coach this season, after 16 days at Anzhi Makhachkala coincided with oligarch owner Suleiman Kerimov losing much of his fortune. A crash in potash prices forced the club into a fire sale. That was bad luck, but it hardly helped that Anzhi lost all four games that Meulensteen took charge of.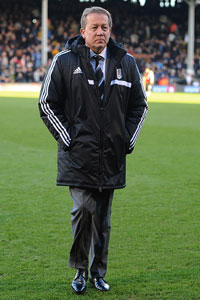 PA PhotosAlan Curbishley is being touted as a potential replacement for Rene Meulensteen.
His assumption of leadership at Fulham was highly unorthodox. He was first installed to work alongside soon-to-be predecessor Martin Jol, only for that cuckoo-in-the-nest state of affairs to be repeated when Alan Curbishley was brought in as technical director on Christmas Eve, just three weeks into Meulensteen's own tenure. If Meulensteen exits, most insiders expect Curbishley to replace him. The Londoner last managed at West Ham, departing in September 2008, and he has spent the time since priced at 14-1 for every Premier League vacancy.

Six days after Curbishley's arrival came Ray Wilkins, who managed Fulham as a Second Division club back in 1997. Wilkins, like Curbishley, is from an old school of Englishmen almost diametrically opposed to Meulensteen's European technocracy. That uneven triumvirate makes for an unlikely brain trust.

January's transfer window suggested that a fresh approach was being forged, with malcontents like Dimitar Berbatov and Adel Taarabt shipped out while two United protégés (Larnell Cole and Ryan Tunnicliffe) were brought in. However, the latter pair are meant for the future, and that likely lies in the Championship if Meulensteen cannot arrest the slide. Meanwhile, the rest of a sextet of deadline-day signings have the look of hopeful punts.

Shivering under a blanket in the Riverside Stand on Tuesday sat striker Kostas Mitroglou, who joined from Olympiakos for 11 million pounds. A knee injury will delay his arrival in a team that needs goals desperately; Clint Dempsey's loan return has been marked by a distinct lack of sharpness. William Kvist and Lewis Holtby must galvanise a midfield over-reliant on the aging legs of Steve Sidwell and Scott Parker. Johnny Heitinga, unwanted by Everton, must provide stability for the Premier League's most leaky defence.

"There is not a sort of a direct-fix solution, and hopefully the new players that are coming in can help us fix it," Meulensteen said after his latest defeat. He was unable to say how long he can retain the faith of his bosses. "That will only last until that is gone," he admitted. "I cannot answer that."