Top Tenner: Returning heroes
Nemanja Matic has looked at home since making his big-money return to Chelsea from Benfica. Here, ESPN FC selects 10 players who couldn't let go -- with mixed results.

10) Gerard Pique -- Barcelona

Does it count if the player didn't actually play for the first team in their initial spell? Well, it does in this list, because we make the rules. Pique was more of a defensive midfielder when Manchester United snapped him up from La Masia in 2004, taking advantage of more lax transfer rules that allowed English clubs to sign foreign youngsters for no fee. See also: Fabregas, Cesc. However, after only a handful of appearances at United (and a Champions League winners' medal) he returned home, with Barca paying five million pounds for the now centre-back, and since then he's done pretty well for himself. "I tried having an adventure abroad with Manchester, and I can say that there is no place like home," he said recently. You'd imagine another couple of Champions League medals, four La Liga titles, a World Cup, a European Championship and being part of the greatest domestic and international sides of a generation helped too, mind.

9) Gordon Cowans -- Aston Villa

Perhaps not the most illustrious name on this list, but Cowans wins a place simply for the frequency with which he went back to Aston Villa. Cowans began his career at Villa Park in 1974, and played nearly 300 times for them until he was purchased by Bari in 1985. Three years later he was back for another 100 or so games for Villa, before a brief stint at Blackburn and then a final move back to the Midlands. His playing career ended in 1997 after short spells with various other clubs, but of course that wasn't where his time with Villa ended -- he returned to the club as a coach, and there he remains. When he retires, it will probably be to a little flat in the car park.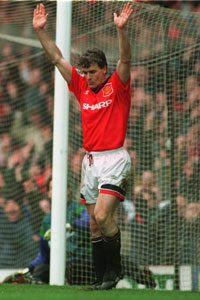 GettyImagesMark Hughes' foray into Europe was not successful; his return to Manchester United was.
8) Mark Hughes -- Manchester United

Hughes is arguably one of the most important players in United's recent history, for he was one of the driving forces in their rise from mid-'80s mediocrity to the behemoth we see today. Hughes began his career at United, before Terry Venables bought him for Barcelona in 1986, pairing him with fellow British recruit Gary Lineker, a partnership that didn't work for player or manager -- in 1987, Venables was sacked and Hughes loaned to Bayern Munich the same year to get some playing time. United eventually lured him home in 1988 and he won PFA Player of the Year in his first season back, going on to also win United's first two Premier League titles and score both goals in the club's 1991 European Cup Winners' Cup final victory, against Barca.

7) Frank McAvennie -- Celtic and West Ham

Some players aren't happy with going back to just one club. Steve Staunton enjoyed two spells at both Liverpool and West Ham, John Lukic did the same at Arsenal and Leeds, but Frank McAvennie did it flamboyantly at Celtic and West Ham. In truth, if there was one man who should have been kept away from the big city, it was McAvennie, who revelled in the "high life" slightly too much -- particularly during his spells with West Ham. Having moved to London from St Mirren in 1985, his 33 goals over two seasons convinced Celtic to bring him back north in 1987. However, McAvennie missed the bright lights, and rumours of a return to the Hammers were rife. "There's as much chance of McAvennie moving as there is of Rangers beating us 5-1 tomorrow," Celtic boss Billy McNeil said before an Old Firm game in 1988. As it happened, Rangers did win that game 5-1, and McAvennie eventually got his move back to London, where he wanted to spend more time with his "glamour model" girlfriend. He actually turned down Arsenal to return to West Ham -- a decision that backfired a little as the Hammers were relegated and Arsenal won the league. The second spell at Upton Park didn't go especially well, not helped by some horrendous injuries, and by the time he made his way back to Celtic, via Aston Villa, Cliftonville and South China, he was a shadow of his former self.

6) Thierry Henry -- Arsenal

Really only in here for one moment, but it was quite a moment. Henry had won the league twice with Arsenal and scored a club-record 226 goals before he moved on to Barcelona in 2006 and then New York Red Bulls in 2010. But when Arsene Wenger needed some cover up front in 2012, he called Thierry. Henry made his second debut for Arsenal in an FA Cup tie against Leeds, coming on as a 68th-minute substitute (for Marouane Chamakh -- there's a skill level disparity for you), and 10 minutes later he latched onto an Alex Song pass and stroked it into the corner of the net. Perhaps it was so special because it was such a typical Thierry Henry goal -- creating space for himself, a little dart of explosive pace, opening his body and side-footing it (never the laces. Oh lord, never the laces) past the helpless keeper. For a moment, it was 2004 all over again.

5) Stanley Matthews -- Stoke

If you judge a man by the company he keeps, take a look at the list of players that showed up in Stoke to play for the "International XI" in Stanley Matthews' testimonial game in 1965: Lev Yashin, Raymond Kopa, Jim Baxter, Alfredo Di Stefano, Ferenc Puskas, Uwe Seeler, Francisco Gento, Laszlo Kubala, Eusebio. Pretty decent, basically. Matthews' tangible successes as a player came with Blackpool (the 1953 FA Cup, the Ballon d'Or in 1956), but his home was Stoke, where he started his career in 1931 and ended it some 34 years later. "You're 32, do you think you can make it for another couple of years?" Blackpool manager Joe Smith asked when they bought him from Stoke. Some 15 years later, when Matthews was 47, he returned and would help Stoke return to the First Division in 1963. "Welcome home, Stan," Stoke manager Tony Waddington said. "For years this club has been going nowhere. Now we're on our way."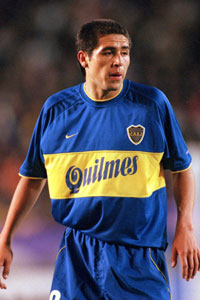 GettyImagesJuan Roman Riquelme: Bleeds the blue and yellow of Boca Juniors.
4) Juan Roman Riquelme -- Boca Juniors

A return that very nearly didn't happen. Riquelme made his name as a languid playmaker with Boca, winning a couple of league and Copa Libertadores titles before Europe came calling. Riquelme left Buenos Aires partly because his brother was kidnapped (he paid the ransom) but partly because Barcelona were the team that stumped up the 11 million pounds to sign him, although things went downhill from there. Barca coach Louis van Gaal didn't want Riquelme, claiming he was a "political signing" and barely playing him, but he flourished after a move to Villarreal. In 2007, he returned to Boca on loan -- where he won another Copa Libertadores, scoring in the final -- but a permanent return was almost scuppered when Atletico Madrid tried to sign him. However, he eventually went home permanently, playing for another five years, and even went back again, if that makes sense -- he retired in 2012, only to change his mind and return in 2013.

3) Duncan Ferguson -- Everton

When Duncan Ferguson joined Everton in 1994, he had already spent three months in prison after headbutting Raith Rovers' Paul McStay during a game while playing for Rangers, so it would have been a brave man to bet on his longevity at Goodison Park. However, he quickly became a cult hero and indeed club legend, his bruising style going down well at a time when people already thought the game was going soft. However, Ferguson was sold to Newcastle in 1998 (negotiations taking place during a game between the two sides), despite the man himself seemingly less than keen on the idea of leaving -- so much so that he wrote a two-page letter in the club magazine saying goodbye. He was back, though, just a couple of years later when Everton had a few more pennies to rub together, and he spent another five years on Merseyside before retiring. Indeed, he went back again, and now coaches one of the club's youth sides.

2) Ian Rush -- Liverpool

Ian Rush must curse Kenny Dalglish. Not for being a brilliant teammate, strike partner and manager under whom he won a couple of league titles and FA Cup, but because one of the quotes that followed Rush around for most of his career was the result of a Dalglish joke. When, shortly after Rush had come back to Liverpool after his spell in Italy with Juventus, Dalglish was asked how the returning Welshman had found Italy, and responded: "He said it was like a foreign country." Somehow, the quote became attributed to Rush, and a Colemanball was born. Of course Rush did struggle to settle in Turin, even writing a book about his troubles, and lasted only a season before Liverpool bought him back, for a tidy 500,000 pounds less than they sold him for.


1) Johan Cruyff -- Ajax and Barcelona

Another who went back to two different clubs, although it's probably fair to say he had slightly more impact than Frank McAvennie -- not to diminish big Frank's achievements, of course. Cruyff's first spell with Ajax would be enough to make any list of the game's greats on its own -- he won six Eredivisie titles and three European Cups before leaving for Barcelona in 1973. He won the league in his first season there, obviously, but he made his greatest impact at Barca as their manager, which we'll come to in a minute. He returned to Ajax in 1981, casually winning another couple of league titles, before going back again after retirement to manage the club, when he "only" won the KNVB Beker a couple of times. However, in 1988 he took over as Barcelona coach, and the "Dream Team" was born, with Ronald Koeman, Hristo Stoichkov, Jose Mari Bakero, Romario and of course Pep Guardiola. His Barca won La Liga four times in a row from 1991 to 1994, but it was the 1992 European Cup, the title that had always eluded Barca despite all their great teams over the years, that was the big one. In total, as a player and manager he won 28 major trophies -- 19 with Ajax, nine with Barcelona. When people say you should never go back, maybe remind them about Johan Cruyff.