Why the Copa Libertadores is must-watch TV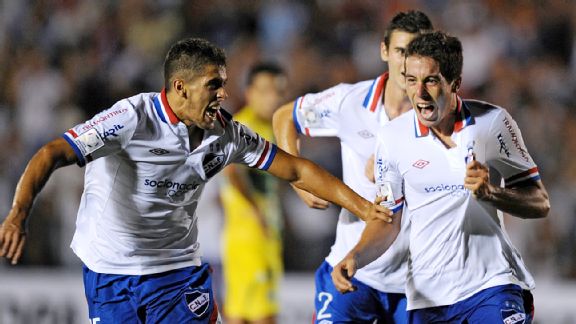 Miguel Rojo/AFP/Getty ImagesNacional player Carlos de Pena celebrates the club's victory over against Bolivian side Oriente Petrolero during their Libertadores Cup football match.
There is plenty to complain about in the Copa Libertadores, South America's premier club competition.

The pitches can be poor and the refereeing even worse. Fan behaviour can be a cause for concern, games can be played in a depressingly mean spirit and the quality is not always that good. It is not the Champions League.

But the Libertadores is always worth following -- indeed, it deserves a much higher international profile. It is consistently exciting; last year's final, when Atletico Mineiro of Brazil beat Olimpia of Paraguay on penalties, was no great shakes from a technical point of view. But I have rarely experienced an atmosphere as intense as the one that night in Belo Horizonte's Mineirao Stadium.

And there is another reason for paying close attention to the Libertadores; it is a fabulous production line of young talent. This, as so many of the more negative sides of the competition, is already on show this year, with the qualification round underway and the final places in the group phase being filled.

One of them has gone to Nacional of Uruguay, one of the historical giants of the Libertadores. This is the 40th time they have taken part in the competition, which they have won on three occasions -- though not since 1988.

The date is significant. The global market in footballers was beginning to open up. At that point it was Italy's Serie A that was hoovering up the best players in the world. And once such a process had gathered momentum, it was impossible for a country such as Uruguay, with a population little greater than 3 million, to hold on to its best players.

Like the rest of the country's clubs, the Uruguayan giants Penarol (five times winners of the Libertadores, but not since 1987) and Nacional had teams which could broadly be divided into three component parts: veterans winding down their careers after spells in Europe, youngsters making a name for themselves on the way to Europe and those in the middle who were not considered good enough to attract foreign attention.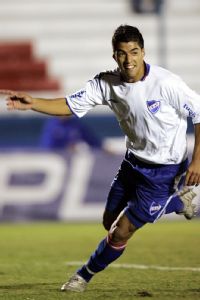 AP Photo/Marcelo HernandezLuis Suarez playing for Nacional in 2006.
That is basically the way it remains. The reality has long since sunk in. Should the likes of a Luis Suarez come along, enjoy him while he lasts because before long he will be playing his football in a bigger league. In the meantime the Uruguayan fan can only get to watch him when he comes back to play for his country -- fans of Nacional, though, can at least carry round with them the hope that in a few years' time the fiery Liverpool striker will take the sentimental decision to round off his career with the club where it all started.

Alvaro Recoba is currently doing something similar. He came through the ranks with another Uruguayan club, Danubio, and first made his name there before moving to Nacional -- and then to Europe. After 13 years on the other side of the Atlantic the left-footed playmaker returned to Uruguay in 2010, first to play for Danubio, and then for Nacional, for whom these days he usually comes off the bench in the second half and attempts to tip the balance against tiring defences.

It is fun to watch Recoba come up with the odd flash of inspiration -- and even more rewarding to pick out candidates for future stardom.

Last week, when Nacional kicked off the Libertadores qualifying round away to Oriente Petrolero of Bolivia, they introduced a very interesting figure in the second half. Eighteen-year-old Gaston Pereiro is an unlikely attacking midfielder. He has the lanky build more associated with a centre back. But he made an immediate impression when he came on in the second half. At the weekend he scored a goal when the Uruguayan domestic league got underway, and on Tuesday, with the tie against Oriente Petrolero very much in the balance, he was brought on at halftime.

Once again he was highly impressive, carrying the ball with sound control, keeping his head up to survey the options around him, combining well and striking the ball cleanly with his left foot. He is at an age when he clearly does not know the meaning of fear, playing with an abundance of confidence and clearly enjoying himself. No doubt about it, Gaston Pereiro of Nacional has his name firmly marked in my notebook in the "one to look out for" category.

Of course, the road between promise and reality is a slippery one. Much could go wrong. If he maintains this level of performance then he's unlikely to be "Gaston Pereiro of Nacional" for long. Economics dictate that he will be sold on somewhere, it may not be the right move and his career could stall. I have seen it happen in similar cases too many times to mention.

For now, though, with Nacional safely through to the group phase, it is enough just to enjoy following his progress in the 2014 Copa Libertadores.