"I always believe a four-year cycle is probably the most you can achieve. There are very, very few teams who can create more than a four-year cycle." -- Sir Alex Ferguson, October 2010

Not for the first time in a career of logic-defying longevity and excessive achievement, one of Ferguson's own sides proved an exception to the rule. By May 2011, his Manchester United team had won a fourth league title in five years, a period in which they also reached three Champions League finals and one other semifinal.

It was Ferguson's final great team; either the third or the fourth, depending upon interpretation, that he built at Old Trafford. It was based on nine players: Cristiano Ronaldo, who was sold in 2009, and an octet who were constants in the glory years between 2006 and 2011: Edwin van der Sar, Rio Ferdinand, Nemanja Vidic, Patrice Evra, Michael Carrick, Paul Scholes, Ryan Giggs and Wayne Rooney.

- Beckham backs Moyes
- Okwonga: A tale of two Moyes

It is now 2014. Of that group, only Rooney is under 32, and only the retired Van der Sar and Scholes do not remain from a side that came together in earnest with the 2006 additions of Vidic, Evra and Carrick. The four-year cycle has become an eighth-year puncture. United are belatedly discovering that rebuilding was postponed for too long.

When Anderson was loaned to Fiorentina last month, perhaps the most shocking statistic was that he had made only 70 league starts in six-and-a-half years at Old Trafford. It is a length of service that, at another club, would make someone captain, vice captain or a senior professional. At United, it brought a perennial status as a fringe figure.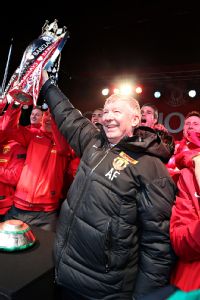 John Peters/Getty ImagesThough he departed as a champion, Ferguson left Moyes with a decaying squad.
Ferguson's sentimental streak was long camouflaged by a ruthless edge, but in his final years he allowed players to linger after their standards had slipped. In a profession notable for job insecurity, the assumption developed that players would remain at Old Trafford forever.

United, football's foremost advertisement for continuity, whether in the dugout or on the pitch, are discovering there can be too much of a good thing. It is a theme of football discourse that change can backfire, whether it is the knee-jerk decision to sack a manager, the making of a short-term signing or the drastic overhaul of a squad. But the opposite can apply, too: Those who stand still actually threaten to go backward.

The poster boys -- or, in this instance, the poster pensioners -- for permanence are a case in point. Many have marveled at the capacity of the Milanello medics to extend careers, yet the AC Milan team that enjoyed its final hurrah by winning the 2007 Champions League was allowed to age together.

Milan fielded 14 players born in the 1970s during the following season, their sixth successive year without winning Serie A (Paolo Maldini finally retired at 41 in 2009). It was also, broadly speaking, the side Carlo Ancelotti had assembled the best part of a decade earlier. It required a generational shift for Max Allegri to end their wait for a Scudetto the following campaign with a blend of experience and relative youth.

Vast as the differences between the two teams were, something similar happened at Arsenal in the 1990s. George Graham's side grew stale, lacking invention or new ideas. They became champions after radical but intelligent change as Arsene Wenger fused his midfield and forward line onto Graham's goalkeeper and famous back four. It ensured only one department of the team consisted of the aged.

In the days before transfers were as frequent, many a successful side deteriorated together in an indictment of continuity: Stan Cullis' Wolves, Bill Shankly's first Liverpool team (before he built a second), Sir Matt Busby's Manchester United (which stumbled under his successors) and Don Revie's Leeds.

There is a theory that Revie left for England in 1974 partly because he could not bear to break up his defining team. Instead, it was a task he bequeathed to his successors and, although Leeds reached the European Cup final in 1975, their subsequent decline was swift.

The past tends to inform and influence the present. The precedent for the post-Ferguson United is provided by Liverpool of the early 1990s, and there are plenty of parallels.

A final title had been secured under a previous manager because rivals presented too little of a challenge, and while several of the squad were over the hill, a prolific player with a lustrous left foot compensated: for John Barnes, read Robin van Persie.

However, whereas David Moyes arrived at Old Trafford and largely preserved the status quo on the playing staff, Graeme Souness was a one-man wrecking ball at Anfield.

His attempts to implement change were ham-fisted -- arguably he both bought and sold the wrong players -- but the principle undergirding his approach may have been correct.

Which brings us to another charismatic, outspoken character who tends to exert a revolutionary impact. Perhaps Jose Mourinho's most intriguing January signing was French defender Kurt Zouma, who was promptly loaned back to St Etienne for the rest of the season. He should arrive at Stamford Bridge in the summer. Or, to put it another way, when John Terry's contract expires.

Ashley Cole and Frank Lampard's deals also end then and, while Nemanja Matic represents a very different type of midfielder, he offers a glimpse of a way Chelsea could play without their record goal scorer. As they also own Thibaut Courtois, who has been parked at Atletico Madrid for the past three seasons, perhaps Petr Cech's days are numbered, too.

Maybe Mourinho, having built Chelsea's greatest team, will definitively consign it to the past. Certainly, he has the boldness and decisiveness required to make such a switch.

The criticism of him is that, in his quest for short-term success, he is overly fond of change. It may be a reason why Moyes was the continuity candidate United favoured to follow Ferguson. But, as they are discovering, sometimes stability can lead to stasis.