On March 1, when FIFA's International Football Association Board -- the body that tweaks and preserves the Laws of the Game -- reconvenes, one of the items on the agenda will be "sin bins" or "penalty boxes." It's the idea that, for an infraction lying somewhere in between a yellow and a red, players could be sent off for 10 minutes and then return to the pitch.

Its success in hockey and rugby has, in recent years, seen it become more popular, so much so that it's one of the few things both Michel Platini and Sepp Blatter seemingly see eye-to-eye on. Both are, at the very least "open to considering the idea." Indeed, it is currently being trialled at amateur level in Holland.

Proponents of the idea say it's a necessary "orange card." They suggest it's a required intermediate sanction for infractions where a caution seems too lenient and a sending off too harsh.

- IFAB to meet on March 1
- Marcotti's Musings
- World Cup Power Rankings

Furthermore, those who insist that an "early red card" ends up "spoiling the game" (not a view I share, to me there is no such thing: If you deserve to go, you go) might see this as a welcome compromise.

My initial reaction is that good referees -- and we ought to strive toward having the best possible -- do a good job officiating with the tools they already have and that the sin bin would actually come in handy for those officials who don't have the courage to apply the Laws of the Game and show red when it's warranted.

Plus, I see no great need for sin bins, and apart from those in the rugby crowd who look down on football people and who are convinced the world would be a better place if only the captain were allowed to speak to the referee, I don't believe I'm alone in this.

Yet beyond that and the mechanics of the game, my concern is for the spectacle. It's 0-0 with half an hour gone and a team just lost a player for 10 minutes. What do they do?

Easy. They go on lockdown.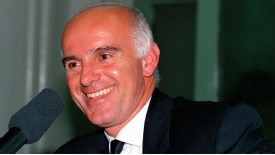 AllsportSacchi led AC Milan to European Cup wins in 1989 and 1990.
I think back to Arrigo Sacchi, the legendary AC Milan coach who arguably came up with the last true tactical innovation until that Pep Guardiola fellow came along. A few years ago, a colleague and I went to see him at his home in central Italy.

While his two dogs, Ruud and Marco (yes, I know...) romped outside, he told us about a drill he would do to prove a point to his players.

"Five organized players can beat ten disorganized ones," he said. "To show the benefits of tactical organization I took four defenders -- Mauro Tassotti, Paolo Maldini, Billy Costacurta and Franco Baresi -- plus the goalkeeper, Giovanni Galli and I pitted them against ten other players, including the likes of Marco Van Basten, Pietro Virdis, Ruud Gullit, Roberto Donadoni, Carlo Ancelotti, Frank Rijkaard, Chicco Evani and so on.

"The defenders simply had to clear the ball, the other guys had 15 minutes to score. The only stipulation is that, if they failed to score they would get the ball 10 meters inside their own half. We did this all the time and my defenders never conceded a goal. Never, not once, all season long."

Since then, enough coaches and players have told me that Sacchi's little 15 minute 5-on-10 mini-game has been replicated many times and that, yes, most of the time, if the defenders are organized and work as a unit -- even if they don't include superhumans such as Maldini and Baresi -- the 10 don't score in the allotted quarter hour.

Now imagine not five players, but nine players going into full lockdown mode against 10 outfield opponents. I see 10 minutes of abject, one-way sterility with either massive hoofs into a crowded penalty area or guys running into knots of opponents, hoping they'll somehow win a free kick or a penalty.

In the same way that Sacchi's defenders learned the 15 minute 5-on-10 drill, you can easily imagine clubs going into penalty-kill mode when the sin bin strips them of a player.

They just need to hold out for 10 minutes of one-way traffic and then -- presto! -- the rejuvenated offender sprints back on to the pitch and we're level again, except for the fact that the team that was a man down has a rested player.

I'm sure there is data out there regarding how much more likely a team is to score when they have a man advantage. And that you can filter and modulate it based on the relative strength of the two sides, the time of the match and whatever else. But, even then, there is a massive difference between knowing you'll have to play the last hour of a game down a man and knowing you just need to hold out for 10 minutes.

If there is a substantial uptick -- other factors being equal -- in scoring against a short-handed opponent now, I'd suggest it's because one team know they'll have 10 men the rest of the game and so they adjust the way they play. If they're losing, they'll still figure out a way to attack and take chances while, if they're winning or drawing, they'll try to hang on.

I imagine folks saying that if it's so easy to park the bus and defend in your own half, why doesn't every team that gets a man sent off do it?

On that, I refer you to my previous point. When you know you have 10 men the rest of the game, the temptation to gamble and try to nick something on the counterattack is great. You may only have one or two chances to do so.

However, if you know you'll be at full strength in a few minutes, you may not gamble that way. And this holds true even if you're already losing. Get a man sin-binned in the first half and, even though you're a goal down, your instinct will be to limit the damage and go for it later, at full-strength.

That is what makes me most uneasy about sin bins: that they will change the way the game is played and not for the better. IFAB won't approve their introduction on March 1; at most they'll simply approve more testing and experimentation, like the ones in Holland, albeit on a larger scale.

If that happens, all we can hope for is very detailed monitoring, ideally with the aid of analytics, while also realizing that it's one thing for amateurs to spend 10 minutes with 10 men and quite another for professionals, who are quicker, stronger, fitter, more technical and more tactically astute, to do so.

We see enough teams parking the bus already. Giving more a very specific reason to do so doesn't do much for entertainment. Or, sports, for that matter.